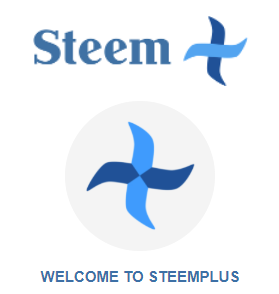 This has to be one of the best Steemit Extensions Ever!
https://chrome.google.com/webstore/detail/steemplus/mjbkjgcplmaneajhcbegoffkedeankaj
Steem Plus is an Chrome extension that adds information and abilities to the Steemit.com website. It is very useful and innovative, giving the user the data they need to make good decisions on this platform.
Here are some of the features added to the Steemit experience with this extension, featuring my friend @simms50.
A Vote Slider for Red Fish!
Normally Steemians have to have 500+ SP to get the percentage vote slider, but with this extension, it's available for everyone!

Also your vote value is given in plain view, so you can determine the percentage that would be most appropriate.
Are You Human? Let's find out!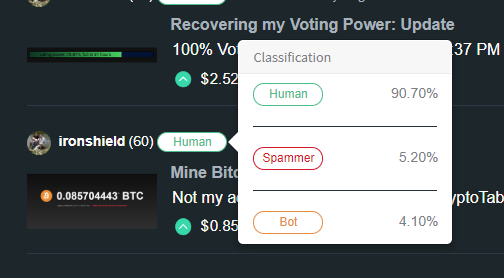 Every post and comment will give users the ability to determine if the person is a person or a bot. Apparently @ironshield is 4.10% bot, 5.20% spammer and 90.70% human. Fair enough, I guess.
Send your Friends a Tip
We all encourage generosity on Steemit, both in giving and receiving. This extension makes it easier to give, just by clicking on their name.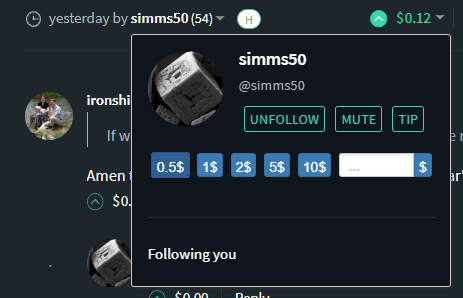 Like what someone is posting? Click on their name and an option for TIP appears. Click on the amount, or type in an amount and it will tip that in SBD. Cool!
Also notice that you can see if that person is following you or not.
Detailed Vote and Resteem Information
Who upvoted your post? How much is their upvote worth? Would you like to see the entire list, not just the top voters? Here it is!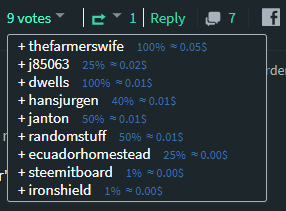 That @ironshield is cheap... 1% what's wrong with that guy?
Who resteemed your post? Just click on the carrot next to the resteem icon and find out!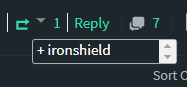 This is useful to know how many people resteemed and who resteemed.
Boost Any Post
Want to promote someone's post? Want to promote your post? Do it with just a few clicks!

At the bottom of every post, a new button appears called "BOOST". Clicking on this allows you to send SBD (through SteemConnect) to either @minnowbooster or @smartmarket.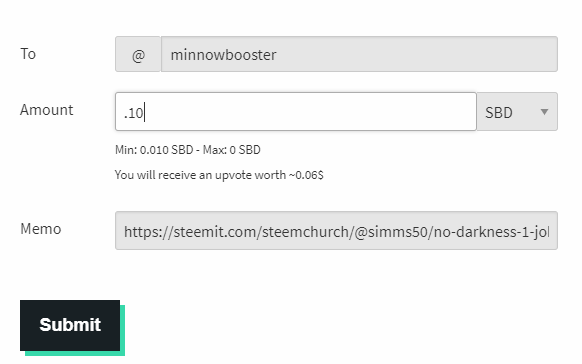 Paying $0.10 for a $0.06 upvote doesn't sound like that great a deal.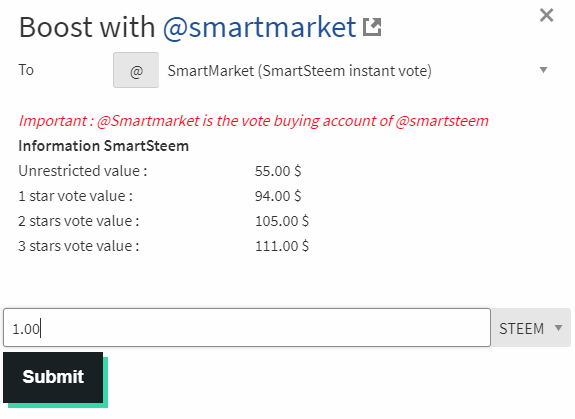 Extra Links on the Menu
The extension adds a convenient link to the internal market and gives a quick STEEM and SBD price to see at a glance. Useful!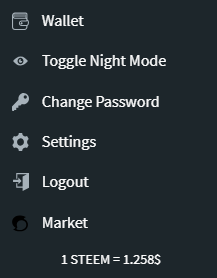 Search Box
Instead of directing you to a different page with search results, Steem Plus will give you the results in a drop-down menu.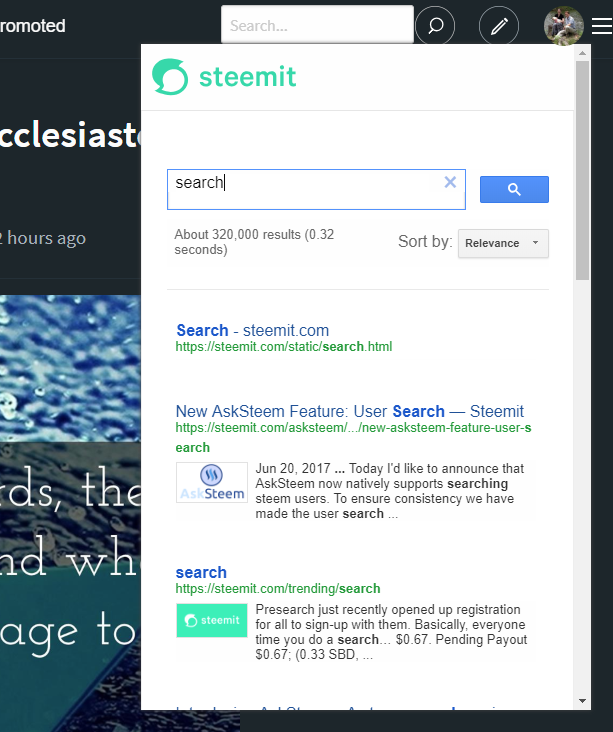 Extra Information on the Blog Heading
A convenient status symbol right on your blog header.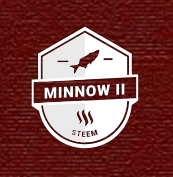 I'm not just a minnow... I'm a minnow II.

More detailed information, such as exact reputation, number of actual posts (not posts and comments) and a "more information" icon.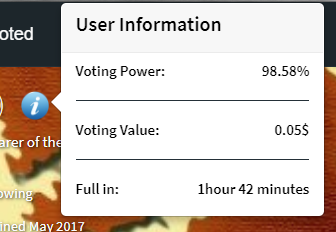 I'm so close to 100%, I can almost taste it!
See at a glance a Steemian's Voting Power, voting value and when the VP will be restored to 100%.
New Wallet Features
A convienient Delegation button has appeared, allowing Steemians to delegate their SP to other accounts and projects.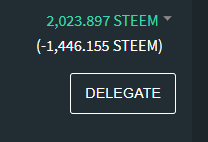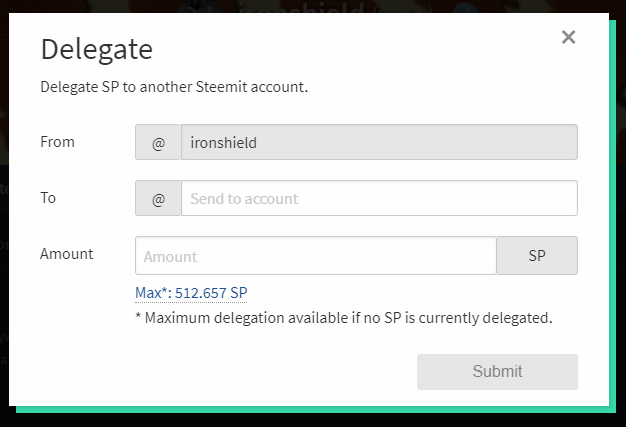 Why the big negative number? See a Steemian's delegations, both incoming and outgoing! Also cancel a delegation with a single click.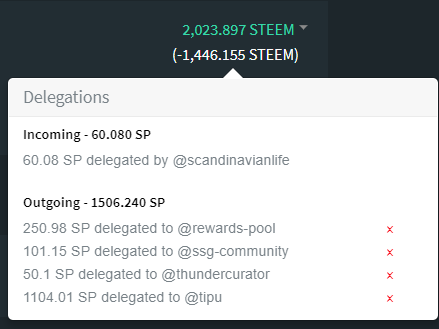 These are all of my delegations, friendly towards all of them!
Real-Life Practical Wallet Accounting
We all know the numbers in our wallet are not exactly accurate, since the platform calculates SBD as always being worth one dollar. This extension uses Bittrex to calculate the true value of your STEEM/SBD.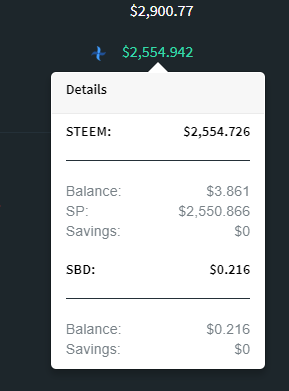 I have $345 less real-life value in my wallet than it appears.
Transaction History Filtering
Finally! A way to hide those annoying $0.001 transfers with spam messages! Just filter the spam out of your transaction history and keeps those 1/10 pennies.

The SPAM filter works great. It's really good at identifying which transactions are SPAM and which are legit.
BEFORE:


AFTER:


A new Menu Full of Features
Information is key to Steemit. The more you know, the more informed decisions you can make. Steem Plus adds easily accessible information at your fingertips.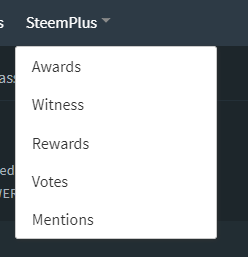 Awards
See all your hard-earned badges from steemitboard.com, right within Steemit.com!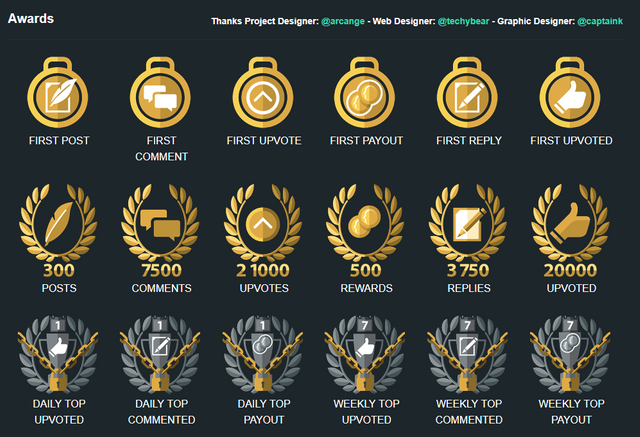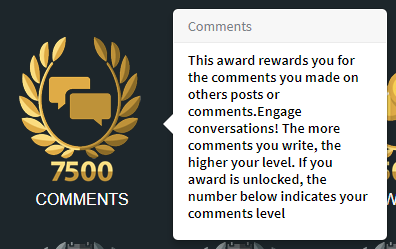 Witnesses
Make informed decisions about who to vote for witness. All the information you need is before you.
---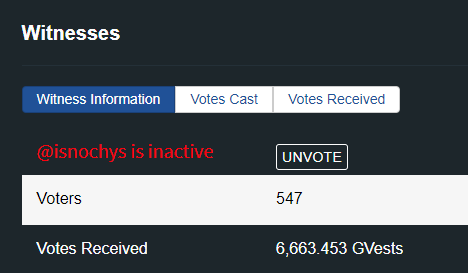 I'm voting for an inactive witness? Ut Oh! Better fix that.
---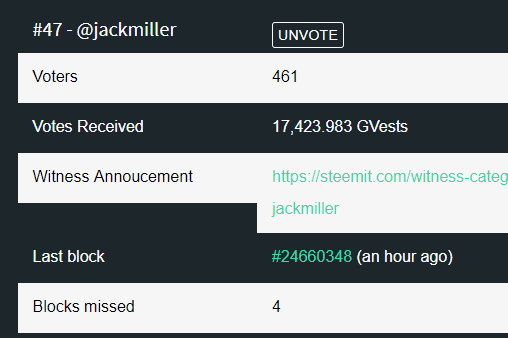 @jackmiller is ranked #47 and just processed a block one hour ago. The whole time he's been a witnesses, he's only missed four blocks... that's excellent.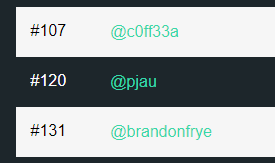 Up and coming witnesses to watch.
Reward Details
Ever wonder where those tiny curation rewards come from? What post paid out? Find out here!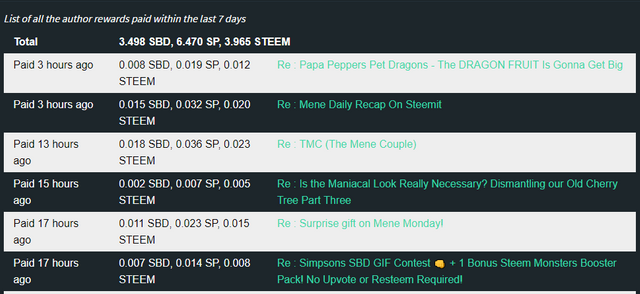 Pending Rewards
This extension will tell you what SBD and SP is estimated to arrive.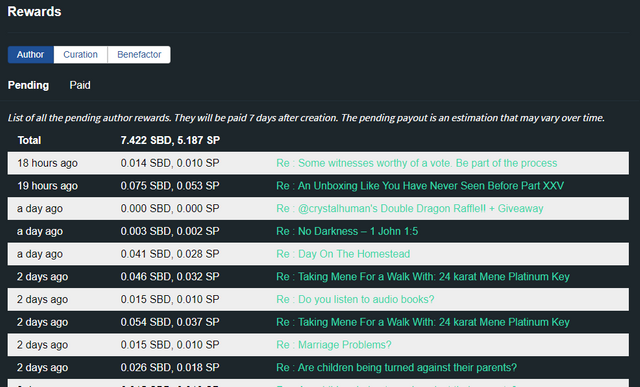 See Your Vote History
See your outgoing and incoming votes.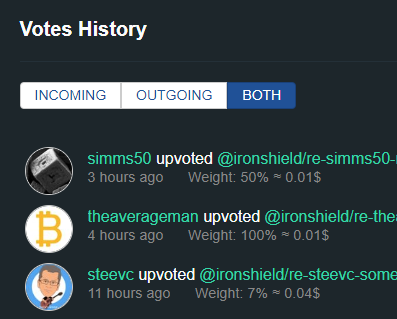 Thanks @simms50 you are more generous that I am!
Mentions
This is a very useful page to see what posts and comments have mentioned your name. I mention my name a lot in comments. Pretty much all the time. :-) @ironshield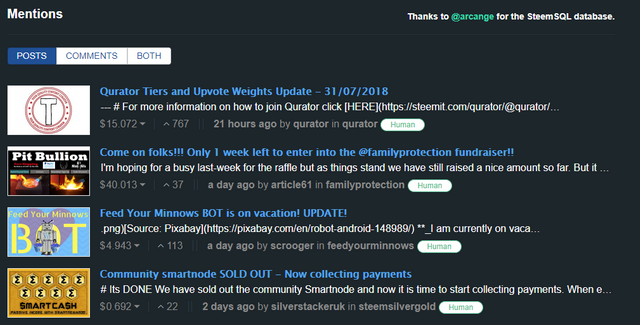 Who's talking about you? See it all right within Steemit.com.
This is only about 70% of the new features added from Steem Plus
A few more include:
Gif search and insert feature for posts and comments
Add beneficiaries when you post - donate your rewards to another account
Create a 'signature' for your posts that is automatically added at the end
quickswitcher between Steemit.com and busy.org
enhanced filtering for your feed
select favorite accounts to appear at the top of your feed
when making a post, the preview appears to the right, instead of underneath
a floating vote bar, to see information and upvote before reaching the bottom.
Whew, that's a lot!
That is a lot of features in a single Chrome extension. I may have missed some features, let me know if I did.
Many thanks to @adsactly for creating this amazing extension.
---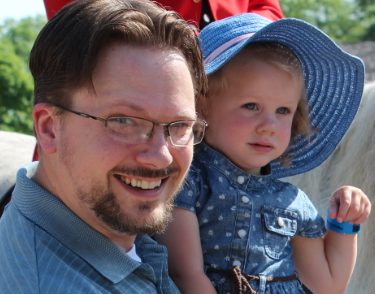 Benjamin Turner: God fearer. Rooted in Messiah. Husband of @lturner. Father of four wonderful children. The guy behind the camera. Steemit enthusiast.
Bless the Most High!

Have you been introduced to Menē yet?
Menē (Meen-nay) is a 24K gold and platinum investment jewelry company, where investors can trade their crypto-currencies for certified gold and platinum items. Preserve your wealth in precious metals and begin your Menē collection today.
Receive a $5.00 Gift Certificate using the link below:
https://mene.com/invite/YHDw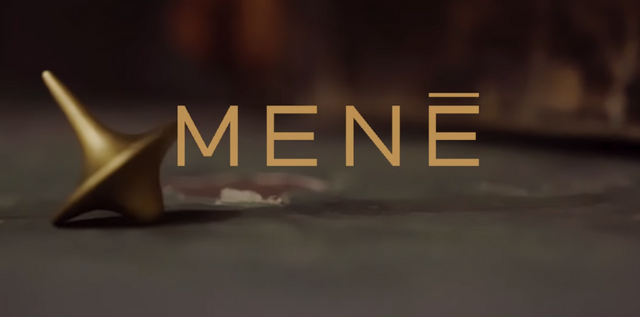 ALL PHOTOS ORIGINAL TO THE AUTHOR UNLESS OTHERWISE SPECIFIED.