Sunday Travel with @SteemPh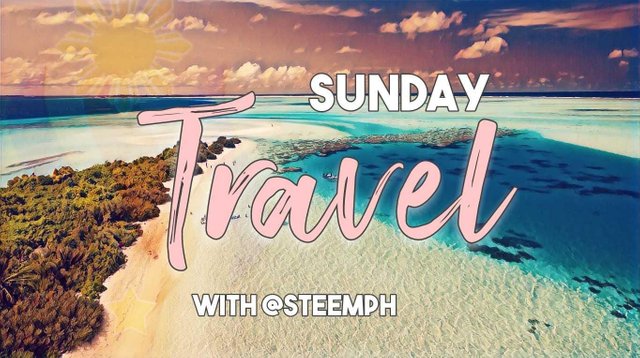 Happy Sunday Philippines. Today is Sunday Travel again and as you know it we will be showcasing some of the best travel posts by our fellow Filipinos.
There have been an increase in travel posts lately which is great as more and more people are seeing the beauty of the places featured in these posts especially places in the Philippines.
Let's travel!
Time Travel
This is the first Ulog post of @aalagenesis and it is more awesome because it's a travel post. But hey, what's more better than a travel post? It's time travel!
Her post will take us through pre-historic time as well as replicas of different animals and beings that looks so much alive.
You can check out this post of hers.
Disclaimer: I know the post is not 300 words but it shows historical artifacts from our National Museum and it's under appreciated so I gave it an exemption.
---
Kid's Travel
Travels are not just for adults, they're also for kids but in a totally different world. They usually prefer places with lots of fun activities to do.
One example is this one from @dearjyoce where she brought her lovely daughter to an indoor playground in Mall of Asia (MOA). The pricing is indicated in the beginning of the post and it featured some of the activities kids can do there like sliding, playing in the ball pit and much much more.
Perfect for parents who want to give quality time to their kids, it's on this post.
---
Festival Travel
Most known festivals are being held in the province like the Ati-Atihan festival in Aklan or the Panagbenga in Baguio. However, this article from my fellow writer @romeskie is interesting because it was held in a city, Taguig to be exact.
Based on her post, it is some kind of a Thanksgiving festival in a river where people on the boats and people on the land would throw food at each other and of course there are cleaners who would get the food that wasn't caught.
It's the first time I've heard of such festival and I wish I could have been there to have fun :-)
Read it on this post
Disclaimer: All pics came from the respected authors's posts.
---
Each day, each one of us writers will cover a certain topic and we will either write our own post or curate the best ones out there.
So, if you want to get more rewards or curated, make sure to follow the guidelines and we might feature your post here at Steemph.
Minimum 300 words or 3 stanzas.
Minimum 2 pictures. Must be credited if not original.
Must be at least 90% original content with sources clearly credited. 100% Original content preferred.
With the exceptions of Tuesday Community Competitions & Thursday Community Outreach Day. All posts must be tagged #SteemPh to be eligible for curation.
Posts must not be more than 4 days old.
And here are the topics for each day, you can also reach out to these amazing people in Steemph Discord if you have questions.
DAY TOPIC WRITER/CURATOR