If you want to know How To Start Trading In Cryptocurrency In The Philippines, you must read this article first and understand how it works.
Before you start trading in the Cryptocurrency Market, you must know the 4 points to keep in mind.
1.' Cryptocurrency Market is the latest innovation in the financial sector. Some don't like it & some patronizing it.
2.' In order to participate and start trading in this market, you must have Bitcoin Wallet. The easiest way to get a bitcoin wallet in the Philippines is thru Coins.ph.
3.' Cryptocunnrecy Market is a very volatile market, which means it is very risky, because its highly risky, it can give us a high reward. I assumed those who read this article are already know how to manage risk. So manage your risk properly.
4.' You can buy/sell through a reliable, secure and good cryptocurrency exchange firm, these firms are like your stock broker or forex broker where it can give you an access to all trading instruments. There are more than 1,000 cryprocurrencies to trade. These firms can be funded only in bitcoin, that is why you need your Coins.ph account bitcoin wallet to transfer your bitcoins to your account with them and start trading.
Step By Step How To Start Trading In Cryptocurrency
1.' Open an account with Binance – This is the crypto exchange I used because it is a very reliable, secure and user-friendly trading platform so far. After you have an account and verify it, you can add fund to your binance account using your bitcoin wallet from Coins.ph.
2.' You can download and install the Binance trading platform and start trading altcoins or other cryptocurrencies.
3.' There are 2 approaches you can implement in this journey, 1.) Buy a certain crypto based on your analysis and sell after a few profits or 2.) The famous word in crypto world is "HODL". Meaning, buy a certain cryptocurrency and HODL (hold) it for a long time such as 6 months, 1 year or even more than years. This kind of approach is so rewarding. For example on XRP, last January 2017 the price was $0.006 after 12 months it zoomed up to $2.18 the highest. It was a 38,000% investment growth. Illustration below is the summary of the the top 20 performing cryptocurrency for the whole year 2017. Unbelievable right?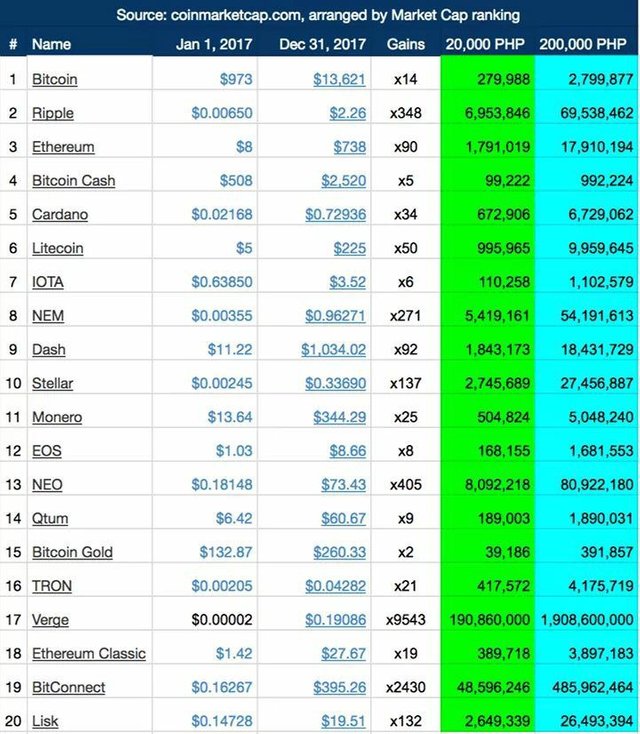 4.' That's it and I guess that's all you need.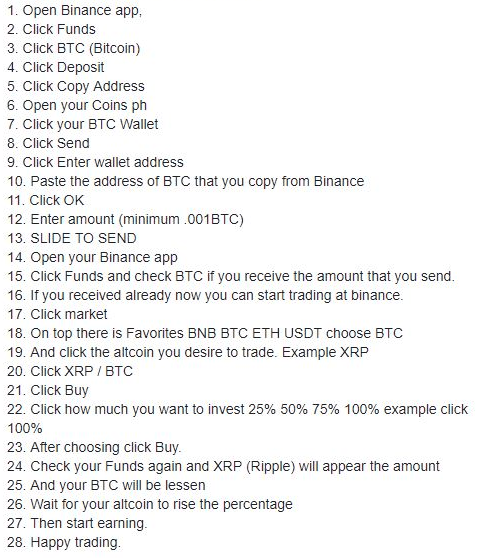 ---
Please note:
This new market is the hottest and most popular right now. So allocate only the amount you are willing to lose. So start with a small amount given that this market can give us tremendous return, we can easily grow our capital from it. Worst case scenario, if the market is not in our favor, at least we are only allocating the amount within our risk appetite.
No one knows what is the direction and where this innovation is heading. All he know is there is a volatility, this volatility creates opportunities and risks. Because we are traders, so we take the risks, managed it and make money out of it…
Good Luck & let's make some money
---
Image Source PROUDTRADERS: Image 1Image 2 Link: Proudtraders