Most of us, Steemians, would definitely think of any topic that we could discuss here. I do, too, especially that I am a newbie and so eager to share my thoughts in this new-found platform.
Today, I've no plan of writing something because I ran out of ideas. I'm not the type who likes to go to fancy restaurants, so no food reviews or whatsoever. I don't travel that much. I'm not that techie. You might think I'm oblivious about my sorroundings. Maybe you're right.
But stop right there. There is something that I'm really into: being a mother. Everyday, I'm learning new things from my innocent child. She's teaching me a lot.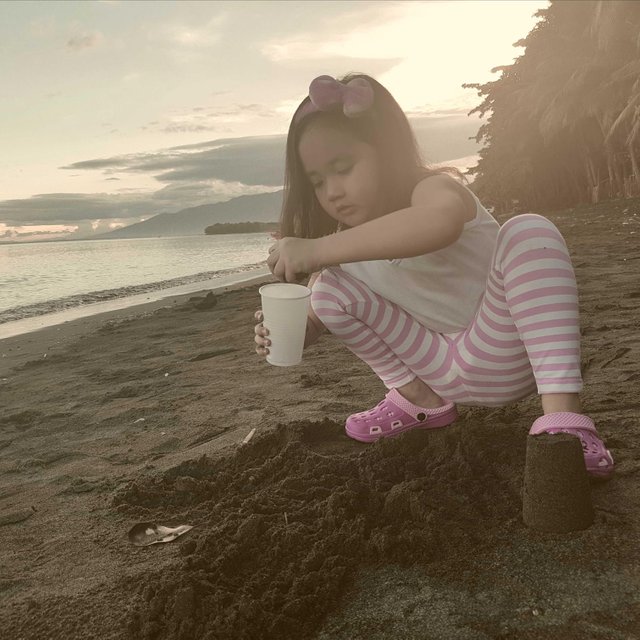 This day, I learned that a child's heart is really pure. It knows no boundaries. It knows no walls, no social status, no judgment. The realization came just this afternoon, while walking around the village, with my little one.
I'm the type of person who doesn't talk to neighbors that much. I feel so awkward or maybe shy. Of course I have 'hi-hello' relationship with the people living very near our house but not to the extent of having a long chat with them. I don't know, maybe I just want to keep our family's privacy. You can't blame me, I grew up in a very nosy neighborhood years ago. I guess, with my own family, I'm drawing the line to keep our privacy. My child is different. She made me think hard.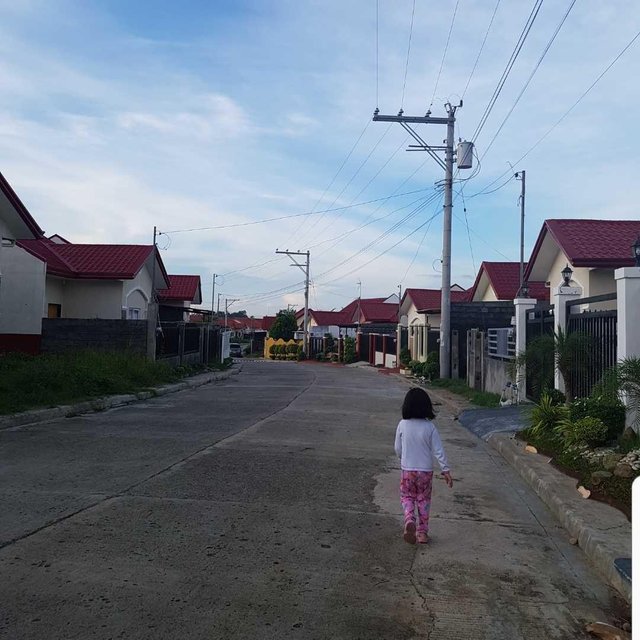 My daughter strolling the village early in the morning, last year.
---
So, just this afternoon, we walk around the neighborhood, maybe our first this year. While holding her hand, I just kept talking, asking random questions to keep her occupied. However, she keeps on pausing, keep staring at other people we meet along the way and sends her sweetest hello to them. Some of them, especially adults, will just look away while others will respond and smile. The result, I'll be forced to smile at them too! It's awkward but it feels so good.
She's so friendly to animals, too. Even to stray cats and dogs. If she sees a child, especially her age, she'll approach them and introduce herself even if she's oftenly ignored.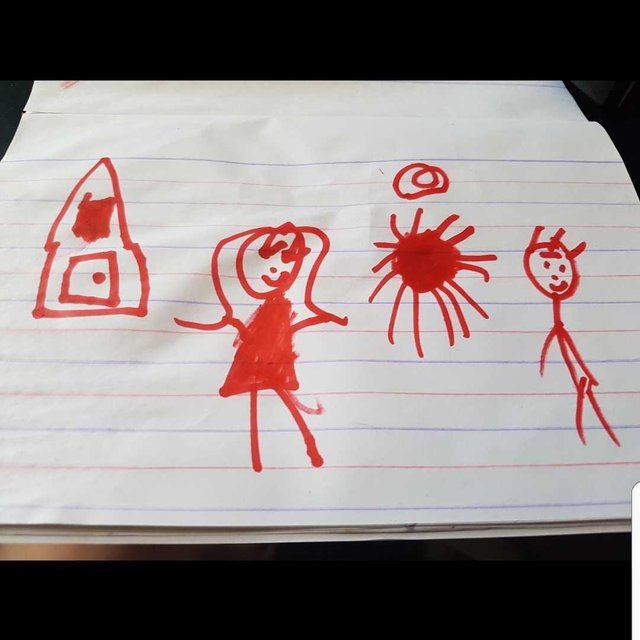 Just Love. Her drawing shows it.
---
I, as mother, saw this as a potential danger to my child. Truly, nowadays, you can't trust anyone. So, while walking home, I told her not to talk to stranger but she replied, "Stranger? What stanger, mama?"
I got speechless. For her, everyone is a friend. Even the word stranger is not on her vocabulary. Us, adults, will see it as a bad sign, of course. To a child, everyone is assumed to be good. No judgment. No bias. Makes me think, what if adults would think like a child too?
Maybe, as a mother, I have to make her understand that the world will not always perfect. There are bad people out there who might take advantage of her. But despite all this, I'm proud of her good heart. Maybe I'm not that bad as a parent after all to deserve a daughter who has a pretty face and a pure heart. ;)
---
P.S. Thank you,
@steemph
,
@bayanihan
,
@pingcess
,
@prinsepong
,
@ycrevilla
, friends and everyone who supported my first serious week in Steemit! Salamat po! 😘😘😘