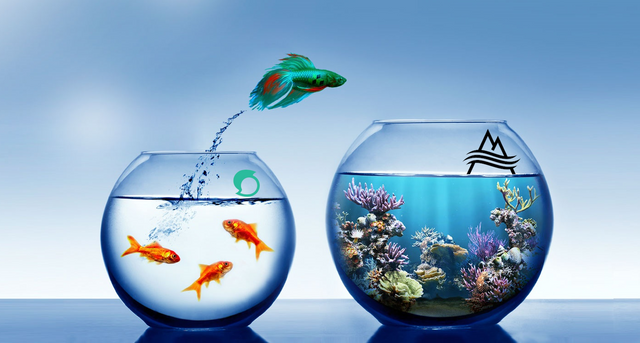 It took me months to make the jump. But from now, SteemPeak will be my default and favorite (if not the only one) client for the Steem Blockchain.
Changing my mind
I have always been impressed by how much people are stuck in their habit and are relunctant to change even when it is good for them. Of course, when I talk about people, that includes myself.
I have not been an early adopter, because at the beginning SteemPeak was missing some key features that were really important to me. But I continued to keep an eye on its evolution.
And was I saw is a constant improvement of the app and a continuous flow of innovations coming in.
Kudos to the massive work done by @asgarth (lead developer of SteemPeak) compared to small if inexistant added value features brought to us for years by Steem Inc to their steemit.com client.
Why the change?
The main reason that made me take the step is the support for multiple accounts. When you manage a personal account and several project and/or community accounts, using steemit.com is a nightmare.
And it became even worse now that Steemit inc. has splitted the wallet to a separate domain name (steemitwallet.com). I'm not saying that it was a bad decision, but having to deal with separate sites which are not "logged-in-user-synchronised" is really cumbersome!
On SteemPeak, thanks to Steem Keychain integration, switching from account to another is quick and transparent. This is a life and time saver.
Many more reasons
Of course there are many other reasons why I now prefer SteemPeak.I will mention a few wich are major to me. You are welcome to add your own in the comments on this post. Maybe I missed some awesome features on the app.
SteemPeak is fast! Even when you load a post with thousands of comments.
Try to display this @steemitboard post -> on Steemit and -> on SteemPeak.
Do I need to paint a picture?
SteemPeak is mobile friendly thanks to its Steem Connect integration.
Being a security paranoid, I'm not a fan of SteemConnect. But I have to admit that it helped me when using SteemPeak on my mobile and having to easily switch from one account to another.
The learning curve is really fast thanks to the clear and easy to use design of the interface.
Precisely defining your voting power on a post is easy to do, even if you have fat fingers.
You can save several draft of your post and come back to edit them later. You can even create templates to speed up your writing and commenting process.
You can bookmark posts to read them later or create some sort of key posts library. Again another huge time saver.
You don't need to install an extension like Steem-Plus to see key figures like Voting Mana, RC Mana, Vote Value, Upvotes details. Not that I do not like Steem-Plus (thanks to @stoodkev for the awesome work done) but it's now native and available everywhere, even when I'm on my mobile.
The team behind SteemPeak is accessible and very reactive.
You won't see any advertisements (until now) like Steemit now does.
You can decide whether or not you want to share part of your author reward (5%) with SteemPeak to support the project. You can even do it on a per post basis.
OK, I will stop here to avoid making this post TL;DR.
Give it a try
Give it a try, give yourself some time to get used to, and I'm pretty sure you won't come back to the outdated steemit.com again.
Go to https://steempeak.com and share your opinion in comments.
Tell me what's your beloved SteemPeak's feature.
Finally, please support SteemPeak team's work like I do. Go to your settings and share the reward love!


Thanks for reading!
---

footer created with steemitboard - click any award to see my board of honor
_
Support me and my work for the Steem community.