Steem Monsters Card Giveaway #4 - Win one card for steemmonsters who is not including in start pack ++ double your chance together with #3 ++
Because I get (until now) four replies for giveaway #3:
I want now give you the possibility to double your chance to get this card.
So I start contest #4 and let #3 open.
Because this sea genie seems to be quite interesting I just put another sea genie:
You can win this card: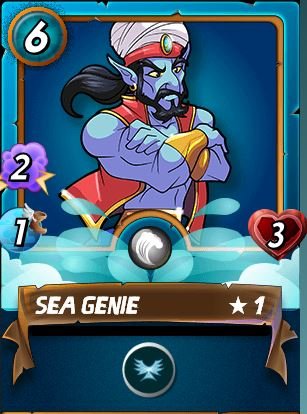 This card is not included in the start pack.
How you can win ?
Just follow this steps:
Please make sure, to follow me @udow to get announcement of future card giveaways.
Please resteem this post, so that more people have the possibility to take part in this and future contest.
Please upvote this post.
(only if you are not playing steemmonster already): Please register at steemmonsters through my referal link .
Comment below, I'm interested why you play steemmonster, what level you have and so on.
I will choose the best comment (in my opinion) and reward him with this card (free gift through steemmonsters).
So please, if your steemmonsters-name is not the same like your steemit-name specify them in your comment.
I will announce the winner in a separetely post.
Supplement: I will also add post in german language after this post - so winner will be taken out of this post or of the following post in german language.