Hi everyone,
The second part of the Golden Slayer series went down today (GOLD FOIL only and Alpha, Beta, Reward and Promo all allowed). Today it was the silver league and again I got kicked out before the semi-finals. gg @cranium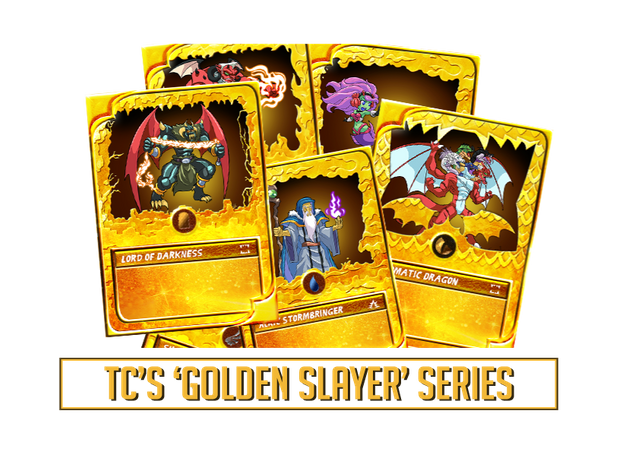 It was a nice tourney with @glory7 as the champion again and it will be hard to kick him of his throne. Only one more tourney to go in this series and he is at 20 points, @sashas and @putsauce still have a tiny chance if @glory7 would not qualify next friday.
There were only 15 participants, so the payouts were:
Between 1 - 16 players enter -> top 3 gets payed
100 STEEM @glory7
60 STEEM @cranium
40 STEEM @raynie
There is also 200 extra steem to be divided for the overall standings.
Per tourney you get points for qualifying in the top 8:
OVERALL STANDINGS
At the end of the three tourneys (based on the three scores combined) the top 10 gets a bonus payed out of the 200 Steem price pool and player who claims the number one spot will henceforth be know and should be addressed as The Greatest Golden Slayer of All Time Ever (till the next series where the crown might be passed on).
Payout
75
40
25
15
12
10
8
6
5
4
Tourneys are held in the SM tourney discord. https://discord.gg/RsbDMv and hosted by me, @toocurious. A big thanks to @steemmonsters for providing the prize money!
My newborn still hasn't arrived just yet, so I hope to see you all on Friday for the silver league of the Golden Slayer Series. You can follo the progress here: http://littlesnomad.com
Get out your gold and FIGHT!!!
---
I am a Proud ambassador of Actifit - A beautiful Steem based App that pays you to get fit.
Don't want to get fit? You can also delegate: actifit.io