How to Climb the Leaderboards in Steem Monsters: Season 2
Howdy folks!
Welp, I've come a long way since buying my first Steem Monsters card pack back in August of this year. Since the Beta went live, I've competed in over 662 battles and own over 152 cards. Now that Season 1 has ended, I'm able to share my experience with leaderboard rankings. And, if you haven't played this game yet, well get over to the Steem Monsters website and play the best blockchain-based game to date!
My Ranking Last Season
Season 1 ended about 5 days ago and when it was all said & done, I made it to the Champion League (the highest of 6 leagues in Steem Monsters) placing #292 out of 1617 players.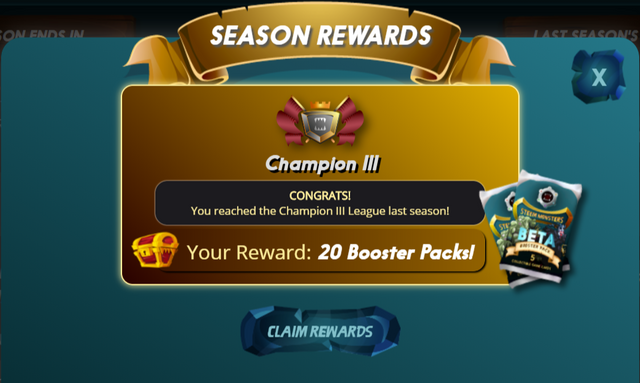 Climbing the ranks isn't just about bragging rights! The higher you place, the higher your end-of-season rewards. Thanks to my time spent playing the game, I won 20 Booster Packs (which would cost $40 in the Steem Monsters store!) The Top 10 places won actual Steem Dollars (first prize of 100 SBD.)
My Playstyle Last Season
Last season, after learning the basics of gameplay (which really just came to me by playing match after match,) I settled on one style of deck to upgrade: The Death Splinter. Here's an example battle lineup from my Death deck: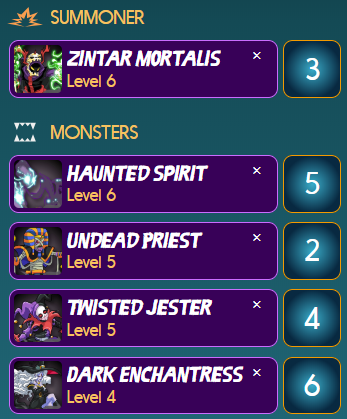 As you can see, I've taken the time to level up these cards quite a bit. Here on Steemit, I take a 50/50 split on rewards (50% SP & 50% SBD.) Recently, I've been taking my SBD payouts and using them at the Peak Monsters Marketplace to level up specific cards. While there's advantages to straight up buying packs, you can save yourself some SBD by buying only what you need from other card holders.
Then, boom, I used this beefy deck (or some variation of it based on the daily changes in mana cap & combat rules) in hundreds of matches until I stopped consistently winning more than I was losing. This is because, eventually the matchmaking service was placing me with people who has much higher level cards than I and the likelihood of my placing significantly higher on the leaderboards diminished.
What's Changed for Season 2
With Season 2, came the introduction of daily quests.

Complete a quest, win a free $2 Steem Monsters card pack! Therefore, no longer can we build one up type of deck and then pummel away at the rankings. If you make it into the Champion league, but then want to complete a quest in a Splinter where you have lower-level cards, you'll be likely matched with people who have much better decks than you. Taking the time each day to play with different Splinters in order to complete the quests will ensure we're always receiving new cards. Then, in the final push of the season (perhaps the last 24-48 hours) we can switch to our higher level deck and reach as high as we can.
This method, of course, assumed that you care/need/want 5 new Steem Monsters cards every day. As someone who has already spent some $ on the Kickstarter campaign and PeakMonsters -- I probably won't be making any big SM purchases anytime soon. So the daily free packs - and - the multi-pack reward for ranking well at the end of the season will be good enough for me :)
What are you doing?
Let me know your plans for winning big this season with Steem Monsters! It will likely be a lot harder to climb the ranks with more people this time around, but that means a larger community and more fun!
Other Posts by Steve Cronin