I have said many times that I am not a gamer, but @SteemMonsters somehow sucked me in. There is nothing wrong with gaming, but I really need to be doing other things. I do win some cards, but the value does not justify my time. So I came up with a way to stop me playing whilst helping my #TenKMinnows scheme to help small Steem accounts build up. The project has stalled a bit and this may be a way to get it going again.
I have built up quite a collection of cards and I am prepared to lease them to people who can make use of them.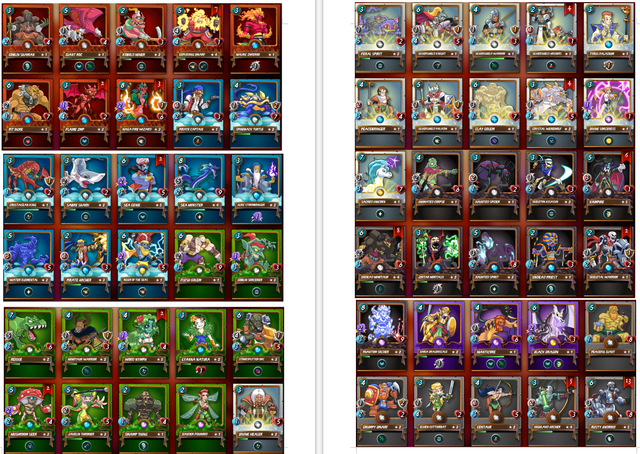 This is most of the collection. There are a few more neutral cards. My Water summoner is Level 3, Earth, Death and Dragon Level 2, others Level 1.
I am not going to charge for cards, but I am setting some conditions. To be considered for a lease you need to meet at least one of the following conditions:
Sign up to Steem Monsters with my referral link and at least buy a starter pack. I can lease you some cards that will speed up your progress past the lower Leagues. I will actually give away some cards that I have too many of.
Delegate to @TenkMinnows. You need to delegate at least 250SP to qualify.
Buy @steembasicincome tokens for a redfish.
Give some votes to redfish.
Suggest accounts who could use the support of the project.
Come up with your own initiative to build up some redfish. Write a post about it and tag me. If you are already doing something and want some cards then get in touch.
Something else. Tell me some other way you can help increase the number of minnows. I am open to suggestions and may edit this post to add any good ones I get.
I am not going to get too specific on how this will work and how long the lease will last. If you qualify or have suggestions then contact me on Discord. I am steevc#3022 there and you can find me in various channels, including the Steem Monsters one. There is also a 10k-minnows-project channel on State of Steem forums. I am sure you can track me down. You can always leave a comment here.
If you just want to discuss ways to support the small accounts, but are not interested in the game then we can still talk.
I am powering up all my Steem at the moment to support more people. I am also open to creating Steem accounts for free and will delegate to people who can show they create good content elsewhere.
Steem on and make minnows!
The geeky guitarist and facilitator of the 10K Minnows Project.