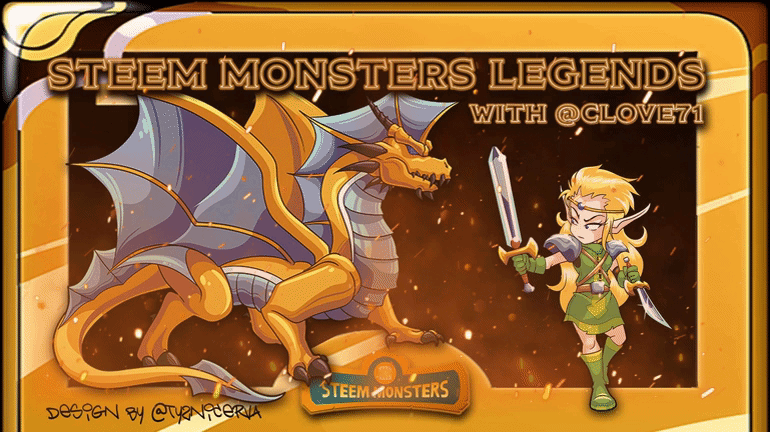 Hello to all the fellow Monsters in the house! What exactly is a Steem Monsters Legend? Well, that would be someone who has been in the #1 spot on the Steem Monsters leaderboard! It is very hard to get there, much less to stay there! In this week's series of Steem Monsters Legends, I would like to introduce to you this week's Legend... @begonethot who is in the Champion league and currently #1 on the leaderboard! He has claimed that spot for 6 days now and counting! What a fast come up I noticed with him! He is an outstanding Steem Monsters player with a total of 3,800 battles and 2,152 wins! This information is current as of today, which is March 25,2019. He has a longest streak record of 46 and a highest rating of 5,362!
So far this season, he has battled 780 times with 482 wins and a longest streak of 18! In addition to these awesome stats, he has always been extremely helpful to other players in Discord.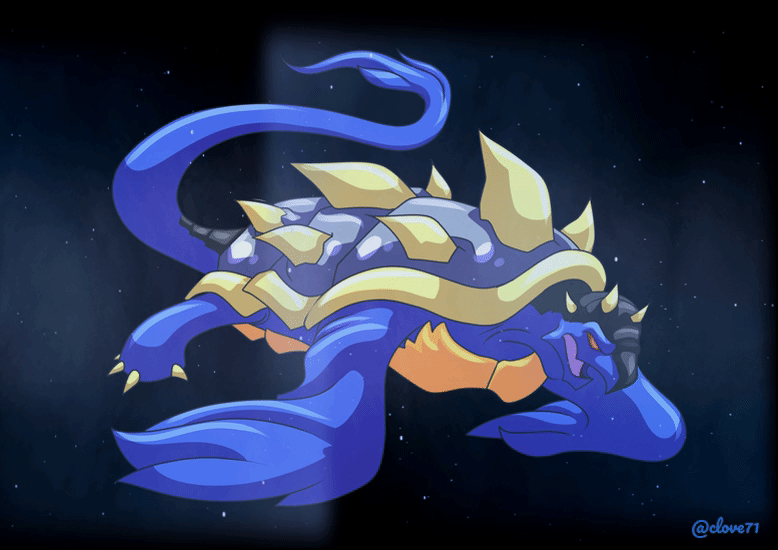 Earlier today someone asked in Discord what silence was regarding the Crystal Werewolf. He let them know it takes off 1 magic point from the other team, if they play magic. He even went in the practice arena with him to show him what it does! He is always helping others and that is a awesome thing to do! It is people like him in this community that make me happy to be here. If you want to get more Steem Monsters tips and advice from someone who has been in the #1 spot on the leaderboard, I would suggest you follow him now. I asked him a few questions earlier and he responded so fast and was actually in school at the time but is so kind and also such a die hard Steem Monster that he responded right away!


1.) First of all congratulations on being #1 on the Steem Monsters leaderboard as well as winning first place on a recent Steem Monsters League Of Champions tournament! Can you tell us all a little bit about yourself and your background in gaming. Did you play Magic or Hearthstone?
"Thanks! I'm a 25 year old University student studying Management Informations Systems. I've always been a competitive gamer but have never played any digital card games like Hearth Stone or Magic. The
current competitive games I enjoy playing are Counterstrike: Global Offensive and Steem Monsters!"
2.) Were you already on the STEEM blockchain or did you come here for Steem Monsters? Also, how did you find out about Steem Monsters?
" I heard about the Steem blockchain from my brother but I never got into it. I just started using Steemit about 3 days ago actually, haha! My brother sent me a link to Steem Monsters about six months ago and I was instantly hooked after trying it out! It was fast paced, super fun and competitive!"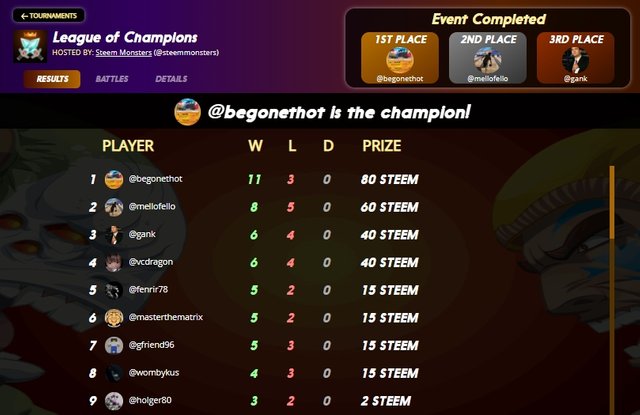 3.) What kind of advice can you give to any new or even older Steem Monster players who want to improve their game?
" Advice I would give to new players is to really try to understand how a battle pans out and have the knowledge of what each card does. You should keep mental notes of how your opponent plays and figure out what counters to play against what they might play ( magic, snipe ability, sneak, etc.) You can't win every battle but you can definitely get a nice streak going that will bump up your trophy count a good bit. Also, if you have the means to take advantage of the 500 pack special then do it. It's a good value and gives you a very good chance of opening a gold Legendary that will sell for a couple hundred bucks that you can use towards buying normal foil cards that you'll need to level up your cards!"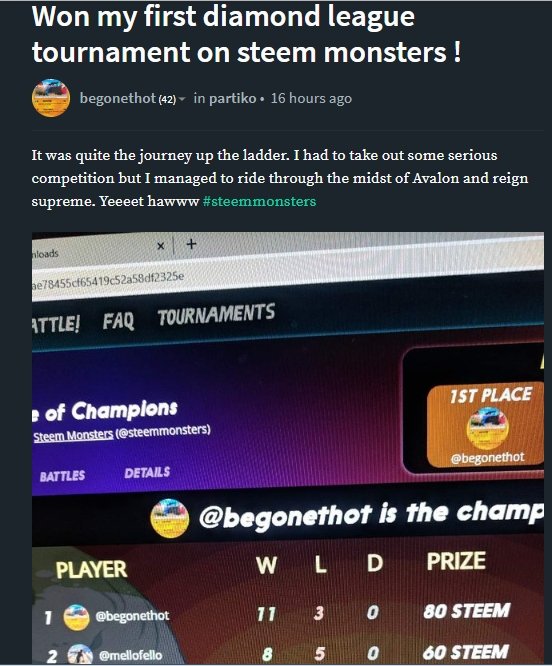 4.) What is your favorite Steem Monster card or splinter to play?
"My favorite splinter is split between earth and water. I think they're both equally as powerful, they're one of the best decks to use in high mana and medium mana battles."
5.) When you are playing Steem Monsters is there anyone you do not want to run into?
" I welcome all challengers :smiley: I love gettting matched up with the best of the best! If I were to pick a player or two that make me nervous during battle is @bji1203, @vaansteam, and @themightyvolcano. They're all gangsters at this game."
6.) When I battle Steem Monsters I love listening to Win by Jay Rock! Can you tell us perhaps a favorite song you like to listen to while playing Steem Monsters?
"Falconry by Action Bronson. It gets me hyped up when im playing!"
I could not find a clean version to share but here is another great song, a clean version of Action Bronson's Acting Crazy. He is a great Artist and I can see how his music is awesome for battling!
I also asked him if he had any other thoughts or advice for anyone in the game. This is what he had to say.....
" If you're new, don't get discouraged that your cards aren't that good. It will take time to build up your cards. You just gotta grind away and sell extra cards you dont need to purchase cards that you need. I played this game for only 6 months and I managed to reach #1 on the leaderboard! Just stick to it and keep grinding! STEEEM ON!"
I personally thank you as this was a great little interview here. I also wish you the best at keeping your title. You are a terrific Steem Monsters player and I know people playing Steem Monsters will love getting to know all the Steem Monsters Legends such as yourself, a little better. Also, I appreciate all the advice you gave to the players! I will see you all next week with another interview with a great Steem Monsters Legend!


Steem Monsters Discord HERE
Steem Monsters Official Facebook Group HERE
Steem Monsters Official Facebook Page HERE
Steem Monsters Official Telegram HERE
My IG - Steemmonstergirl HERE
My YouTube Channel HERE
My Twitter HERE


May the Monsters be with you.
Chris Love @clove71
Steem Monsters Rep.