The tournament Steem Monsters WilTravel Bronze Leagues Tournament was sucessfully finished.
52 participants register for the single elimination tournament.
Description
---
@travelgirl and I will be hosting a Silver league Steem Monster Tournament on 30th January night at GMT +11 (11pm Sydney time for the Australian players | 8pm in Malaysia, Hong Kong, China, and many more Asian countries).
Registration is open and free to enter!
Leauge: Bronze - Single Elimination. BO1
Prizes:
1st Place: 40 Steem
2nd Place: 30 Steem
3rd Place: 20 Steem
4th Place: 10 Steem
Check in commences 15 minutes before the game starts so this will ensure we can all start on time. This will also ensure that all players are there when tournament starts. (If you fail to check in after the tournament has started - your name will be removed from the participants list. We don't remove you from the list if you don't check in, the system does it automatically)
---
The tournament was manually started and finished.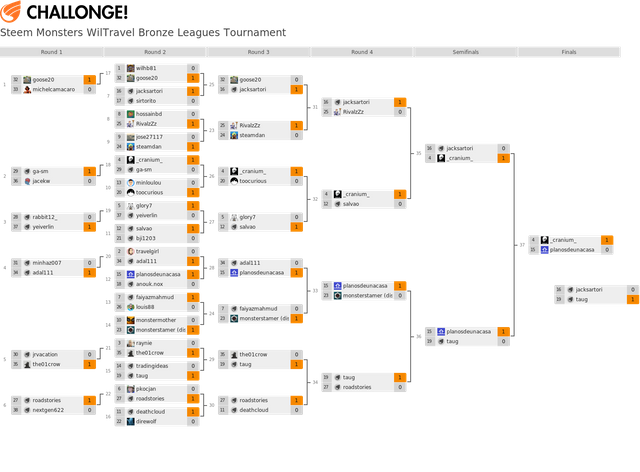 Participants ranking
| name | rank | wins | loses |
| --- | --- | --- | --- |
| cranium | 1 | 5 | 0 |
| planosdeunacasa | 2 | 4 | 1 |
| taug | 3 | 4 | 1 |
| jacksartori | 4 | 3 | 2 |
| salvao | 5 | 2 | 1 |
| monsterstamer (discord nick: Shenanigan) | 5 | 2 | 1 |
| RivalzZz | 5 | 2 | 1 |
| roadstories | 5 | 3 | 1 |
| glory7 | 9 | 1 | 1 |
| faiyazmahmud | 9 | 1 | 1 |
| deathcloud | 9 | 1 | 1 |
| toocurious | 9 | 1 | 1 |
| steamdan | 9 | 1 | 1 |
| goose20 | 9 | 2 | 1 |
| adal111 | 9 | 2 | 1 |
| the01crow | 9 | 2 | 1 |
| wilhb81 | 17 | 0 | 1 |
| travelgirl | 17 | 0 | 1 |
| raynie | 17 | 0 | 1 |
| pkocjan | 17 | 0 | 1 |
| hossainbd | 17 | 0 | 1 |
| jose27117 | 17 | 0 | 1 |
| monstermother | 17 | 0 | 1 |
| minloulou | 17 | 0 | 1 |
| tradingideas | 17 | 0 | 1 |
| sirtorito | 17 | 0 | 1 |
| anouk.nox | 17 | 0 | 1 |
| bji1203 | 17 | 0 | 1 |
| direwolf | 17 | 0 | 1 |
| louis88 | 17 | 0 | 1 |
| ga-sm | 17 | 1 | 1 |
| yeiverlin | 17 | 1 | 1 |
| rabbit12_ | 33 | 0 | 1 |
| jrvacation | 33 | 0 | 1 |
| minhaz007 | 33 | 0 | 1 |
| michelcamacaro | 33 | 0 | 1 |
| jacekw | 33 | 0 | 1 |
| nextgen622 | 33 | 0 | 1 |
---
You can use @smtournament for your steemmonster tournament. You can read more here: post