The tournament 🌪Monster Pop Up!🌪 NOVICE - 100 STEEM Prize Pool was sucessfully finished.
39 participants register for the single elimination tournament.
Description
---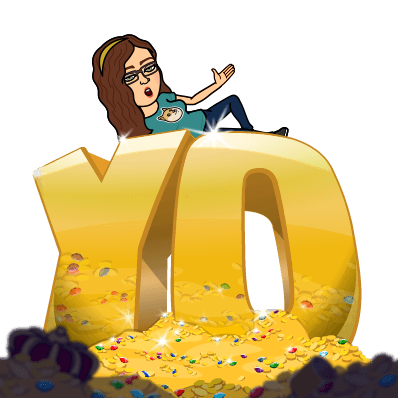 DATE & TIME: JANUARY 29nd, 2019 @ 8PM EST
ENTRY FEE: FREE
THE BATTLE
Allowed Cards: ALL CARDS
Level Limits: NOVICE - NO LEGENDARY
Single Stage/Single Elimination
Best 2 out of 3 moves to next round.
MAX FIGHTERS: 32
Sign up even if FULL. No-shows get knocked out.
Check this calendar for more tournaments: STEEM MONSTER TOURNAMENTS
THE PRIZES
1st- 40 STEEM
2nd- 30 STEEM
3rd- 20 STEEM
4th- 10 STEEM **
RANDOM LOSER- GOLD FOIL FLAMING DWARF**
Total Prize Pool- 100 STEEM
CHECK IN on challonge.com is 15 MINUTES early.
👉If you do not check in you will be auto removed from the bracket. So do it!😍
I know, I know. There are a MILLION different channels and servers for tournaments now. Trust me, you wanna join mine.
I will announce LIVE in #tournaments-chat when we start. Look for this:
🥊Round Starts Now🥊
Tournament sponsored by @steemmonsters
---
The tournament was manually started and finished.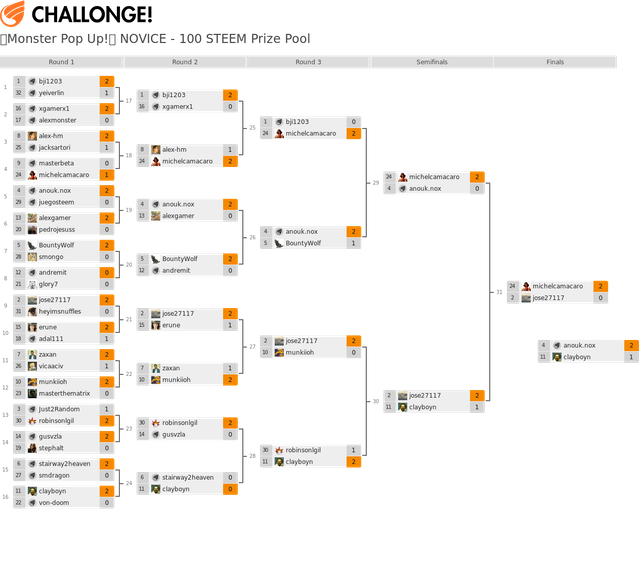 Participants ranking
| name | rank | wins | loses |
| --- | --- | --- | --- |
| michelcamacaro | 1 | 5 | 0 |
| jose27117 | 2 | 4 | 1 |
| anouk.nox | 3 | 4 | 1 |
| clayboyn | 4 | 3 | 2 |
| bji1203 | 5 | 2 | 1 |
| BountyWolf | 5 | 2 | 1 |
| munkiioh | 5 | 2 | 1 |
| robinsonlgil | 5 | 2 | 1 |
| stairway2heaven | 9 | 1 | 1 |
| zaxan | 9 | 1 | 1 |
| alex-hm | 9 | 1 | 1 |
| andremit | 9 | 1 | 1 |
| alexgamer | 9 | 1 | 1 |
| gusvzla | 9 | 1 | 1 |
| erune | 9 | 1 | 1 |
| xgamerx1 | 9 | 1 | 1 |
| Just2Random | 17 | 0 | 1 |
| masterbeta | 17 | 0 | 1 |
| alexmonster | 17 | 0 | 1 |
| adal111 | 17 | 0 | 1 |
| stephalt | 17 | 0 | 1 |
| pedrojesuss | 17 | 0 | 1 |
| glory7 | 17 | 0 | 1 |
| von-doom | 17 | 0 | 1 |
| masterthematrix | 17 | 0 | 1 |
| jacksartori | 17 | 0 | 1 |
| vicaaciv | 17 | 0 | 1 |
| smdragon | 17 | 0 | 1 |
| smongo | 17 | 0 | 1 |
| juegosteem | 17 | 0 | 1 |
| heyimsnuffles | 17 | 0 | 1 |
| yeiverlin | 17 | 0 | 1 |
---
You can use @smtournament for your steemmonster tournament. You can read more here: post