Splinterlands is getting much more interesting as days are passing by. While another season has successfully has ended. I believe most of the users got expected results of the hard works they did in the last last season. While first of all I must say this game can make you bankrupt because once you dive into this game you will love it this much that you can not resist yourself to get more expensive cards in order to get up on the board. I was able to meet some of the crazy fans of this game and I do not blame them this game is indeed designed that way to impress it's users and investors.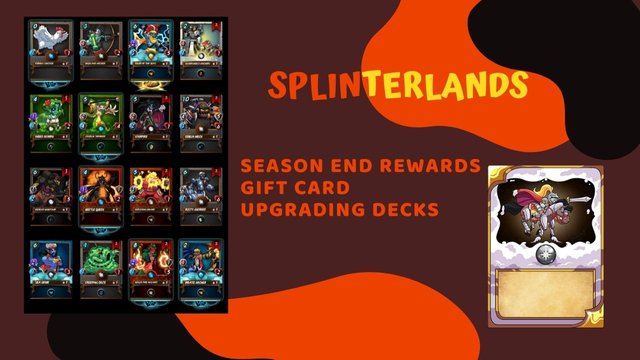 This season reward was not that amazing but not that I am complaining git some nice rewards for the cards and the efforts given this season.
and the rest well not worth that much but they will be of help to spice up the cards a little bit more. If I just add the price in terms of those cards, then roughly I would get at current market price I would get
4 USD for the Leg
0.16 USD for P.Archer
0.15 USD for Bettle Queen
0.09 USD for J.Thrower
0.12 USD for Mega F.Wizard and leaving out the rest as they would be close to nothing I believe. Nevertheless, it was a nice season to get through. made it to Gold 1 and got 30 rewards cards.
---
Well this concludes the season rewards but as for the time being I got selected on one of @dosudes giveaway and got Alpha Silvershield Knight as reward, thanks buddy for that !
---
While as of now trying to build up my decks slowly and for the time being will try to upgrade Fire deck this season at least to level 5. As of now working on other cards to make it up to upper leagues from this season. Let me see how much effective I can get and how much DEC I can collect this season. Hopefully all the investments will bear fruit from my side.
Hence new season have started and let us see how this season turns and hopefully will be able to make some contributions and increase my chance of making some positive effects in my steem journey.
---
That is it for today !!
Thanks for Stopping By
---
Curator of
---
neoxian.city
If you want to earn NEOXTOKEN try using
neoxian
tag on your post
Discord Server

Steemit Bangladesh
Join Steemitbd
(Bangladeshi Community)
Discord Server
---
---