Witajcie / Hello,
Jak juz pewnie część z Was wie (gdyż @jacekw zdążył się pochwalić ;p ), wczoraj po raz pierwszy wygrałam międzynarodowy turniej Steem Monsters. Jednak nie był to jedyny wczorajszy sukces dotyczący tej gry ;)
As some of you may already know, yesterday I won the international Steem Monsters tournament for the first time. But it wasn't my only success in the game yesterday.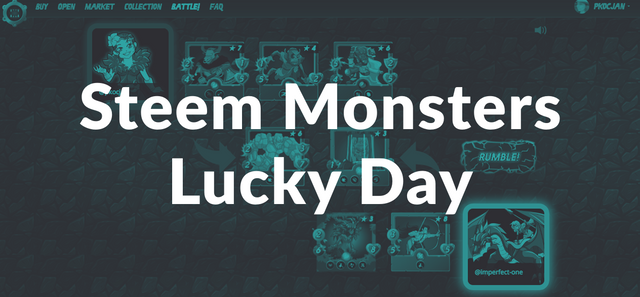 ---
TURNIEJ NR 1 / TOURNAMENT NO. 1
Pierwszy turniej, w którym wczoraj wzięłam (planowany) udział ,to "Steem Monsters WilTravel Gold League Tournament" zorganizowany przez @travelgirl oraz @wilhb81.
Pula nagród wynosiła: 20 SBD + 4 złote karty.
Zasady gry: Pojedyncza eliminacja, BO1. Znaczy to dokładnie tyle, że z każdym przeciwnikiem mam do rozegrania tylko jedną walkę i gdy przegram, to odpadam z turnieju.
My first tournament yesterday was the "Steem Monsters WilTravel Gold League Tournament" organized by @travelgirl and @wilhb81.

Prizes pool: 20 SBD + 4 gold foil cards.

Rules: Single elimination, BO1.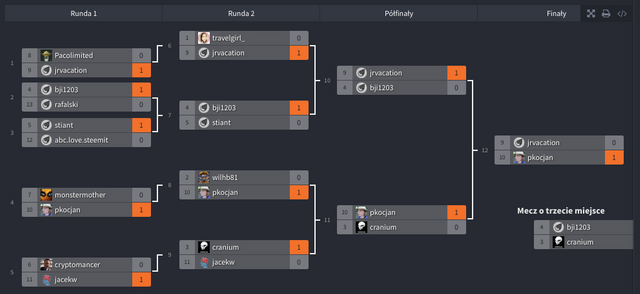 Pierwszą swoją walkę miałam do rozegrania z @monstermother. Przeciwnik jest mi znany. Dwa dni wcześniej przegrałam z nim walkę o finał. Tym razem to jednak ja byłam górą ;)
Kolejnym przeciwnikiem okazał się @wilhb81. Z nim wcześniej również miałam przyjemność się zmierzyć. Ta wygrana zapewniła mi udział w półfinale oraz miejsce premiowane nagrodą.
Następnie na mojej drodze pojawił się @cranium. Pierwsza myśl wtedy przyszła mi do głowy to: "no to odpadam". Nigdy wcześniej nie wygrałam żadnej walki z tym bardzo dobrym graczem. Tym razem było jednak inaczej i to ja weszłam do finału.
W finale przyszło mi się zmierzyć z @jrvacation, którego również kojarzyłam ze wcześniejszych pojedynków. Po przeanalizowaniu zasad gry oraz sprawdzeniu czym poprzednio grał przeciwnik, tym razem postawiłam na wodną drużynę. Jak się okazało był to dobry wybór, który doprowadził mnie do zwycięstwa.
In my first fight, I had to play with @monstermother. My opponent is known to me. Two days earlier I lost with him the fight for the final. This time I was able to won ;)

My next opponent was @wilhb81. I also had a pleasure to face him earlier. I won and it gave me a place in semi-final and guaranteed prize.

Then @cranium appeared on my way. My first thought which came to my mind was: "Well, this will be it." I've never won a fight with this very good player before. This time it was different and it was me who entered the finals.

In the final I played with @jrvacation, which I also knew from earlier games. After analyzing the rules of the game and checking how the opponent had played before, this time I decided to choose a water team. As it turned out, it was a good choice that led me to victory.

Tak oto pierwszy raz wygrałam turniej otwarty dla wszystkich graczy.
This is the first time I won an open tournament for all players.
TURNIEJ NR 2 / TOURNAMENT NO. 2
Kolejny turniej na który zdecydowałam się w ostatniej możliwej chwili to "1000 SBD Steem Monsters Invitational" zorganizowany przez @aggroed.
Pula nagród wynosiła: 1000 SBD.
Zasady gry: Podwójna eliminacja, BO3. Oznacza to, że z turnieju odpada się po drugiej przegranej, a z każdym przeciwnikiem rozgrywa się 2 lub 3 walki i dalej przechodzi ta osoba, która wygra dwa pojedynki.
Another tournament I decided to take at the last possible moment was "1000 SBD Steem Monsters Invitational" organized by @aggroed.

Prizes pool: 1000 SBD.

Rules: Double elimination, BO3.

Trzy pierwsze swoje walki w turnieju wygrałam, jednak kolejnym przeciwnikiem okazał się @bji1203. Jest to bardzo dobry gracz, z którym grałam już niejedną walkę. Tym razem to on był lepszy, co spowodowało, że przegrałam pierwszą walkę w turnieju i spadłam do dolnej drabinki.
I won the first three of my fights in the tournament, but the next opponent was @bji1203. This is a very good player, with whom I played a lot of fights in the past. This time he was better and I lost the first fight in the tournament and fell to the lower bracket.

Tam każda walka była tak naprawdę rozgrywką o być albo nie być. Kolejna porażka wiązała się z odpadnięciem z turnieju. Niestety na mojej drodze byli już sami bardzo dobrzy gracze tacy jak: @goodhello, @palikari123, @dreemit czy @imperfect-one. I to walka z tym ostatnim okazała się dla mnie najtrudniejsza w całym turnieju. Dlaczego? Z kilku powodów: po pierwsze wiem jak dobrze gra ;) po drugie wiem jakie ma karty i po trzecie kibicowałam mu aby doszedł jak najdalej, a nawet wygrał turniej. Tym razem jednak szczęście było po mojej stronie i udało mi się z nim zwyciężyć, co sprawiło że miałam możliwość walki o drugi finał tego dnia.
Moim przeciwnikiem okazał się @cranium. Jednak teraz już wszystko wróciło do normy i to on wygrał ze mną (bez większych problemów) dwie walki i przeszedł do finału, a ja musiałam się zadowolić trzecią pozycją.
Every fight there was actually a game for being or not in the tournament. Unfortunately, on my way there were already very good players like: @goodhello, @palikari123, @dreemit or @imperfect-one. The fight against @impertect-one turned out to be the most difficult for me in the whole tournament. Why? For several reasons: first of all I know how good he plays ;) secondly I know what cards he has and thirdly I supported him to get as far as possible and win the tournament. But this time I was lucky on my side and I managed to win with him. It was me who had the opportunity to fight for the second final that day.

My opponent was @cranium. But this time everything was back to normal and he won with me (without any problems) two fights and went to the finals. I had to be satisfied with the third place.

Oczywiście dla mnie jest to mega duży sukces zająć trzecie miejsce wśród takich dobrych graczy i w tak dużym turnieju. Cieszyłam się ogromnie :)
Of course for me it is a great success to take third place among such good players and in such a big tournament. I was very happy :)
---
Dlaczego uważam ten dzień za udany? Zobaczcie sami :D
Why do I think this day was a success? See it yourself :D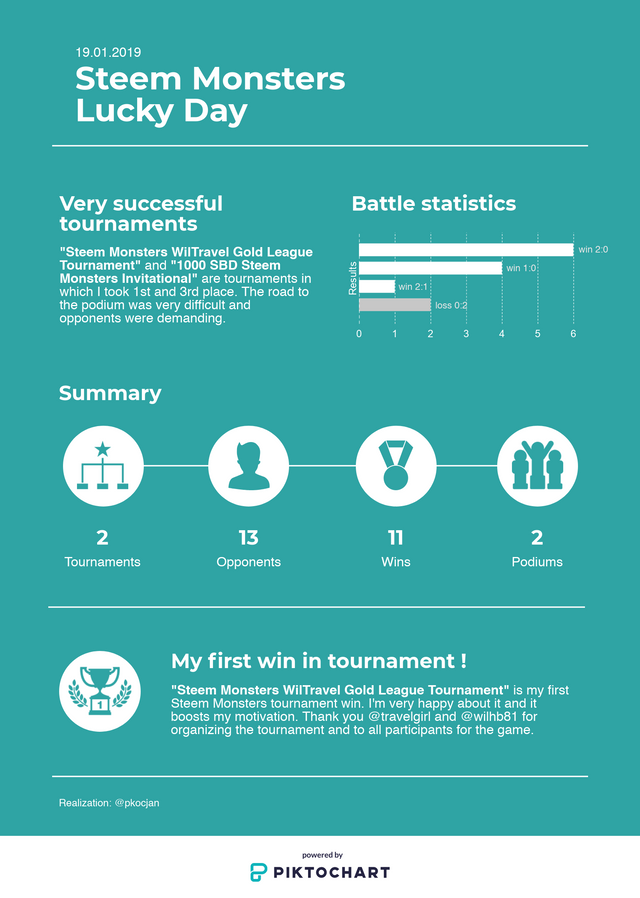 Dzięki @steemmonsters za stworzenie gry i wprowadzenie turniejów. Jest to naprawdę świetna zabawa :)
Thanks @steemmonsters for creating the game and introducing tournaments. It's really great fun :)
---
Na koniec chcę Was jeszcze zaprosić do wzięcia udziału w kolejnym turnieju SM. Jest on organizowany przez @imperfect-one, a ze szczegółami możecie zapoznać się tutaj.
Do zobaczenia :)
At the end I would like to invite you to play in the next SM tournament. It is organized by @imperfect-one and you can click here for details.

See you :)