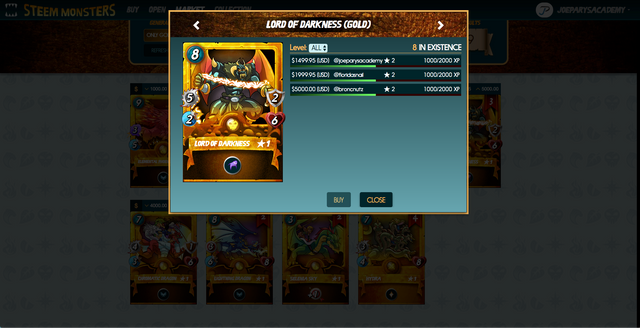 Did you know you could buy and sell Steem Monsters cards directly on the Steem Blockchain?!
Click here to go to Steem Monsters: https://steemmonsters.com/?ref=joeparysacademy
I wanted to share an example of how to use the Steem Monsters Market Place!
Here is one of my cards on the marketplace! It is a Lord of Darkness Gold Foil Legendary Card!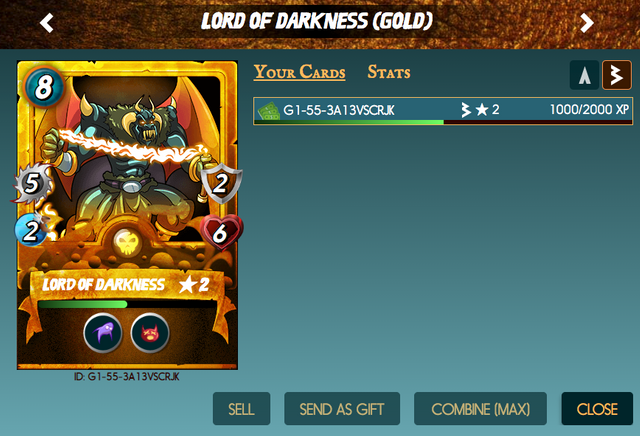 Simply click the "Sell Button" in the bottom left and you will instantly be able to host your card on the Market!
Now, their is a 5% fee is your card is actually sold! And you are paid in liquid Steem or Sbd when someone buys your card! More details to come as I continue to use this service!
https://steemmonsters.com/?ref=joeparysacademy
Click the link below to learn all of the official rules to becoming a Steem Monsters affiliate and how to create your own special link!
https://steemit.com/steemmonsters/@steemmonsters/calling-all-affiliates-get-in-as-early-as-you-can
STEEMIT 2.0 MASTER CLASS VIDEO COURSE:
https://www.udemy.com/steemitcryptocu...
If you enjoy these videos would you please SMASH that Like, Upvote, and Subscribe button to show your support!
PLEASE UPVOTE, LIKE & SUBSCRIBE! Thanks for watching :)
Follow me:
Website: http://www.joeparys.com
Udemy: https://www.udemy.com/user/josephparys/
Steemit: https://steemit.com/@joeparys
YouTube: https://www.youtube.com/channel/UC8g_...
Instagram: @JoeParysAcademy
Click the BELL ICON to turn on my post notifications!
LETS REACH 50,000 FOLLOWERS TOGETHER! ☺