Season 10 has been dominated by Death quests so far. But I'm not complaining - at least that's better than Life quests...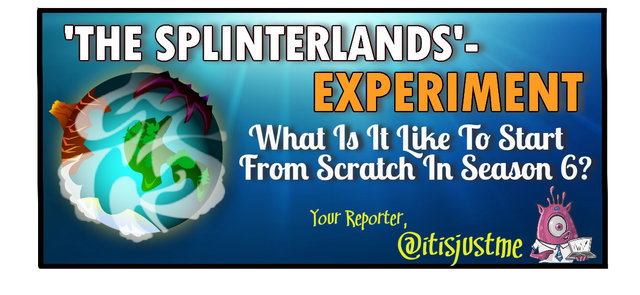 Image Source - Edited with The Logo Creator 7
Thanks
I realize I say this every time, but I really should try to get a post out more often. My wallet needs some food.
Before I go on, I want to thank everyone who has commented with a tip - or even multiple tips - on how to make some extra Steem on my giveaway post. (If you haven't joined yet, there is still time. You can join here.)
There were plenty of tips: commenting on Steem-Bounty-posts, joining the 'Everybody Wins'-tournaments (now, why didn't I think of that one?), using Smartsteem to sell my votes (although i'm not a big fan of vote-selling), posting more often and playing Drugwars.
Now, the last one is not an option anymore. In case you missed it, you can check out their latest update here. I'm just glad that the community is finally starting to realize how fishy the entire 'game' is/was.
As for posting more often... I'm now the proud owner of an Instagram account.😎

Source
By using the @share2steem service, it might help me to get a post out more often. Although if I'm honest... I doubt if I will actually use it a lot. This may sound silly, but I do take pride in the posts I make for this account. Personally I think some of the post I wrote as @itisjustme are among the best pieces I ever wrote. It is so much easier without all the pressure I feel when writing for my main account...
But who knows... It's definitely an easy way to share a quick update. Every day things happen of which I think 'I want to share this', but I simply lack the time to create a full length post.
We'll have to wait and see...

Season 10
So far, nothing really world-shocking happened during season 10. It seems like I'm doomed to play my Daily Quests with the Death splinter, but there are worse things that could happen, right?! I can't request a new DQ, because I kicked out all my Life cards. I can't risk getting a Life splinter DQ instead.
But I don't have a real problem with the Death splinter. While it is ridiculously weak at the higher levels, imo, it is more than okay when playing at the lower levels.
I did have to purchase a Screaming Banshee, though. I needed magic to be able to beat the Life bots, and since the available magic cards when playing the Death splinter are all high mana cards, I just couldn't do without the Screaming Banshee. Unfortunately, it was a real bummer for my wallet. Those epics are pretty expensive.
Too bad it doesn't have blast at level two yet... I love the blast ability...
One more level to go...

Creativity
One of the things I like most about this experiment is that because my deck is incomplete, I am forced to find more creative solutions. I notice that when I play with my complete decks, I have the tendency to use the same cards and combinations over and over again.
I can in fact say that this experiment has helped me to become a better player. I still have a whole lot to learn, but this last month, I have been able to beat everyone in the top 20 I met in a tournament at least once.
Yesterday, I won my last daily quest battle with a team that was not even close to the ones I use normally...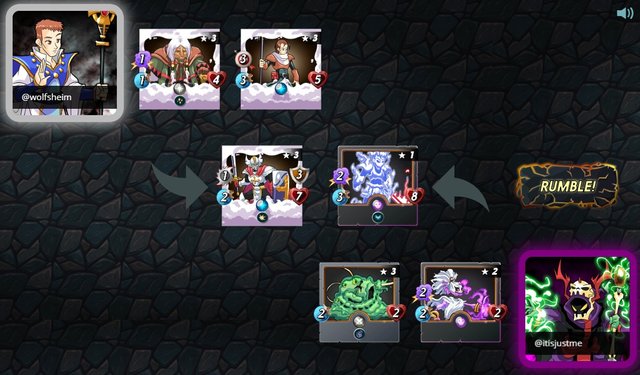 Source


Those Life bots may be annoying, but with a little luck, a lot of magic and out-of-the-box thinking, they áre beatable.

New Cards
Next to the Screaming Banshee, I got a couple of other extra cards.
Again, I won a couple of giveaways. I must say I have been really lucky when it comes to giveaways - right from the start they've been a lucrative way to build my deck.
Below, you'll see the cards I won in the giveaways of @stiant, @jonnyla08, @nureza and @hafizul.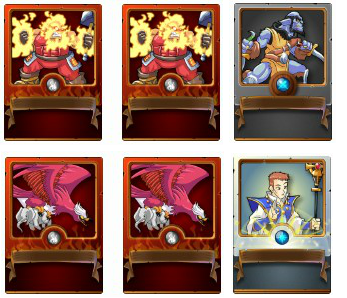 Source
I also gave myself a little present. After all, it is my birthday today, so I thought it was appropriate 😏
A couple of months ago, I won a Dragon Whelp card in a contest hosted by @minimining.
It has been sitting in my deck ever since.
Being only a level 1 card, it is of absolutely no use in my higher level deck. By gifting it to this account, it might be played every once in a while.
I haven't used it yet - I keep forgetting it is there - but I'm pretty sure it will come in useful one day.

Daily Quests & Reward Cards
SSDD 😉
Daily quests don't take up too much of my time. Most of my opponents are bots, but I guess that's mainly because I play during daytime, when most of the people in the US are not around yet.
Nothing exceptional to tell about the reward cards either. After the Sacred Unicorn I got last week, we're back to commons and the occasionally rare. Exploding Dwarfs, Sea Monsters, Wood Nymphs,... you know. You probably get loads of them too.
The one card I really want to get is the Ruler Of The Seas... but I guess that goes for everyone, lol
I've been holding most of them, because I have leveled most of my summoners up to level 3, which means I can bring the common reward cards up to level 4. But that takes 7 extra cards. I already have a level 4 Exploding Dwarf (of course) and Sea Monster, and for the other commons I'm still only a couple of cards short to level them up.

Stats
I just requested the stats for my account, and to be honest, I had expected that the value of my deck would have dropped, since I sold my entire Life splinter. Instead, I was very surprised to see that my deck is now worth $37. That's $6 more than 4 days ago. I assume the baby dragon and the purchase of the Screaming banshee and enough Medusas to level it up to 3 (so it has the 'stun' ability) has a lot to do with that.

Source
The experiment is still going a lot smoother than I had expected when I started it. I have been very lucky the entire time. People have been very generous, and I've actually won quite a lot of giveaways.
I'm still trying to figure out how on earth I'm going to get my hands on legendary cards, though. They seem to become more expensive with every day that goes by. I took a peek at the market place and the dragons are cheaper than the regular legendary cards at the moment...
We'll see what happens...
See you soon!

Recommended
Interested in more stories about what it is like to start playing Steemmonsters without having a truckload of money to invest? Check out @senstlessmonster and @bxlphabet, who are doing something similar.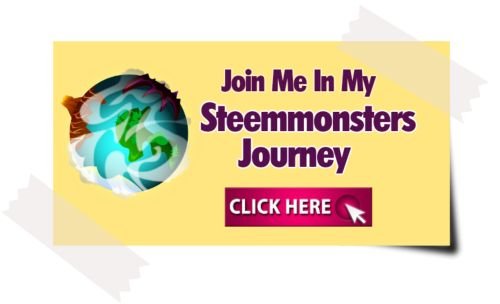 Source 1 - Source 2 - Source 3