Steemmonsters Rare Reward Card Giveaway #16
It's time for another Steemmonsters rare card giveaway! Today we will be giving away the rare Hobgoblin.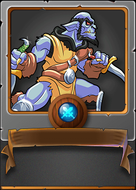 This giveaway is for a level 1 Hobgoblin, but he is not to be underestimated as even at level one this Hobgoblin comes with the ability of double strike. This makes the Hobgoblin valuable in all melee decks.
All you have to do to be eligible for this giveaway is leave a comment below. Upvoting, resteeming, and following are not required, but of course are welcome and appreciated.
The winner will be randomly selected using Steem Comment Picker 7 days after this posting.
Thanks for stopping by. Remember, you have to play to win. Have a nice day.