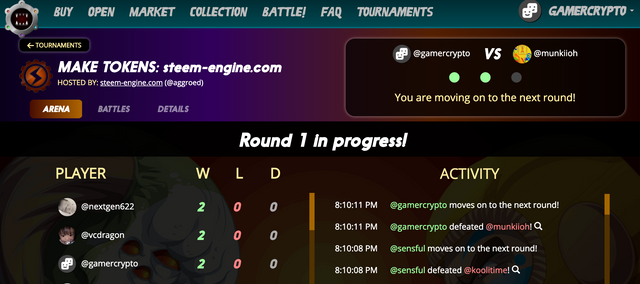 In the search of doing something new in order to remain engage with the game, I tried out tournaments for the first time last weekend. I was hesitant as I have never been able to really obtain an esge or strategy other than having more powerful cards then my opponent. So, I was not very optimistic about my ability to really compete in any of these tournaments. As they were still new, I saw a good amount of people participating in a number of tournaments over the weekend. I thought it would be a be a good opportunity to try it out myself.
The interface on the website is really easy to understand as the tournaments are well organized by time and other factors including rewards and entry fees. Each also has a different rule set that determines the level of cards and the kind of cards that can be used. I thought that my best option was to participate in one where Silver Division level cards would be used as I have found myself being able to compete very well while in that division at the start of seasons. Given the recent improvements I did with my cards, I was expecting to have some good matches.
This happened in my first match as I was matched up with someone with only level one cards. Despite this fact, it was an interesting set of battles as it seems that he had a pretty good strategy going in. However, I was able to succeed and win in the first round of the tournament which was exciting. When being matched up against your opponent you can see his ranking on the leaderboards in terms of points so it gives you a good indication of whether they have superior cards or not. But, ultimately, being that the cards were limited to a lower division it really came down to strategy. I think this is why in the very next round I could not advance as a player base has really gotten good at this game with practice.
While I lost early in the tournament, I thought it was a good experiment to see how it worked. I am still trying to get in more practice on a daily basis while I do my Daily Quest in order to try tournaments once again over the next couple of weeks. In the meantime, I continue to think about how to improve my cards but my focus has now shifted into practice and strategy given the success I see other players having with cards similar to my own. I am looking forward to tournaments being more matched with people of similar skills so that the learning process could be better but I am not sure if that is in the works or not. Either way, I look forward to playing in more tournaments!
Thanks!