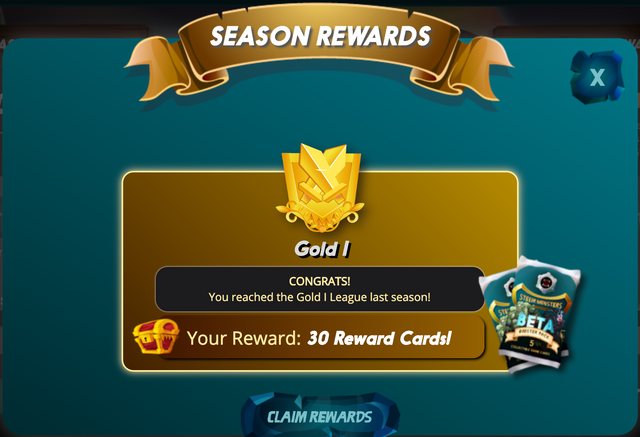 Given the short term success I have had one Steem Monsters after making some changes to my cards and the teams, I was able to achieve goals like I stated last week in remaining in the Gold Division. I had thought that the competition would be too much for me for the end of the season to remain there. But I was happy to see that I was able to remain competitive throughout the end of the season. I made some minor changes to certain teams and became more strategic about the way I approached my daily quests. I think a lot had to do with overcoming the bots that continue ld to use the life splinter teams which made the Silver Division level were difficult to defeat.
It was exciting as towards the end of the season I thought I would have the ability to sneak into the Diamond Division but the last two days were not too friendly to me and so I came up short. However, it made me feel that the options that are available for us players like leveling of cards and being strategic is was well worth practice to improve placements on the leaderboards. With these improvements come better rewards which are additional cards that help in continually improving your collection. Although I have not used it directly, the markets available for the cards in your collection also provide the flexibility for players to adjust their cards to their playing style or strategy. It opens the options for players to become more specialized if they choose to do so.
With the achievement of getting to Gold Division I this season, I was able to get rewarded 30 new Reward Edition Cards! Among the cards received were a number of new Epics to add to the collection as well some Gold Foil cards. I emphasize the Gold Foil Cards because I have been considering selling them on the market since they are valued more than regular cards. This could allow me the opportunity to buy some new cards to level up some a bit more. But the challenge is that I often find myself using some of them for battle given they are higher levels than the basic ones. Given the recent success I have with my collection of higher level cards, my focus has been to continue those increases. If I can figure it out, I have a feeling that I can break into the Diamond Division for the first time. This alone will immensely increase the amount of Reward Edition cards I can get!
Fingers Crossed!