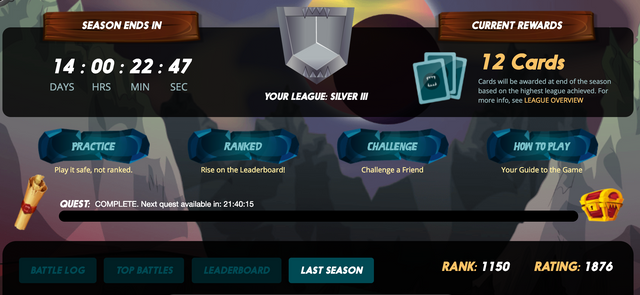 The end of the season finally arrived last week and I was somewhat glad it was over as it was certainly not what I expected. Despite getting into Gold Division pretty early in the season, I could not find a way to get wins while in the Division to stay there. This was a frustration as it made some differences as the amount of cards from Daily Quests in Silver Division are much lower than completing them in Gold Division. This in itself becomes a barrier to grow my collection and competing in the higher Divisions.
Since I did achieve Gold Division III, I was able to get a good amount of Reward Edition cards as the season reward so that helped me catch up a little more. However, the amount of games I played last season are probably not going to be great to look forward to this season. I have considered many options to improve my cards and teams but none are very viable given the costs to improve them. I am hoping that something improves in the gameplay that allows me to compete a little more on a daily basis to get better cards in the long run.
The start to the new season, nothing has really changed as the rest has set me all the way down to Bronze Division for the first time in over a month! That meant that the first Daily Quest was completed at the lower Division and only provided me with 2 cards which are far from my needs. If I add to the fact that my cards from the season rewards were not very good, I think I find myself worst position that were I started the season! However, since I have been able to get into the Silver Division and stay there although advancement continues to be lower than I have been used to. I hope that this will be a better season!
Thanks!