Lately we've been seeing more and more botnets in Steem Monsters, and one of the most notable is a large group of accounts who all play an identical minimal-investment, maximum-effectiveness strategy using the Life splinter and the fact that it's dominant in the early levels.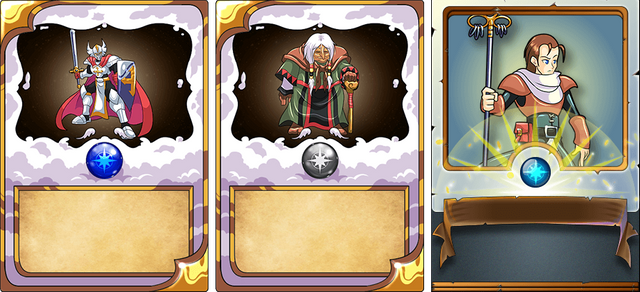 These accounts hold only four cards other than the starter pack: level three cards of Tyrus Paladium, Silvershield Paladin, Divine Healer, and Peacebringer. Whenever possible they play them in that order, filling out extra mana with level 1 neutral cards from the starter pack. This is a very effective 15-mana team, and has gotten these bots a lot of wins, as well as making life difficult for a lot of players. So I spent a bunch of time this morning figuring out how to beat them with level 1 and 2 teams, and I'm going to teach you how.
It's important to remember that these are Summoner Level 3 teams, even if limited ones, and you shouldn't necessarily expect to be able to beat them if you're at level 1. However, there are a few methods.
Weaknesses
There are some consistent weaknesses from this bot. The core team has neither Sneak nor Snipe, and can only go through your tank, though it may add a single Centaur or Elven Cutthroat as the mana cap increases. It uses the same structure for Monsters Lose All Abilities, which is a pretty terrible construction for that mode. It will always play that 15-mana team when neutral monsters are not allowed, regardless of the mana cap. And it always surrenders when the ruleset requires melee attackers only, so if nothing else persistence will eventually beat them enough to finish your daily quest. But in most cases there are better options.
General Strategy
There are four basic approaches to beating this team with low-level cards:
Attack the healer with double Snipe.
Attack the back with double Sneak, hoping to get to the Peacebringer fast enough to win.
Blow through the Paladin quickly with magic attack.
Tank up and outlast them.
Only the last one works in low-mana situations, so let's look at that first.
Tank formations
There are three tank formations that work against the bot team while requiring less mana at level 1; unfortunately all of them require a Legendary card.
Frost Giant, Crustacean King
Sacred Unicorn, Divine Healer
Hydra, any healer.
All three of these cost 13 mana; they can eventually win on their own through fatigue but it's good to add some sort of additional attack that will damage the Paladin. (If Divine Healer is level 3 those teams can win on their own quickly.) In 18+ mana caps, it's important to defend against the minimal Sneak and Snipe attack that will come from the bot's additional cards.
Summoner Level 2 adds a fourth tank formation that is cheaper to acquire, but works on the same principles:
(I suppose Flesh Golem, Spirit of the Forest works, too, but Nymph is much easier to get.) Flesh Golem needs to be level 3 to get Heal, but the Nymph can be level 1.
Magic Attack Formations
These are mid-to-high mana teams and require a variety of cards, although it's the other one that works with level 1 cards specifically in the Water splinter.
Spineback Turtle, Medusa, Enchanted Pixie, Mischievous Mermaid
This is the basic form of the team - with Alric's bonus, it will give you seven magic attack per turn, enough to wipe out the Paladin on turn 1. Once that's done the rest of the team falls easily. This requires 19 mana; at higher mana levels you can improve your tank, add Crustacean King to make it last longer, or upgrade the magic attackers to Sea Genie or Magi Sphinx.
Stone Golem, Mushroom Seer, Wood Nymph, Enchanted Pixie, Magi of the Forest
This Earth team takes a whopping 24 mana to build up enough magic attack to get through the Paladin on turn 2. It's workable in the very-high-mana games, but best to upgrade that Flesh Golem quickly and play the smaller team above.
Haunted Spirit, Dark Enchantress, Screaming Banshee, Enchanted Pixie, Magi Sphinx
This 25 mana team won't be available very often, and requires the expensive Magi Sphinx card, but will work its way through the Paladin on turn 1 before the Healer has a chance to act. Death generally has a hard time against this bot.
Double Sneak/Double Snipe teams
In general double sneak doesn't work exceptionally well, because they need too much time to get through the bot's armor and do any damage. Malric's +1 to attack helps, but Fire's lack of good tanks in the early levels presents a problem. Often the best plan is to play Giant Roc in the front and hope for a few key misses. In the higher mana caps you can put Cerberus behind it to serve as a second tank and last longer, but the Sneakers have more cannon fodder units to go through and it doesn't always help. Ditto with Life and using Silvershield Knight for Inspire.
Double Snipe is more effective than the double sneak teams, but still take two turns to kill off the Healer, after which your tank still needs to hold up for a while. These can work, especially when combined with magic attack on the Paladin, but they're awkward at best.
Both double sneak and double snipe are most effective during the no armor and no summoner buffs rulesets, especially when combined with Weaken to allow them to kill more quickly. Particularly for Life vs. Life, double sneak with Inspire from Silvershield Paladin is often the best plan available. Double Sneak also works well for battles where neutrals are excluded, where you can fill out your full mana cap but the bot will still have Peacebringer as its final card.
Overall Approach
In general, find one team that can consistently beat the bot at low mana; the teams under Tank Formations are ideal if you're low-level, and if you have one level 3 or higher team it shouldn't have any trouble. Win battles and grow your rating while waiting for the key rulesets where normal teams can beat this one: Life excluded, no armor, no summoner buffs, no abilities, melee only, high mana caps with no neutrals; or for very-high-mana games where you can exploit your advantage of having more effective cards. With a little practice you can figure out how much mana you need to beat them with each splinter; this depends a great deal on your cards and their level.
When the conditions are good, then play your daily quest splinter, and take advantage of the ruleset-based weakness of the bot teams to wipe them out with teams that aren't quite as good. If worst comes to worst, and you only play your daily quest team when Life is excluded or during melee only, you can still get through it in a reasonable time.