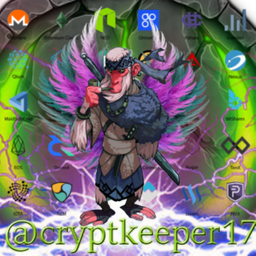 For the 2 or 3 of you that read my posts regularly I did a post a day or so ago about taking a look at the other games with a blockchain format. There were things that were very telling in going through the multitude of games out there. I will try my best here to illustrate some things that I noticed and would be very curious on your thoughts.
Adopting a "Crypto Bank" within the SM account Meaning the pool of revenue generated on SM cards/packs/merchandise whatever the stream may include must have much more other cryptos within their fund base, whether it be the money designated for a prize pool or even payments made to the people from within for their services. Another major factor would be the adoption of other groups of people already investing in crypto (as mentioned in a post prior). People are fanatical about their cryptos and having a cross marketing campaign via tournament style when the tournament is up and automated how they would like it would do wonders for the base of @steemmonsters. Also, an exchange of people that are perhaps even whitelisted to swap other currencies with the holdings of the game. Making it a low to no fee bank so to speak in trading multiple cryptos for ease of purchase if the funds are designated to go to other SM revenue sources could be monumental. Of course working in only Steem is not the answer (not breaking any news with that statement to anyone) as the heads of the game are flush with Steem but I would guess they are not flush or as flush as they would like to be with the other "primary colors" of the crypto spectrum that are commonly swapped daily such as Bitcoin, Ethereum (being the current almost gold standard for gaming at the moment), Ripple, EOS, among countless other altcoins that are out there.
Keep the 'fan friendly' angle continuing in perpetuity for the moment. Many of these other games seem to be more transactional, as in-'here is the game, now go play it, we'll talk to you again with the next version comes out.' Also previously mentioned in a post a (or set of) 'super administrator(s)' or as I called them ombudsmen taking suggestions, ideas for development, opinion, etc from the public would be a great continuance of a leadership that has definitely kept their eyes and ears open to the community.
Delegation Bowls Having card delegation set up in a structured way would do wonders in having new people come in and demo the game. I would go as far as having some kind of buyback or host program for players with multiple accounts that have starter decks for the public to demo for a bit or even host a newbie tournament every so often to demo the game and perhaps win a starter deck or an account if they do well enough.
Affordability in being a competitive SM player at different levels is paramount, especially in the current crypto environment. SM has done a great job in keeping even the highest level cards affordable for someone who aspires over time to be competitive in leveling up their cards. The reward cards have also been great for that, it doesn't get much cheaper than an air drop, and that program has been a massive success in my opinion. Kudos are definitely due in my opinion for cutting the rewards actually making it more difficult to earn the cards, in addition to adding more different cards many of these reward cards have slowed down greatly in production versus the initial run that had so many due to few different cards and higher rewards available earlier on in previous seasons.
Varied crypto rewards are going to be a must, especially including Ethereum. Having the Ark coin is a great idea for a payout for seasonal standouts. But as mentioned above having a steady payout of Steem mixed with other cryptos is going to be something that needs to be built upon in getting people more easily converted to this game than someone who has zero clue what crypto is. I don't have to tell you...that can be a process to put it gently.
Robust marketing The game is something that I feel if it at all continues the way it has gone in lightning quick development of game mechanics, new cards, new challenges, and a developing tournament atmosphere this is a game that needs to make its presence known. Of course there are places that it can be target marketed and I am sure the brass of SM has a plan for that in place already. An additional thought would be to find some way to compensate your already rabid fan base (that is the more hard-core followers which I am included hook, line and sinker) getting out in the public at trade shows, group/organizational meetings, whatever spreading knowledge on crypto in general, Steemit's platform dynamics, and of course the monster phenomenon gripping Steemit by storm. With a slightly slanted preference in the direction of this game there can be many people that become believers in this as everyone likes to be an early adopter of what seems to be a certainty for those you that follow crypto at all becoming much much more mainstream as time rolls on. Also, I am on steemit because of a radio interview given by guest host @bluerocktalk (aka Connie Willis) on the legendary late evening AM show "Coast to Coast," having Stan Larimer (@stan father of Daniel Larimer) discuss all things crypto along with steemit, blockshares, EOS, you name it. I pulled a hamstring jumping on this bandwagon back in mid December of last year after hearing the mind boggling abilities of blockchain technology in his superb explanation of the new tech rage to the general public and how it can and will be incorporated over time.
There is the list of a few thoughts, feel free to share your opinions I would love to hear what you also have to say on these issues and anything else Steemmonsters you would want to chat about.