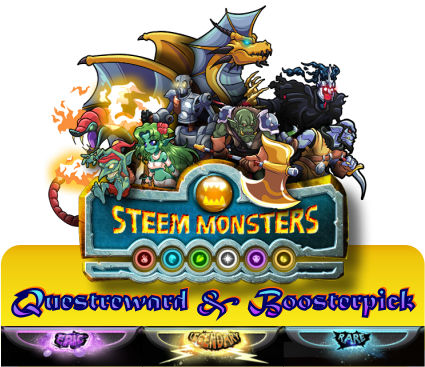 Hi Steemians & Monsters,
hier ist mal wieder ein kleiner Bericht über meine Seasonrewards, Dailyquest und Boosterpicks.
In der letzten Season hatte ich es bis in die Diamant Liga 3 geschafft und mir 40 Rewardkarten sichern können.
Meine Seasonrewards für die letzte Season waren ganz okay. Es waren 8 Rare und 1 Goldkarte dabei gewesen.
Hier der komplette Drop:


here's another little report on my Season Rewards, Dailyquest and Boosterpicks.
In the last season, I made it to Diamond League 3 and secured 40 reward cards.
My season rewards for the last season were okay. There had been 8 rare and 1 gold card.
Here is the complete drop: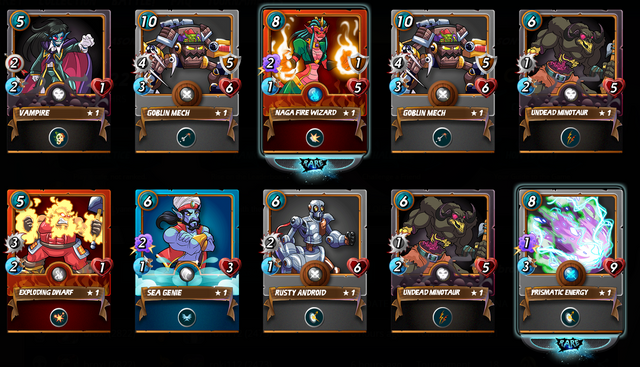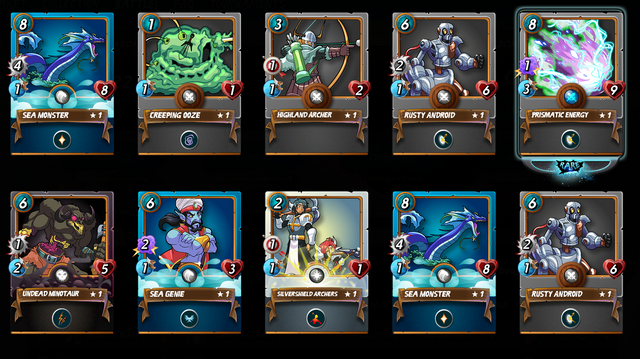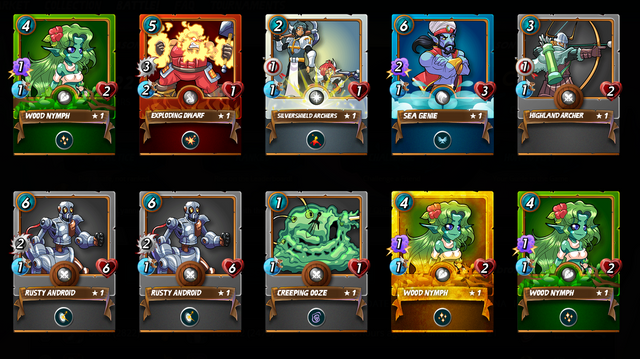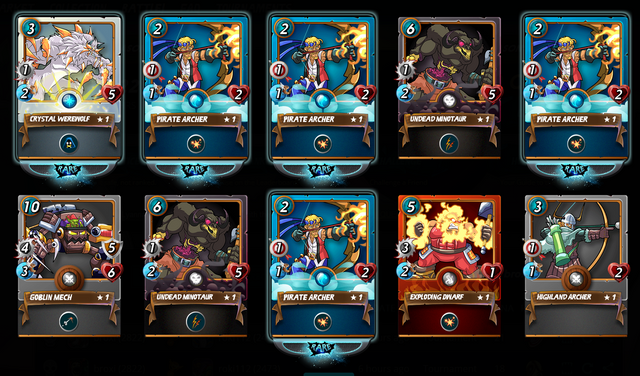 Heute habe ich meine Daily von gestern nach langer langer Zeit und einer Menge verlorener Nerven geschafft.
Da mir nach erreichen der Daily nur noch ein paar punkte zur Goldliga 2 fehlten, habe ich mir diese noch schnell mit meinen anderen Decks erkämpft und befinde mich aktuell dort.
Somit habe ich anstatt 6 doch noch 7 Rewardkarten für heute bekommen und es waren 2 Rare und 1 Epic dabei.

Today, after a long time and a lot of lost nerves, I made my yesterday's Daily.
Since I only had a few points to Gold League 2 after reaching the Daily, I quickly fought for it with my other decks and I'm currently there.
So instead of 6 I got 7 cards for today and there were 2 Rare and 1 Epic.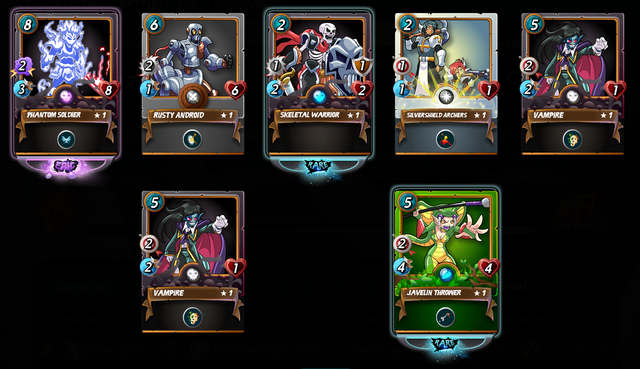 Zu Beginn der neuen Season habe ich mir noch 5 Booster geholt und wieder mal etwas Glück dabei gehabt.
Ich habe 1 Legendäre Spirit of the Forrest, womit ich endlich meine Karte auf Level 3 upgraden konnte, und einen Goldenen Goblin Sorcerer bekommen.

At the beginning of the new season, I got 5 boosters and had some luck again.
I have 1 Legendary Spirit of the Forrest, so I could finally upgrade my card to level 3 and get a Golden Goblin Sorcerer.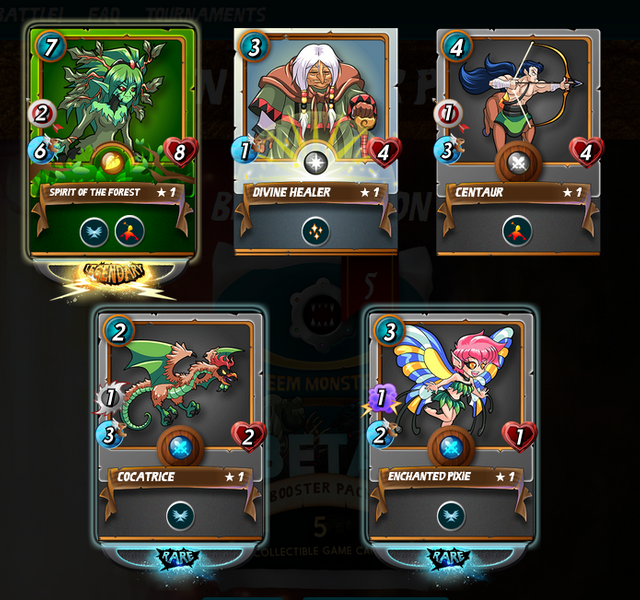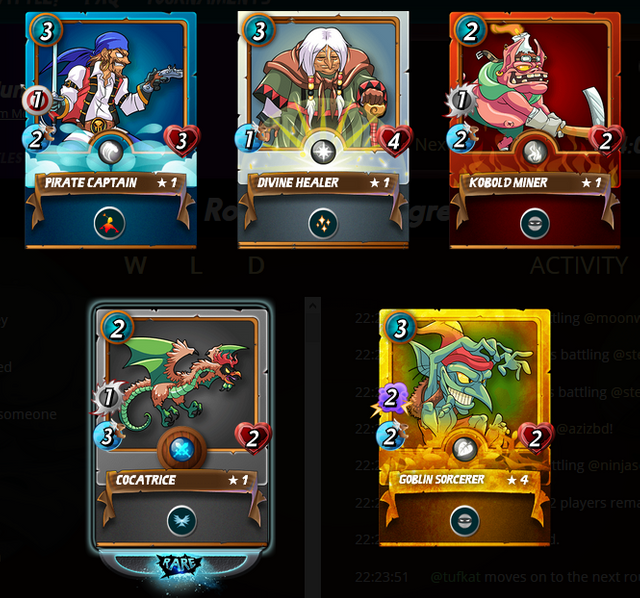 Vor ein bisschen mehr als einer Woche wurden die automatischen Turniere bei Steem Monsters eingeführt und es werden täglich mehrere Turniere in den unterschiedlichsten Ligen ausgetragen und man kann dort Steem oder andere Preise gewinnen.
Ich habe schon an einigen Turnieren teilgenommen, jenachdem wie es meine Arbeit zugelassen hatte, und habe sogar bei einem Silberturnier den 8. Platz erreichen können und 5 Steem gewonnen.
Hier ist der Screenshot:

A little over a week ago, the automatic tournaments at Steem Monsters have been introduced and several tournaments are played daily in a variety of leagues and you can Win there Steem or other prizes.
I have participated in a number of tournaments, depending on how my work has allowed it, and even reached 8th place in a silver tournament and won 5 Steem.
Here is the screenshot: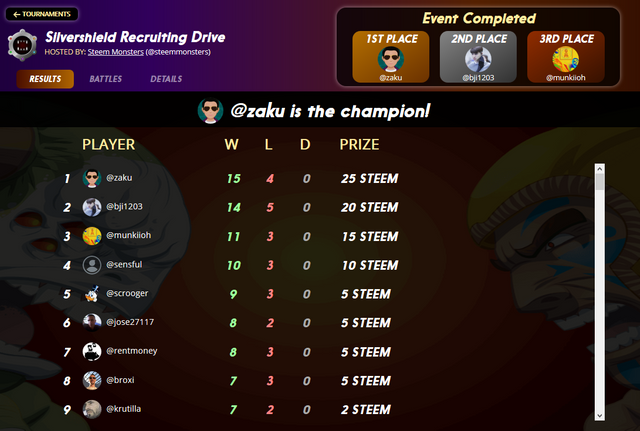 Falls es noch jemand unter Euch gibt, der noch nicht mit @steemmonsters angefangen hat, dann zögert nicht länger und startet noch gleich Euer eigenes Abenteuer unter steemmonsters.com, dort könnt ihr jetzt starten und findet alle nützlichen Infos.
Still someone among you who has not started with @steemmonsters yet, then do not hesitate any longer and start now your own adventure at steemmonsters.com there you can start and will find all useful information.