Steem Monsters - A Collectible Trading Card Game (dApp Review)
Introduction
This existence of blockchain platforms has given rise to many decentralized applications. While some applications are built for the purpose of socializing, marketing and to name a few, other applications like Steem Monsters are built to provide gaming experiences which includes fun, pleasure and satisfaction.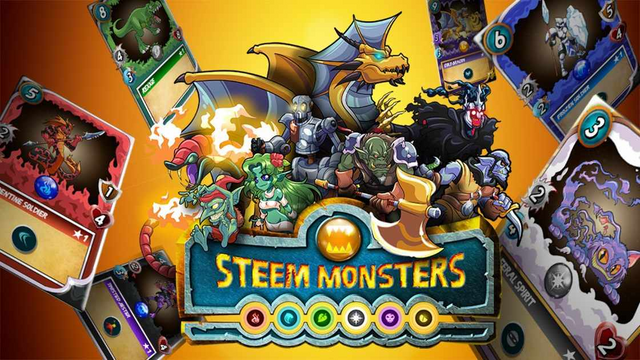 Source
About Steem Monsters
Steem Monsters is a decentralized, collectible trading card gaming platform nuilt on the Steem blockchain. Decentralized, collectible and trading here means that players/users can own and trade their cards without the intervention of any third party or centralized authority. It was founded by @yabapmatt and @aggroed way back in December 2017 but on only came to the spotlight in April 2018.
Steem Monsters is currently ranked 10th at the thestateofdapps.com, a website that ranks all dApps on the EOS, iDai, Ethereum, Gochain, POA and Steem blockchains. Visit Steem monster's profile
How to Get Started with Steem Monsters
First, you need to have a Steem account. Getting a free steem account takes a few days before it is approved and you get it through steemit or buy one instantly at steem ninja

Secondly, one needs to buy a starter pack, worth $10 and payable with Paypal, steem, SBD and other cryptocurrencies listed at the website. This pack contains 30 cards that will enable you start playing the game and from there on, you can start buying booster packs to improve your cards for a better experience and competition in your game play.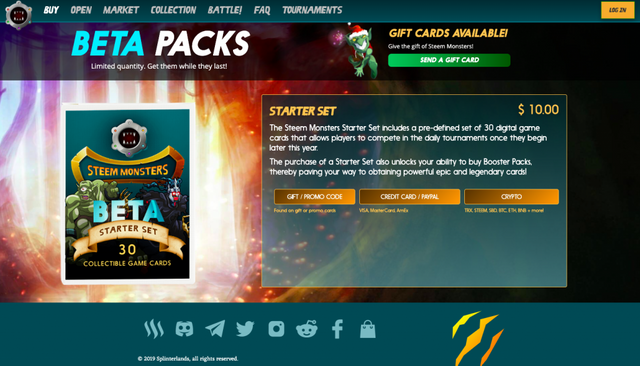 Key Features of Steem Monsters

Buy: This feature permits new users to buy a starter pack while existing users can buy booster packs to further strengthen their cards.

Open: Open permits users to unpack their cards from their starter or booster pack(s).

Market: This is an exchange point where players get to buy cards they need or sell any card they own. Steem or SBD is the currency used as medium of exchange.

Collection: This menu shows user cards, their statistics and provides filters to differentiate cards of different levels and abilities.

Battle!: The battle feature permits users to practice and compete with other users.

FAQ: The FAQs section covers briefly the game overview and card features.

Tournaments: This feature ensures many users can battle in a competition.
Interesting Aspects of Steem Monsters
Steem Monsters proves to be a very addictive and exciting game because the game has been evolving with time. Many new features and rules that provide almost a brand new user experience have constantly been implemented. The most recent of which is the expansion to the Tron network and the release of a new website along with a name change to Splinterlands. Some of the interesting aspects are;
Tron Integration: This is the most recent happening to Steem Monsters. Steem monsters is on the verge of integrating the Tron Network in to the game. Tron users will be able to buy and sell steem monster cards using the SEED token on the Tron blockchain.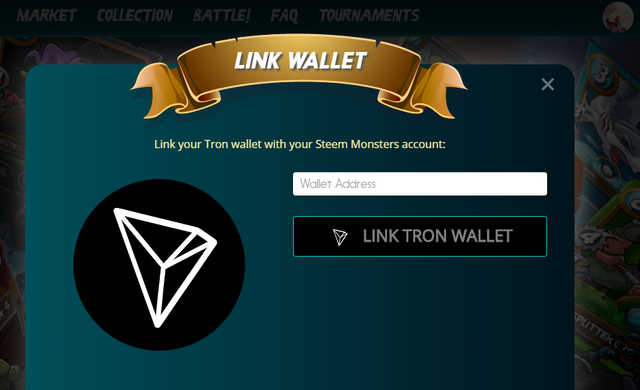 Tournaments: This is probably the most interesting feature that was brought in to the lamp light just a few months ago. Tournaments present an opportunity for users to compete and win prices. These prices can be steem, SBD, steem monsters cards or booster packs. While some tournaments are free to join, others require users to pay a participation fee or contribute to the price.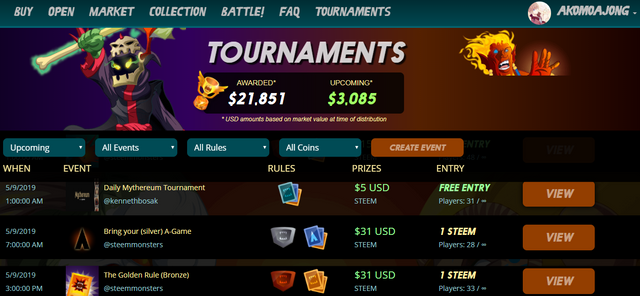 Affiliate Program: Steem Monsters offers users 5% of the amount spent by their affiliates or referrals in purchasing starter packs and booster packs throughout their time playing the game (lifetime). You can sign up through my affiliate link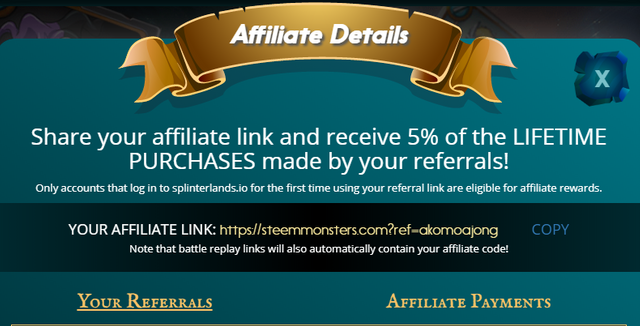 Card Delegations: Steem Monsters has also implemented the delegated proof-of-stake (DPOS) property of the steem blockchain into the game. With the card delegation feature, a user can donate or rent out his/her cards to another user to use in the game play. This feature has proven to be very important to users who at some point cannot find time to play the game because they simply rent out their cards.

Card leveler: Users or players can now level up their cards by combining multiple cards of the same type to make them stronger. This action gives more advantage to put up a better fight during battles.

Support to Users: Steem Monsters currently provides a massive support to it users by sponsoring battles as well as rewarding battle posts. It is equally rewarding advertising campaigns be it on social media, blogs, vlogs etc.
Why I Like Steem Monsters
The website interface is beautiful, user friendly and easy to navigate.

Unlike many other game dApps on the steem blockchain that do not disclose information about their founder(s) and team, the founders of steem monsters, @yabapmatt and @aggroed are well known and reputable steem witnesses who are equally very active in the Steem community.

The game is very addictive and fun as it is always fun to compete or challenge other users.
Shortcoming Associated with Playing Steem Monters
From my experience in playing the game, I can tell that the game is more a pay-to-win game rather than a play-to-win game. This means that for a user to be able to compete and win battles and tournaments, he/she needs to invest and buy stronger cards as without any skills or experience, a player with a stronger card deck (team) has a huge advantage to defeat an experienced player with a weaker card deck.
Suggestion of Improvement
Despite having different battle levels or leagues (novice, bronze, silver, gold, diamond and champion) to reduce the influence of the pay-to-win scheme, I still think there should be more to this. There game play should be more about strategy and experience.

Also, Steem Monster does not currently have a mobile version or application. So, I will recommend creating a mobile version because it is key in getting mobile based users to play the game.
Conclusion and Rating
Steem Monsters is arguably the best gaming dApp on a blockchain owing to the uniqueness of its features, characteristics, evolving nature, improvements and user game play experience and satisfaction. Steem Monsters clearly deserves nothing less than a 5/5 rating :)
I give Steem Monsters at 5/5 star rating!
For more information, visit;
Disclaimer
This review should in no way serve as a financial advise. if you see it as financial advise, do so at your own risk.
Images are screenshots taken from my account at steem monsters.
Thank you for you time!
@akomoajong 08/05/2019