I've played this account four times in the past 24 hours - check out what has occurred and give your verdict below.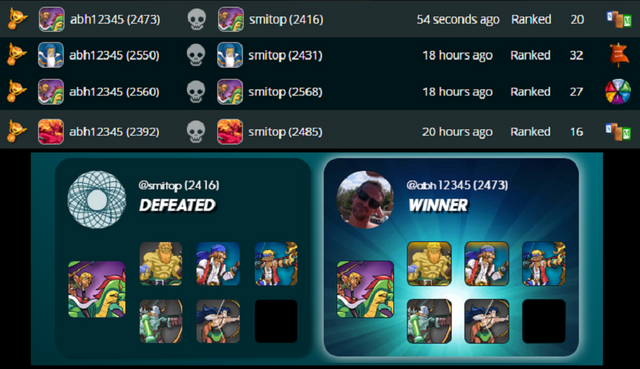 ---
To the battlefield!
This observation started yesterday afternoon during my daily quest activities. Since finding out that you could actually change your quest splinter each day (yep, didn't realise for month and was stuck on my shittest splinter), I've been logging in to pick up a few cards in the hope of a legendary shiny. I've not had one of those yet but have picked up a few decent cards, making the 30 or so minutes worthwhile at least some of the time.
The first match against @smitop was a 'back to basics' round, with all splinters available to choose from. I picked fire, as it was my quest splinter for the day, and so did @smitop.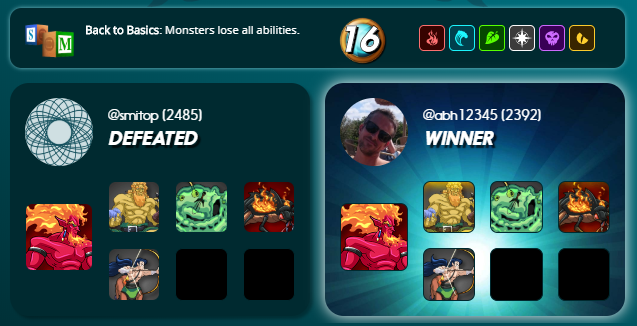 watch here
As the cards appeared, I noticed they had chosen the same cards, in the same order. Cool, mine are higher levels, I thought, I should win this one, which I did. Stick the giant at the front, slow the opponent down with the Ooze, and add a couple of low mana range attackers to make up the 15 allowed. Same tactics deployed, and I didn't think anything more of it.
---
Five battles later (I'd finished my daily quest) and @smitop appears again. This time its a 27 max mana game in which neutral monsters aren't allowed. This does restrict card choices, and I guess is the reason for: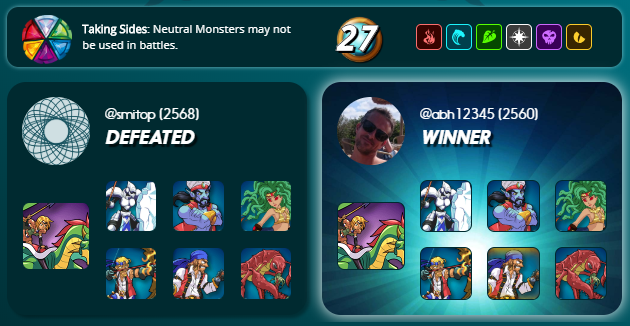 watch here
Hmmm, same choices again, same order, again. I don't even like the Sea Genie that much, and had only used the recently delegated Frozen Soldier (thanks @flipstar!) once prior, I think. Six cards, same order, same summoner - well I guess it can happen a fair bit.
---
Just two battles later this time, my arch enemy, or should I say easy points earner returns and this time we have a 'standard rules' game - all splinters allowed, and a massive 32 mana available.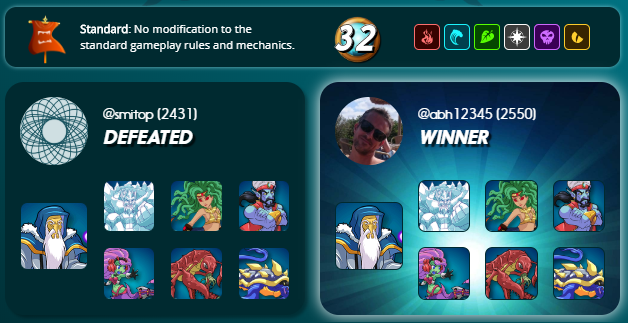 watch here
Dude, you are starting to creep me out! Either we are master tacticians and are both picking the absolute best deck for this battle (I highly doubt it!), or, I dunno..... are you copying me?!
I'm not sure of the exact number of cards, but included Alpha, Beta, Reward, and Promo I would guess around 100. The odds seem to be stacked against two players drawing the same 6, in the same order for an open round with such high mana?
---
I played a few more games (got hammered for the most part), and went to bed. Second game in today and my chosen splinter for the daily quest wasn't available......
Well, well, well, if it isn't @smitop again. Back one more time for another pasting I see? I wonder which cards you are going to play this round...
watch here
Yep, thought as much..... same as me!
This time though, I'm pretty sure we didn't play the best cards, or at least not in the right order. Discounting the Giant as the 'tank', the card at the back has the most 'hearts', or life, out of the remainder and so should probably go 2nd in the line-up. The pirate captain was chosen and (at my level) he only has 2 'life' points - seems like a mistake we both made.
---
Sooo, what gives? Just a coincidence? Must be, right?
Cheers
Asher
---
EDIT:
@smitop has stated he is using a bot to mimic the opposition cards: https://busy.org/@smitop/cheat-at-sm-view-your-enemy-s-cards-early
There is a workaround in the Settings page at steemmonsters.com

I activated this setting and the next time I faced @smitop, our cards were different: