WINNER ANNOUNCEMENT!! What's the Best Thing a Child Has Taught You?? Writing Contest
I received lots of great entries for my last contest, What's the Best Thing a Child Has Taught You?? 15 people total submitting a entry post!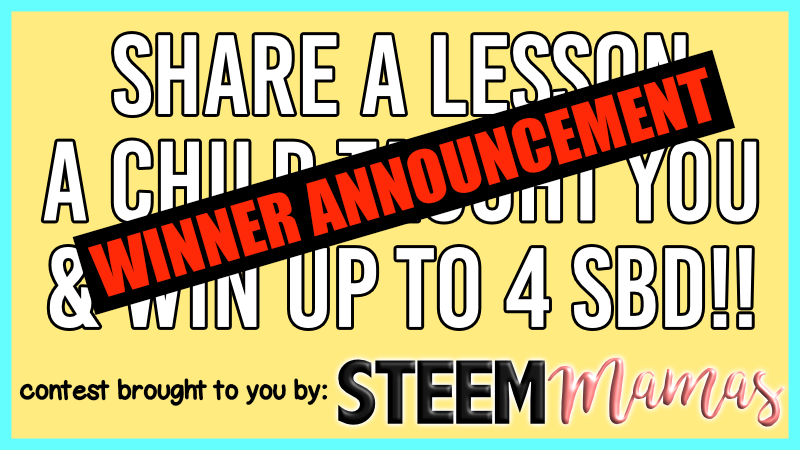 As I stated in the contest announcement post, there were many stories that proved children can sometimes be the teachers in our world. They may say or do something that really teaches us a lesson.
It was difficult to choose the winners all by myself, so I enlisted the help of two #STEEMmamas, @happycrazycon and @orangina to help me read through and vote for the best entries!
What is STEEMmamas?


I ran this contest as a way to bring more awareness to my new Discord community, @STEEMmamas.

Along with a nice turn out for the contest, we have also had lots of new mamas join our server. If you are a mama who wants to connect with other moms of Steemit, join the server now!
Contest Winners


Without further ado, here are our winners!

This story really spoke to our souls. It is about the hatred she accidentally bred into her child's life until he asked if he can kill someone. As @happycrazycon wrote, "It was hilarious to me at first but then it strikes me that she noticed her mistake and she went through a change of heart together with her child because she didn't want the poison of hatred to grow."
Seriously, a wonderful lesson here!!

In this story, a poem written by his young daughter is shared. She is definitely wise beyond her years, and it really drives home the lesson of never letting other people's negativity toward you affect how you feel about yourself. POWERFUL message here!

In her story, @iamjadeline discusses how her children have taught her to worry less and be happier with life even when you are being thrown problems and struggles. She has lots of anecdotes and photos to back up her lessons!

I have already sent over your contest winnings!! :)


A huge THANK YOU to everyone that participated in this contest. If you aren't already following the @STEEMmamas account, please do so for more amazing stories on children, family, and more!








Animated Banner Created By @zord189