I have no idea what to post today, so I will share with you guys two crypto faucets (plus a nice extra in the end) that you may want to give a try. No, unlike most faucets out there that pay something like 0.01 doge per captcha, these two are way more generous. Now, whether they are actually worth your time or not it's up to you. 
For me, they are just a small side-gig. You see I have plenty of idle time during my day job. Normally, I update my affiliate sites , build links, learn something new, or something like that during that time. But when my brain is too tired for anything else, I will hit those two faucets. Or watch porn. Something is better than nothing after all! 
Please note that all the links below are affiliate links, meaning I will make something extra if you register using my links. But your payouts will be the same. So, please don't be an asshole and use my ref links. Thanks.
1) TheCryptoFaucet
Imo, this is the best faucet out there, at least from the ones I have tried. Click here if you want to register with my ref link. Or click here if you are an asshole, for non-ref link.
Please note that you can use this faucet only once a day!  Although, the earnings appear to be dice-dependant (as the image shows below) in reality, the dice is certainly fixed, and not random at all. About 90 % of the times I have used the faucet, I get 1.5 or 3 dogecoins. Once I even won 30 doges, which is not bad at all for a faucet!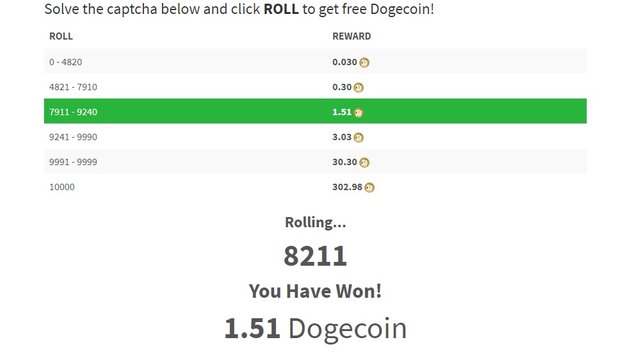 Other than doge, you can choose to get paid in other coins like tron, bytecoin, litecoin and steem. Furthermore, after a few days your account will get automatically upgraded and you get the option to fill surveys and stuff that pay a lot more dogecoins, usually 30 coins per survey or more. 
Ok, time for faucet no.2
2) Crex24
Now, this actually is an exchange that features some faucets that you can claim every day. Here's my ref link if you want to give it a try.  Or click here if you are an asshole for the non-ref link.
All captchas are super easy and everyday you can claim all kinds of coins. I always claim BTT (BitTorrent) which you can claim it up to three times a day. Sometimes I claim the other coins too, which are super shit but oh well..It's honest work! 
Also, sometimes, some really nice nuggets pop up for limited periods of time. For example a week ago I claimed two 777 coins, which I cashed for 2k satoshis. Not bad at all for a faucet!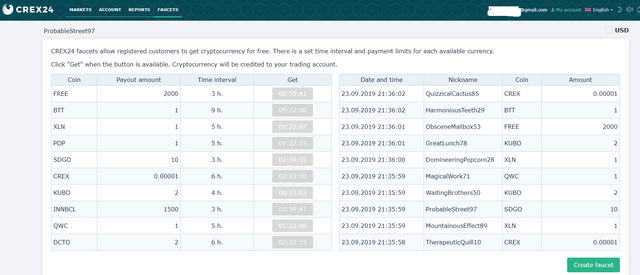 The good thing about crex24 is that you can sell all those coins directly to the market for BTC (since crex24 is an exchange!) meaning that you don't have to pay fees to transfer your funds, like you normally do with other faucets. 
Personally I hodl the BTT for the next pump (I have over 100) and I sell the rest for BTC. I am a regular crex customer (they have really low fees) and I use them for trading or to buy other coins I like. But that's my personal preference.
SomethingExtra - Make Bets with Free Bitcoin with... Freebitco.in
Another faucet I am regularly using is freebitco.in (here's my ref link !) but imo it's not really worth your time, unless you have lots of free time. Payouts are good at the beginning but get smaller and smaller the more you use it.
However, I have found another more fun use for it. I claim it 4-5 times a day and then I use the bet option and I bet all my earnings that Trump will win the next elections. And if he does, I will get a nice return. If not, I will have lost a lot of time from my life. But as a wise man once said... You Can't Stump the Trump XD Occasionally, I place other bets too for events I know my stuff.  
There are all kinds of events (football, formula 1, tv oscars, whatever) to bet and you can make bets that pay out even the same day..or hour! If you think you are good at predicting shit you may want to give it a try. You have nothing to lose (except your time)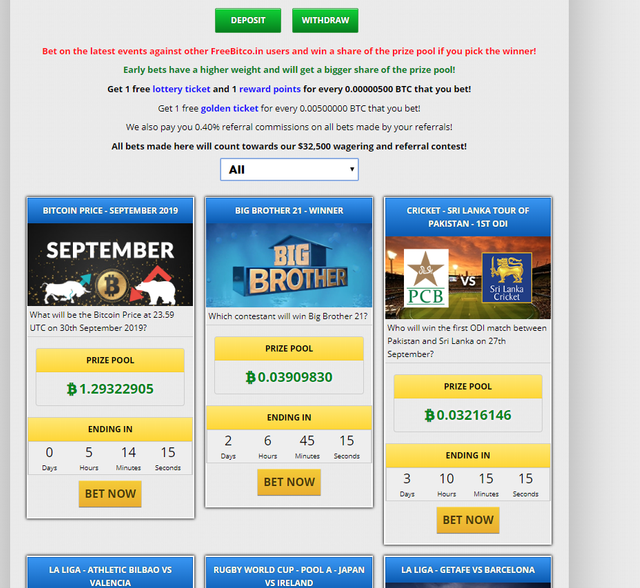 Ok, these I think are the three best faucets that are actually worth your time! Do you know of any other good high paying ones? Let me know in the comments below! I would love to give them a try. Just comment and don't forget to spam your referral link! A spam a day keeps the doctor away after all!
Ok, that's all for today!