Spinvest-Leo Update 10 - steady week, @spinvest-neo excitement, more delegators.
We have made steady progress here this week for @spinvest-leo. The report is for 6 days, due to last weeks post being delayed Despite being down a day, we have still grown and built the asset base for another week.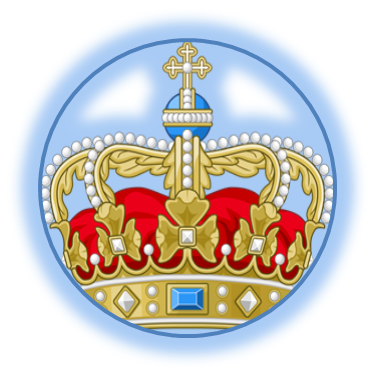 The biggest news for the LEO account this week is that we have added 10 new delegators to the list, making a total of 30 LEO token delegators mining SPI now. This is hugely exciting for me, despite the slight increase in admin as a result. Please check your wallet as the token payments are a manual process. I think almost all of the new delegators are also new to SPI, having never owned this token before today. I believe most of these new arrivals have found us as a result of the launch of the @spinvest-neo account and the backing and support of the founder, Mr @neoxian, as well as the awesome show of faith by neoxag dragons - most noteably @raymondspeaks.
Welcome aboard to all first time SPI hodlers - feel free to join our discord server and say hello.

This weeks income:
We received 146 LEO from @spinvest, earned 201.926 from post and curation and sold 280.318 to buy SPI and NEOXAG. Overall the account grew by a STEEM value of 30.384 to be worth 565.637 STEEM currently. Remember, that is for a 6 day week this week, not 7.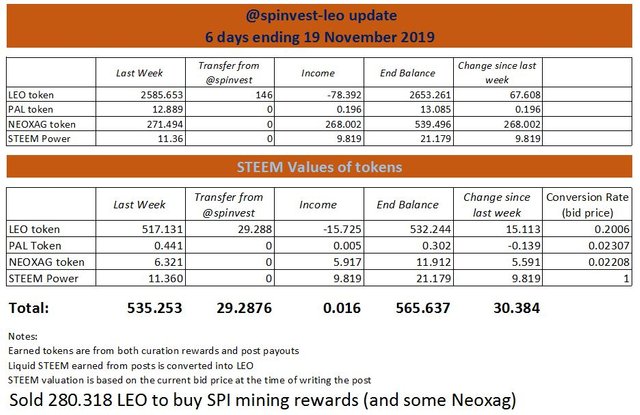 This weeks Delegation payouts: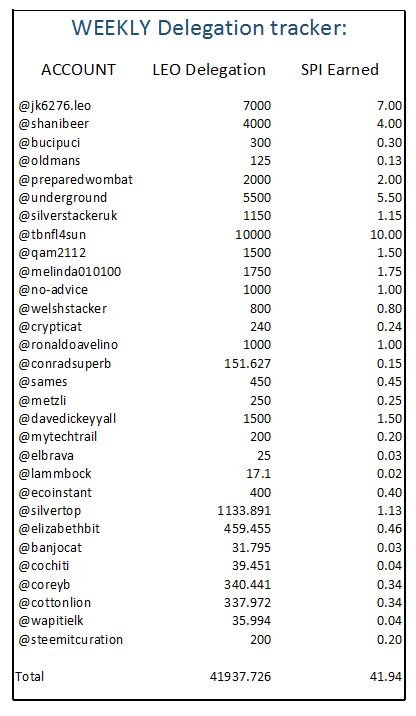 Wait a second... Why buy NEOXAG? I thought this was the LEO account?
Yes, this is the LEO account, but we are aiming to add value long term. I am planning on building as a second asset base a holding in NEOXAG gradually. These Neoxag tokens will be powered up, and delegated to @spinvest-neo. The SPI tokens this account earns from that delegation will reduce how many tokens I will have to sell in the future to reward delegators. This will mean we can grow faster in the future, and/or improve further the mining return. I will adopt this method for future tribes that get a @spinvest-whatevertribe program launched.

Thanks to everyone supporting this program, especially the delegators:
@jk6276.leo, @shanibeer, @bucipuci, @oldmans, @preparedwombat, @underground, @silverstackeruk, @tbnfl4sun, @qam2112, @melinda010100, @no-advice, @welshstacker, @crypticat, @ronaldoavelino, @conradsuperb, @sames, @metzli, @davedickeyyall, @mytechtrail, @elbrava, @lammbock, @ecoinstant, @silvertop, @elizabethbit, @banjocat, @cochiti, @coreyb, @cottonlion, @wapitielk, @steemitcuration
New delegations, or increased delegations always welcomed. You can delegate any amount, however 10 LEO would be the minimum to receive a weekly payout. If these are you first SPI tokens, feel free to ask any questions and check out @spinvest for more information.
Supporting the following accounts will support the Spinvest tokens growth:
Cheers,
JK - aka @jk6276, @jk6276.leo and other similarly named accounts :)