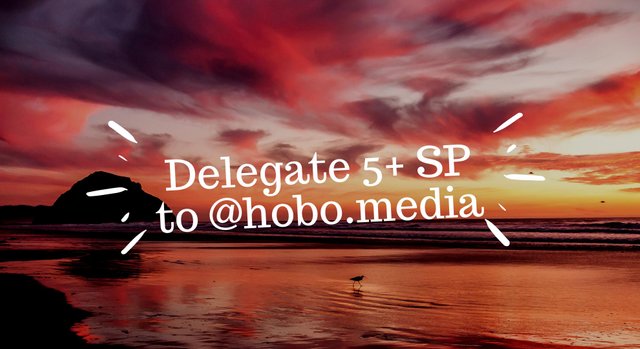 Hobo project
The Hobo project s a community consists of HoboDAO members promoting journalistic educational material.
This project is made up of committed people acting as Senators, Casters and Auditors. The @hobo.media team is presently working on a guide to assist the community in advancing the HoboDAO and bringing value to the STEEM ecosystem.
Right now, different ambassadors from different languages are spreading the word to their communities.
HBO: Hobo Utility Tokens
This community is supported with Hobo Tokens to reward independent journalism and educational blogs for reliable sources of information. HBO is a high value reward system for quality journalism and informative blogging on the Steem blockchain.
---
How To Get 500 Free Hobo Tokens!
Right now, there is a 500 HBO Reward when you delegate to @hobo.media
Time Frame of Round 2 Delegation
Round 1 Delegation just finished.
Round 2 Delegation is between: 8/16/2019 to 9/15/2019.
There are still 2 weeks left.
Follow these steps:
All you need to do is to delegate 5 SP or more. Minimum is 5 SP to @hobo.media (Get 500 HBO Reward for 5 SP)

Send 0.001 STEEM transaction to @hobo.media with a memo: I am referred by @rosatravels and delegated 5+ SP to @hobo.media

When you do that, you will receive an extra 500 HBO.

As your referrer, I am also rewarded with 500 HBO too. We both win.
This is a worthy project to support!
Start with 5 SP Delegation to @hobo.media first!
Please note that the 500 HBO reward for delegation/referrals is paid out on 10/1/2019 and that they need to remain delegated until 10/2/2019 in order to receive the reward. The HOBO team will keep records of the referrals and reward all referrals/delegations on 10/1/2019.
Great investments ahead of us,
Rosa
@rosatravels
---
Please support us and Donate 1 STEEM to support @BeAMentor
We will give you UPVOTES for your support!
---

---
Thank you for reading this post! If you like the post, please upvote, resteem and comment.
谢谢你的阅读!希望你喜欢。如果你喜欢我的分享, 请点赞并跟随我。