A new MUSIC nitrous SCOT site launched 2 days ago.
Their one mission is to encourage music enthusiasts to join their community to post music related content which includes:
song reviews
music videos
any music experience
your favorite tunes
hip hop
r and b
country
rock n roll
guitar playing
piano playing
ukulele playing
drums
any musical instruments that you play
etc.
They have airdropped 50 TUNES to people who responded to their first post here.
I received 50 TUNES the first day and then another 50 TUNES the next day.
Tags to use:
tunes
tunes
steemvision
music
By posting you earn TUNES
I have been on the platform for two days and this is the result of earning TUNES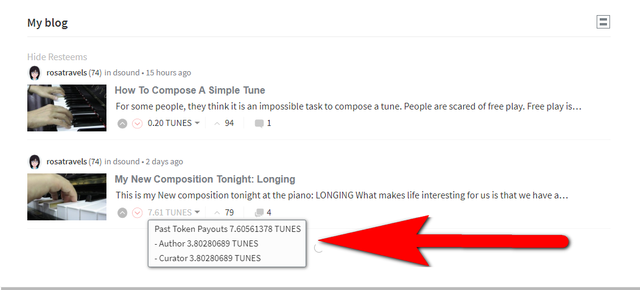 Today, I was surprised that I already got a payout for my first post already.

I earned 7 TUNES with 50/50 Rewards, so I got 3.5 TUNES in my wallet already.

As you can see, I posted 2 compositions on how to compose songs.

I am not so sure if I want to spend so much time doing all these write ups when the payout is within one day. There is not enough time for people to follow your tunes each day.
But I believe for music lovers who just post other people's work and give their quick reviews, the platform can serve its purpose for those who want quick results and payouts.
So far the site has only been launched for 2 days. The idea has potential so I will observe how things go this week before diving into this site even though music is my thing.
Take a look at the ScotBot parameters of TUNES:
Author/review ratio: 50%/50%
Author curve: 1.0
Review curve: 0.5
Settlement time: 1 day
Tags: tunes, music, steemvision
Rosa
@rosatravels
---

---
Thank you for reading this post! If you like the post, please upvote, resteem and comment.
谢谢你的阅读!希望你喜欢。如果你喜欢我的分享, 请点赞并跟随我。