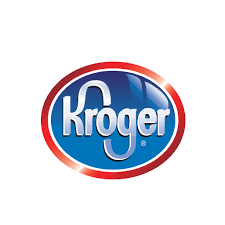 Earlier this year the Wall Street Journal reported that Amazon was planning to open dozens of grocery stores in several U.S. cities starting with Los Angeles, Chicago and Philadelphia.
The stores won't compete with Whole Foods since they will feature prepared foods and other grocery items, targeting the people who need to grab something quick, but somewhat healthy. People are literally grabbing something and going as there are no cashier, items are paid electronically. Amazon Go convenience stores are now 16 stores deep in Seattle, Chicago, San Francisco and New York.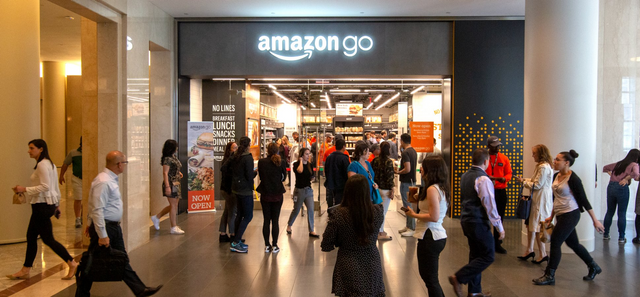 It's not just in the digital world that Kroger must compete against Amazon but the physical world too. Kroger has expanded its organic and natural food selections to better compete Whole Foods Market. And to their credit are investing in online grocery orders and grocery deliveries.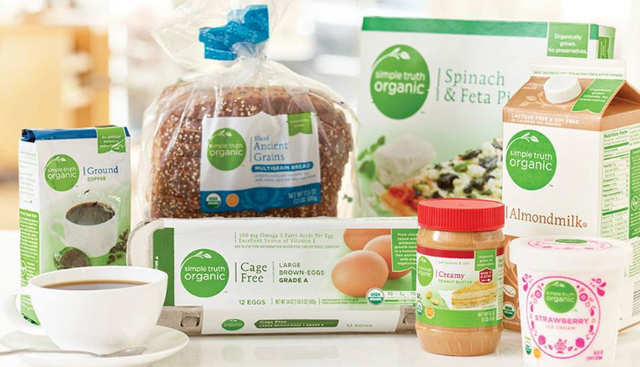 In May of 2018, Kroger bought a 5% stake in British online retailer Ocado in exchange for an exclusive deal for its grocery service, which led a 58% increase in digital sales for Kroger's fourth quarter. It's all part of Kroger's plan to compete. Restock, Kroger initiative is a three year initiative to increase digital sales, equip stores with pickup and delivery.
However, the deal with Ocado has gone "left."
Kroger Co. KR, -2.81% was downgraded to hold from buy at Jefferies, with analysts expressing diminished confidence in the grocer's ability to turn its partnership with Ocado Group PLC OCDO, +0.27% into growth.

The technology deal includes automated warehouses and other measures. Jefferies analysts say the tie-up has been "costly" and "risky," that pricing versus Kroger's grocery competitor Walmart Inc. WMT, +0.57% hasn't improved, and there are no drivers for same-store progress in fiscal 2020. Jefferies said the deal "is a poor and significant long-term capital allocation misstep when compared to micro-fulfillment." Jefferies lowered its price target to $26 from $29.
Source
Corporate officers and members of the board of directors have deeper insight into a company's operations than any analyst or hedge fund. Quite simply, they are in the top tier when it comes to the Smart Money. It's no wonder Robert Beyer, a Kroger Director sold 80,000 shares. No Kroger insider has sold more company stock at one time that wasn't tied to stock options in six years.
It might take a while, but the chart suggests, price is heading down to the monthly demand at $16.50.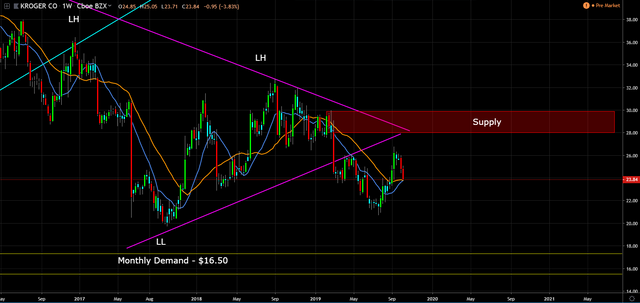 This post is my personal opinion. I'm not a financial advisor, this isn't financial advise. Do your own research before making investment decisions.