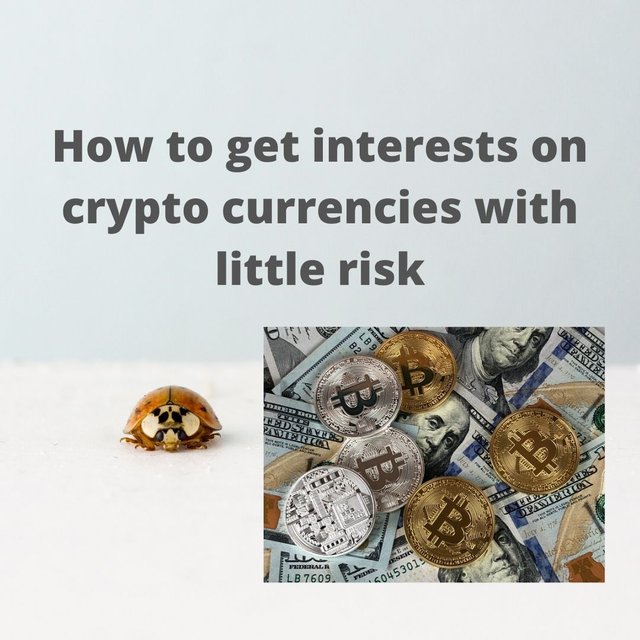 When you own crypto currencies and would like to "park" them in a place where they can generate some income, you will be confronted with a market situation that is quite challenging.
There are plenty of websites that promise interests on your coins but unfortunately a big majority of these sites are either ponzi schemes or scams. If you invest in these websites you will probably loose your investment.
I've been searching ways to invest my coins and get a revenue from it. For me the most important aspect before I invested was to make sure that my coins where actually enabling the website to generate profit. It the website doesn't generate profit, how can it pay me interests in the long term?
The only real serious offer I found is Bitfinex
Contrary to most other websites bitfinex doesn't promise you any fixed interests and it is not bitfinex that pays you the interests. Bitfinex is a crypto currency exchange that also offers margin trading. The people who use these margin trading can "borrow" your coins to leverage their investment. For that they will pay you a daily interest that is fixed by a market.
Bitfinex protects your coins by automatically selling positions that are at risk. It is therefore impossible to loose your coins. If the person who "borrows" your coins looses his bet, bitfinex will dissolve his position and give you your money back before it can be lost.
Your funds help other people to leverage their trading and they are willing to pay you for it. Bitfinex protects your funds and you can only win.
How does it work?
On bitfinex you have 3 different wallets. An exchange wallet for trading. A margin wallet for margin trading and a funding wallet. You will have to transfer your coins to your funding wallet.
For each coin there is a market. You can choose how long you want to lend your coins from 2 to 30 days. You will also see that interest rates can fluctuate quite strongly from one currency to the others. As with any market, you can put your order and once it is executed, your coins will be at the disposal of the the margin trader. You will get a daily interest payment.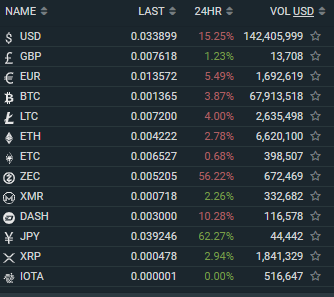 source: bitfinex, market situation
When your counterpart looses his bets, it's possible that bitfinex liquidates his position and you might need to put your coins back on the market. It is therefore advisable to check your account regularly.
How much can you earn?
The interest rates that you can expect are fluctuating very much according to the market but also according to the coins that you hold. I got interests varying from 0.0001% to 0.06% per day. Taking into account that you get your interests paid every day, you can also earn compound interests.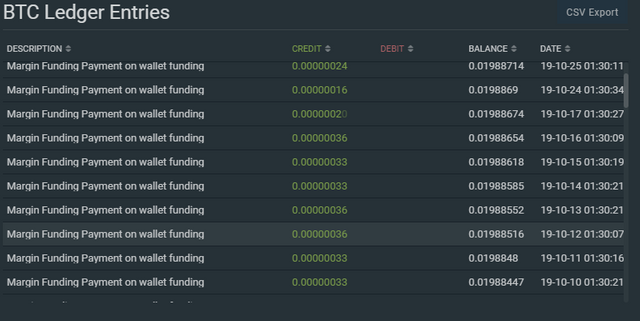 source: bitfinex, daily interest payments
My experience with Bitfinex
I had invested about 0.03 Btc on bitfinex some time ago and I first traded a bit and then stopped it altogether. At the time, about 15 months ago, I had 0.018 Btc and 131 USD. Since then I let my lent my money to margin traders. Today I have 0.01988786 Btc and 141.98 USD. I think this is quite a nice ROI.
Exchanges are not without danger
Bitfinex is an exchange and it is not advisable to have all your coins on exchanges. The past has proven that crypto exchanges can be hacked. So don't put all your coins in the same place!
---