The cheap and cheerful dish I am sharing with you today is a family favourite that my aunt made many moons ago, a hearty and comforting Sausage Pot or Potjie, perfect for feeding a large crowd.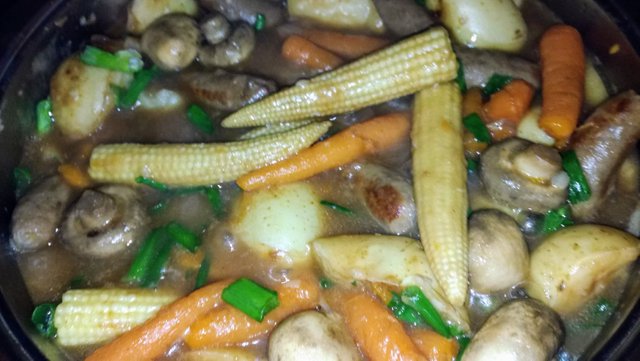 Here in South Africa we not only enjoy a BBQ or a Braai as we call it, but we also love making a Potjie (direct translation - small pot), also referred to as Potjie-kos (small pot of food).
However, the pots are not small - they are large heavy cast iron pots traditionally filled to the brim with meat and vegetables or just vegetables for vegans and cooked outside on the Braai fire.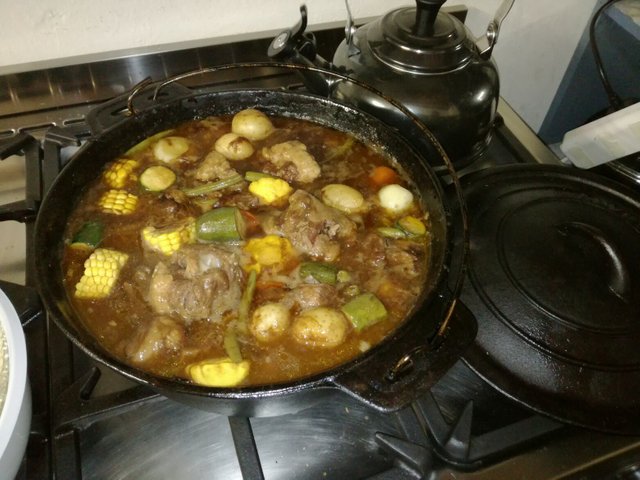 My son made this delicious and hearty Lamb knuckle Potjie but unfortunately I only took a photo once it was brought inside for serving - these pots are heavy! We would normally sit and eat around the fire, a real cosy affair but it was a tad chilly that evening!
In our country we love cooking on the Braai but that requires meat, meat and more meat, quite costly, so our Braais are always a bring and share affair. But come the week before pay day, or Survival week as a friend calls it, a Potjie would be the way to go as one only needs a little meat and loads of fresh vegetables, which really are cheap, and this meal certainly makes everyone cheerful, may just be the wine or beer that's often added for the stewing process ;)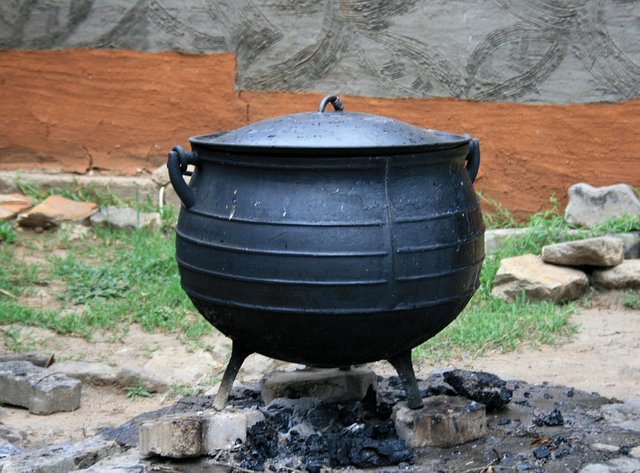 Image credit
I was so excited to hear that the Steemkitchen Contest is back with a bang thanks to a generous sponsorship from @adsactly, so check out their Contest - Local Cheap & Cheerful, where you not only stand a chance to 10 steem, but also the post rewards and get to meet some fabulous foodies from all over the world.
I have prepared a Sausage Pot on my stove top for all of you, this really was cheap - cost for the meal which made 4-5 generous servings came to ZAR107 ($7,34/ 9,13 Steem) - or ZAR26,75 ($1,84/ 2,28 steem) per serving, really cheap and perfect for Survival Week.
Now if you grow your own vegetables, cost will come down even more. If you live in an apartment with a balcony, try growing a few herbs and veggies in containers, this will be so rewarding!
On the day I went to buy my ingredients, the cashier asked if I wanted to use my loyalty points, so this meal in fact cost me ZERO ZAR. So guys and dolls, make use of loyalty programs with your favourite stores and see just how much you can save.
Another bonus was the discount offered if one bought two packs of baby vegetables, so I got ZAR10 off for those two items.
But enough of my rambling on, let's get started with the recipe.
Servings : 4-5
Preparation Time : 20 Min
Cooking time : 35-40 minutes
INGREDIENTS
2 small Red Onions, sliced
400 gram Beef Chippolatas
300 gram Baby Carrots
250 gram Mushrooms
125 gram Baby Corn
300 gram Baby Potatoes, halved
fresh Rosemary
Spring Onions, diced - from my garden
Mung bean & Lentil Sprouts - from my window sill garden
1 packet Hearty Beef Soup Powder
1 cup uncooked long grain Rice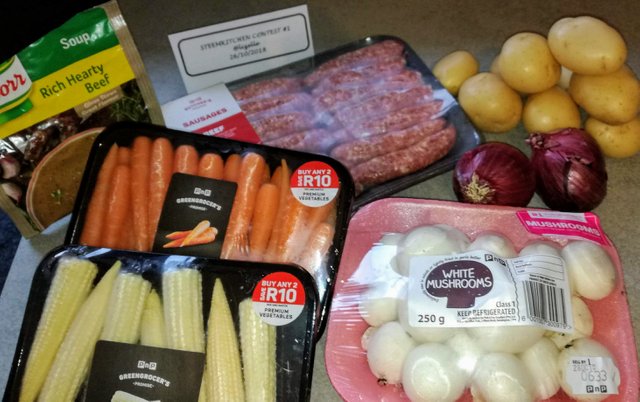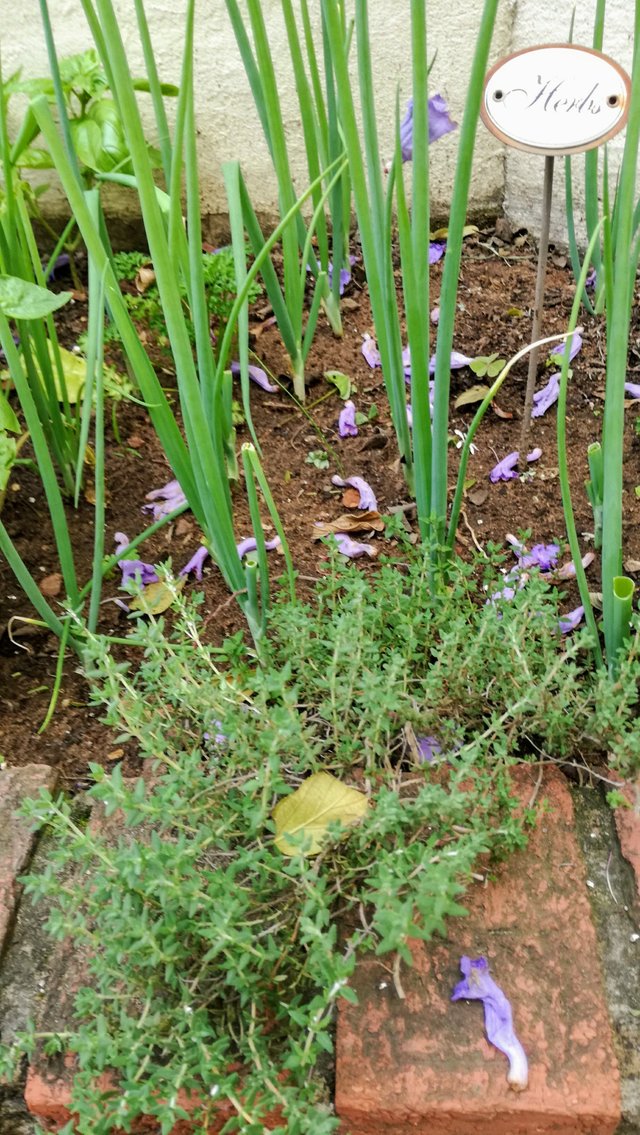 Method
1. Brown Onions in a little oil, add Sausages and brown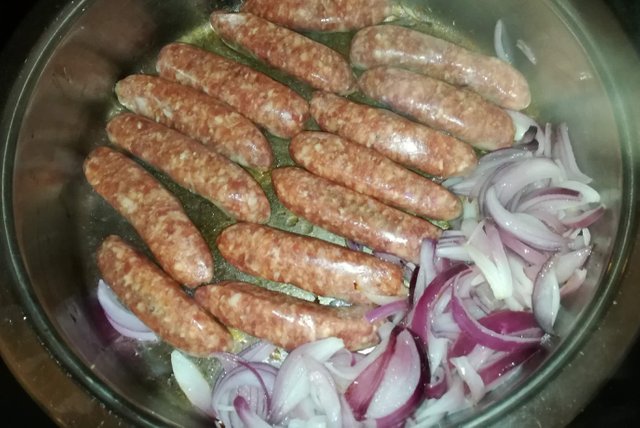 2. Push potatoes underneath sausages on base of pot, add about 1 cup hot water (can add 1/2 cup red wine) and cook for about 15 minutes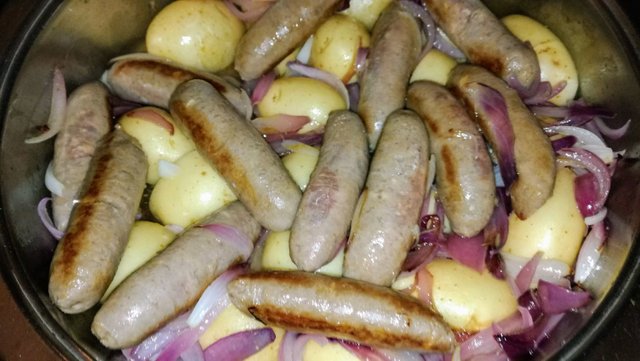 3. Add carrots, baby corn and mushrooms and cook for a further 10 minutes, check potatoes are done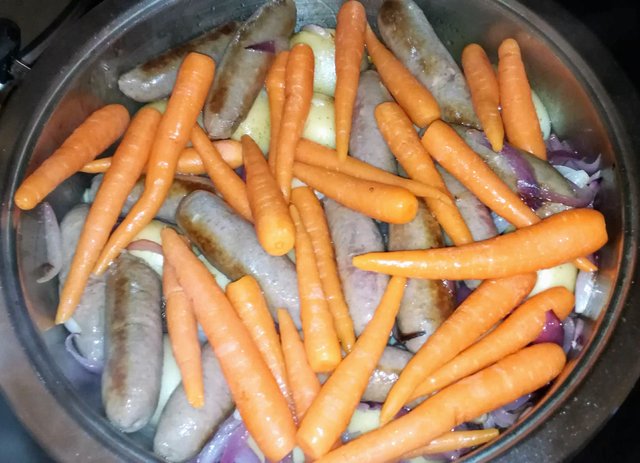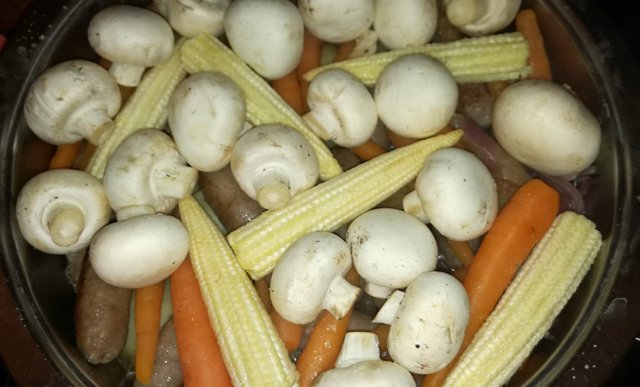 4. Thicken with soup powder and cook a further 5 minutes, add spring onions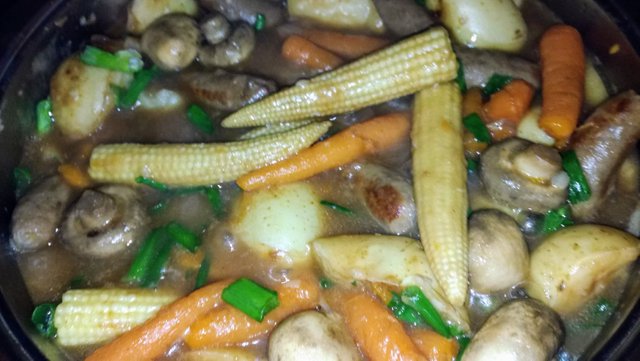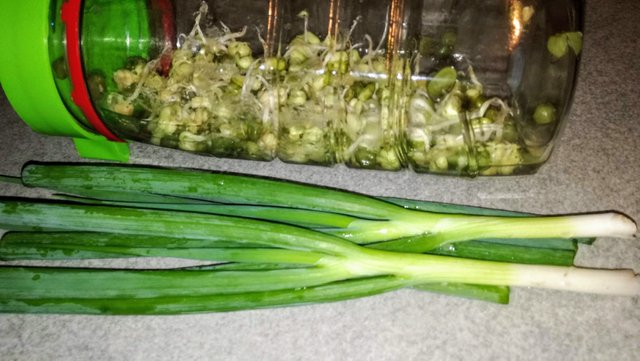 5. Cook rice and pile Sausage Pot on top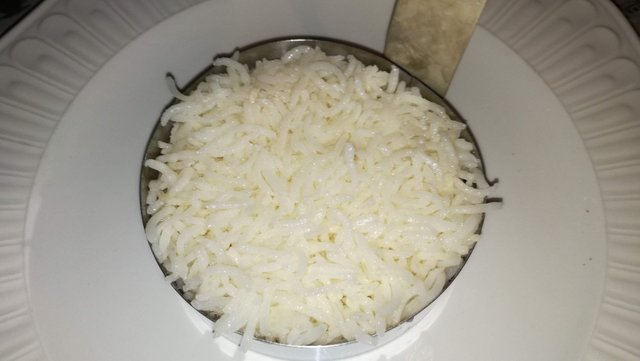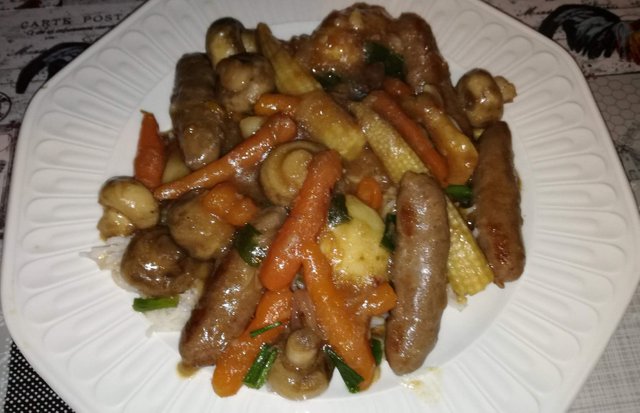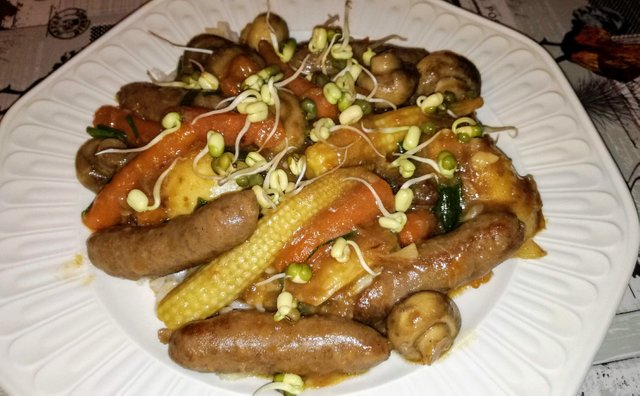 6. Garnish with Sprouts and enjoy
A quick look at the process: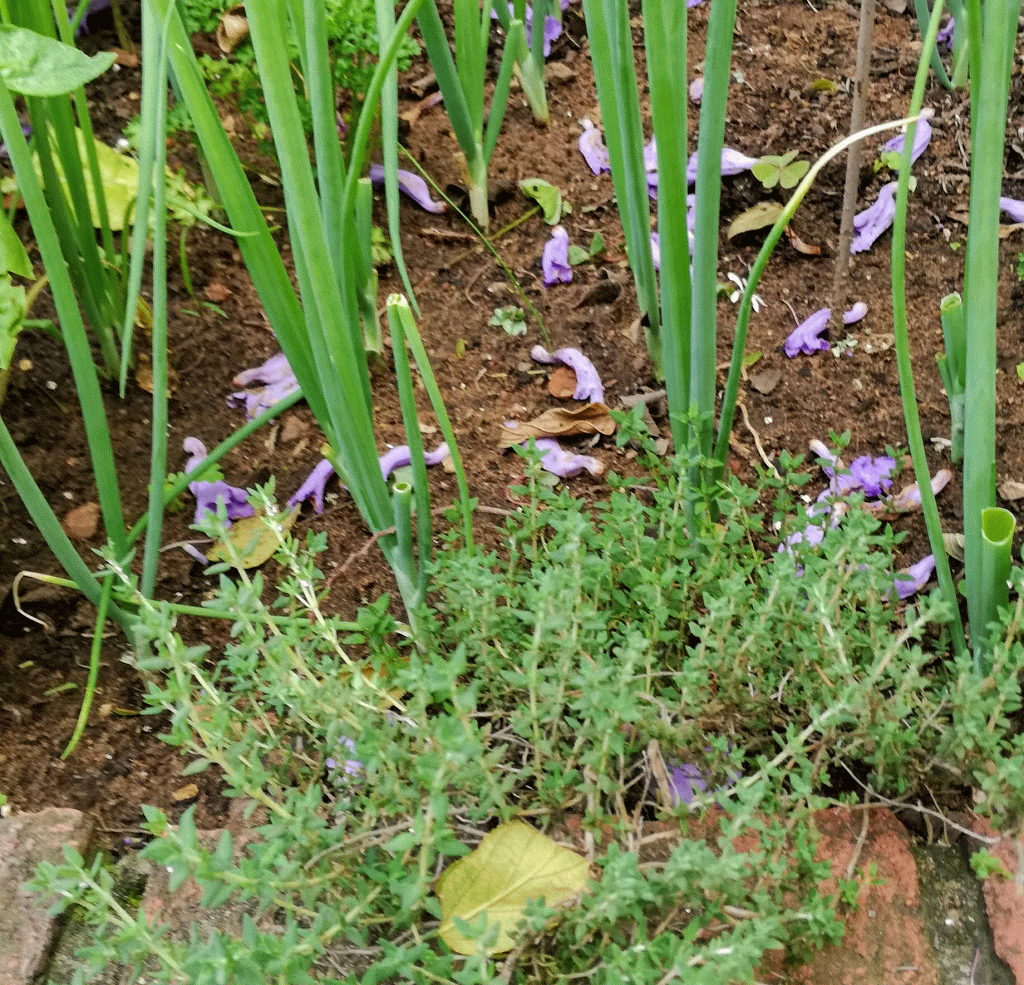 Hope to see your Cheap and Cheerful recipe post here.
Original Content by @lizelle
Thank you for stopping by
Comments, upvotes & resteems all much appreciated :)
Copyright @lizelle - All Rights Reserved


Team South Africa banner designed by
@bearone