Steemit Ultimate Challenge 8 Weeks - Week # 4
How has Steemit changed my life? Here is my story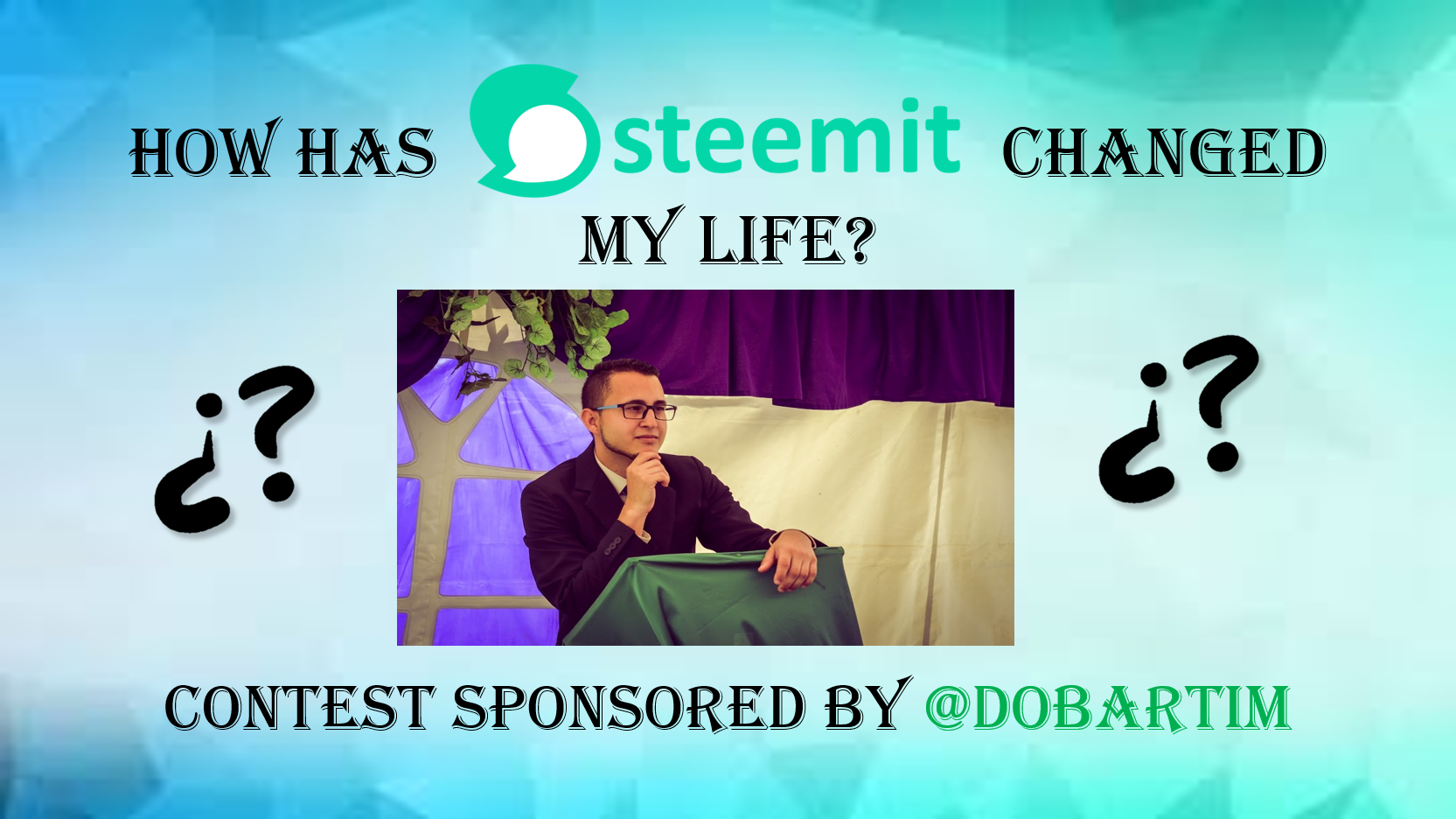 When I read the contest "Steemit Ultimate Challenge 8 Weeks - Week # 3" from @dobartim, I thought how this wonderful social network changed my life and I smiled for a while. I am from Venezuela, the most beautiful country in the world, its climate, flora, fauna are unique and its population very happy. As many know, Venezuela is going through a very difficult economic, political and social situation. The high costs of the products and the shortage of food have been overwhelming, each day it becomes more difficult to bring bread home, not to mention the crime that is increasing every day. Every day thousands of Venezuelans emigrate to another country in search of a better life opportunity, professionals leave their jobs and companies to undertake a pilgrimage in another country. I was not the exception, I was doing the paperwork to leave the country and look for a better future, the financial crisis of the country also knocked on my door and sometimes I did not have money to buy food or basic products for my home, it was difficult to buy clothes to my wife and could not help monetarily to my family, in addition my house still I have not been able to finish it because the money does not reach me for the materials that I need and the rent where I live could not pay. Due to this, I had a stipulated date to emigrate to the land of Peru, the day of departure was approaching when I read this sentence from an anonymous writer:
In times of crisis there are two types of people: Those who mourn and those who sell handkerchiefs.
It was then that I realized that in times of crisis where there is more probability of undertaking new projects and improving the quality of life. To my wife @zuni, they told her about a page where they value the content of your publications, Steemit. I can not deny that at first I doubted the veracity of the page until I saw the first payment that was given for a publication of our wedding. I remember that she was able to pay for her passport (something difficult and expensive in Venezuela), buy food for our home, clothes for both of us and help our families. That's when I decided to enter the community and started posting content on the page just to get money, but I realized that that is not the most important thing, that there are many things that Steemit can offer you, apart from the valuation of your content. I understood that:
Steemit more than a social network is a community where I can exchange and share thoughts, emotions, creations and experiences that have left their mark on me.

Financially Steemit has helped with the livelihood of my home and my family's home. With what I have gained in the publications, I can buy food, accessories for the home, clothing, take my wife to the cinema and resume the construction of my house.

I am electronic and thanks to Steemit I gave up my work in the company and started my own business. I started working on repairs of phones, tablets, PCs, laptops and other products that have to do with electronics with capital earned on a publication. Now I can say "I have my own business".

Educationally he has helped me with my lexicon, writing and reading. Steemit has been a great learning platform. I have learned from how to take a good photograph to the correct way to write poetry. Science, technology, poetry, stories, stories, contests, places, food and anime are some of the many tags in which I have spent the night reading to acquire more knowledge.

As you can see, Steemit has changed my life in an impressive way, I went from being an employee to having my own business, from waiting to see what happens to make it happen, from waiting for the fish, to go fishing. Now I am immersed in the world of electronics and the blockchain, a world that I want to learn more every day. It has changed so much my life and the life of my wife that we have decided to dictate free courses in my country for those who want to undertake in Steemit. There are many things that we still need to learn, but what we know we want to impart to others who are in the same position that we were one day, we want Steemit to also change their lives.
I thank @dobartim for the initiative of the contest. I enjoyed sharing my story with you, I hope you can also tell

yours.

Thanks for reading my post!