I felt like having a sandwich. Naszło mnie na kanapkę.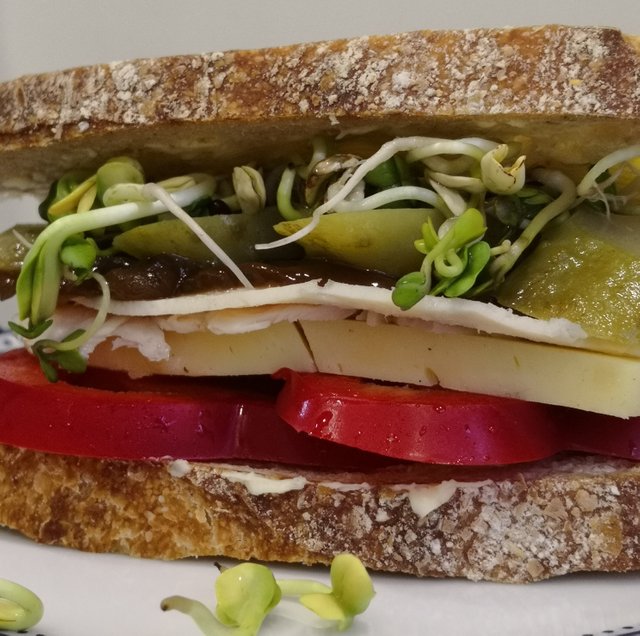 English
First I baked bread : Pain Au Levain with mixed starters, wheat and rye. It's my second attempt, the first one had the starters too weak. Next week I'll reduce the temperature, its 1.6 kg of dough to bake evenly, after all.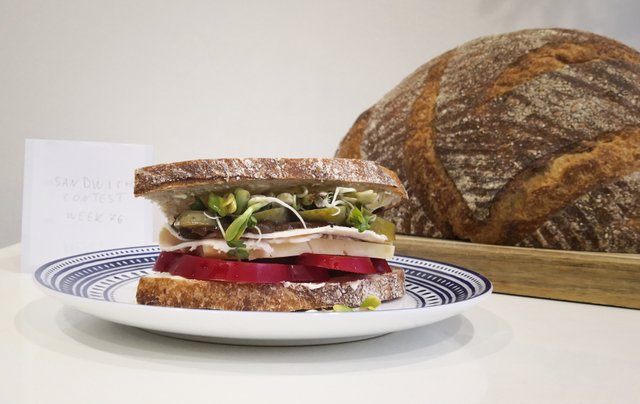 The ingredients :
bread
butter
red pepper
mild cheddar
chicken ham
carmelized onion chutney
cucumbers in brine (fermented, not pickled)
radish and sunflower sprouts
It could use some kimchi or pickled chillies but I didn't have any handy. Next time I'll fix it.
I believe this is the first time I'm taking part in the sandwich contest. All the best to other contestants :)
Polish
Najpierw upiekłem chleb: Pain Au Levain na mieszanych zaczynach, pszenica i żyto. To moja druga próba, w pierwszej miałem zbyt słabe zaczyny. Za tydzień obniżę temperaturę, trudno bowiem upiec równomiernie 1,6 kg ciasta.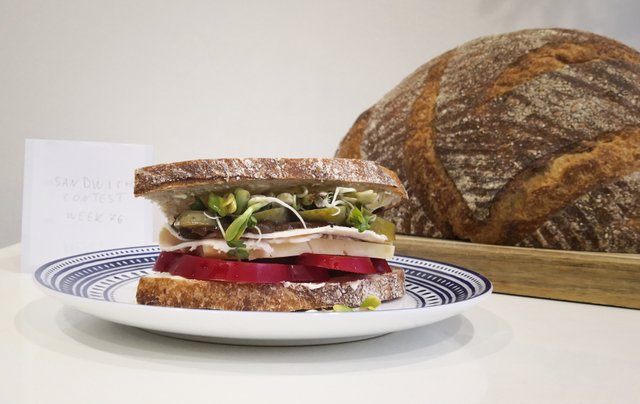 Składniki:
chleb
masło
czerwona papryka
młody cheddar
szynka drobiowa
chutney z karmelizowanej cebuli
ogórki kiszone
kiełki rzodkiewki i słonecznika
Mogłem użyć jeszcze kimchi lub marynowane chilli, ale nie miałem pod ręką. Poprawię następnym razem.
To chyba pierwszy raz, kiedy biorę udział w konkursie kanapkowym. Wszystkiego najlepszego moim konkurentom :)