Good evening, Steemians!
This was a great day. I slept in till 10:00a.m., which happens about twice a year. I made it to Caffetto, my coffee shop and work place of choice, and bumped in to @lovejoy. He sat down with me and we discussed Steemit, hard fork effects, crypto and the community. A really encouraging talk, ever reaffirming that my time, effort and contribution to the internet belongs and deserves to be here [...longer version of my thoughts on these topics coming soon].
This week's #steemitphotochallenge theme is masculinity. @jamtaylor made a note that this could be interpreted a variety of ways, but that sticking to the traditional idea of the theme would be a safe play to be considered for the contest. I'm going with a couple photos of men that have left a big impact on my life and my opinions on badass masculinity.
Drake Younger vs. "Hardcore" Nick Gage from "Tournament Of Death"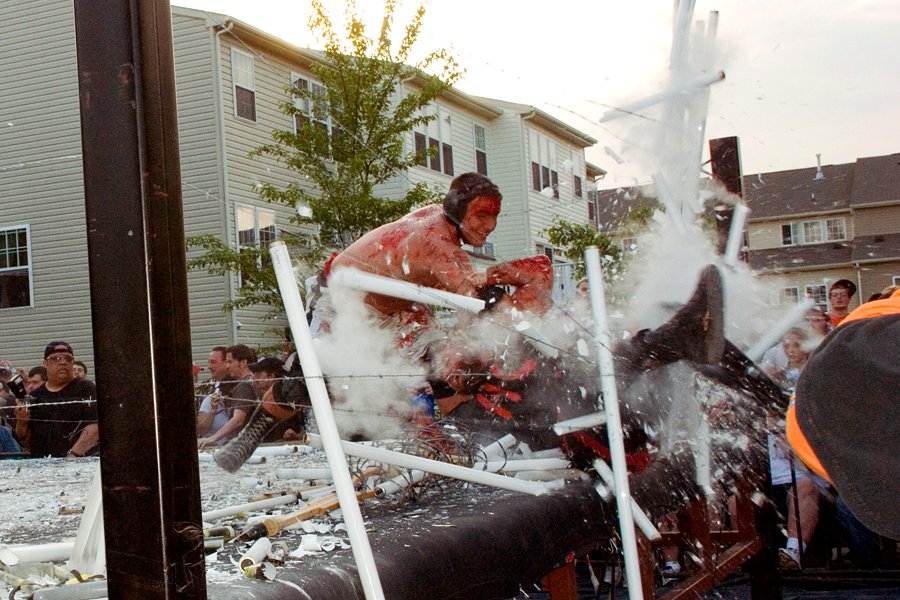 This is a photo I took during a violent, annual death match tournament that happens on the east coast. Hosted by Combat Zone Wrestling, these men [...and some women] personify everything that comes to my mind when I think of rugged, unbreakable strength, endurance and masculinity. When you glance at this photo, I'm sure your mind is trying to figure out what's happening. Remember in the 90's when Hulk Hogan used to hip toss Jessie "The Body" Ventura? Same thing here, but this is a hip toss through a dozen fluorescent light bulbs suspended on strands of barbed-wire. "Why barbed-wire?", you ask?. Of course the ring ropes have been replaced with barb-wire. It's a death match tournament! This is a wild sub-culture I was a part of for well over a decade. Drake [...the guy delivering the hip toss] is now a referee for the WWE.
"Sick" Nick Mondo, AKA Matthew T. Burns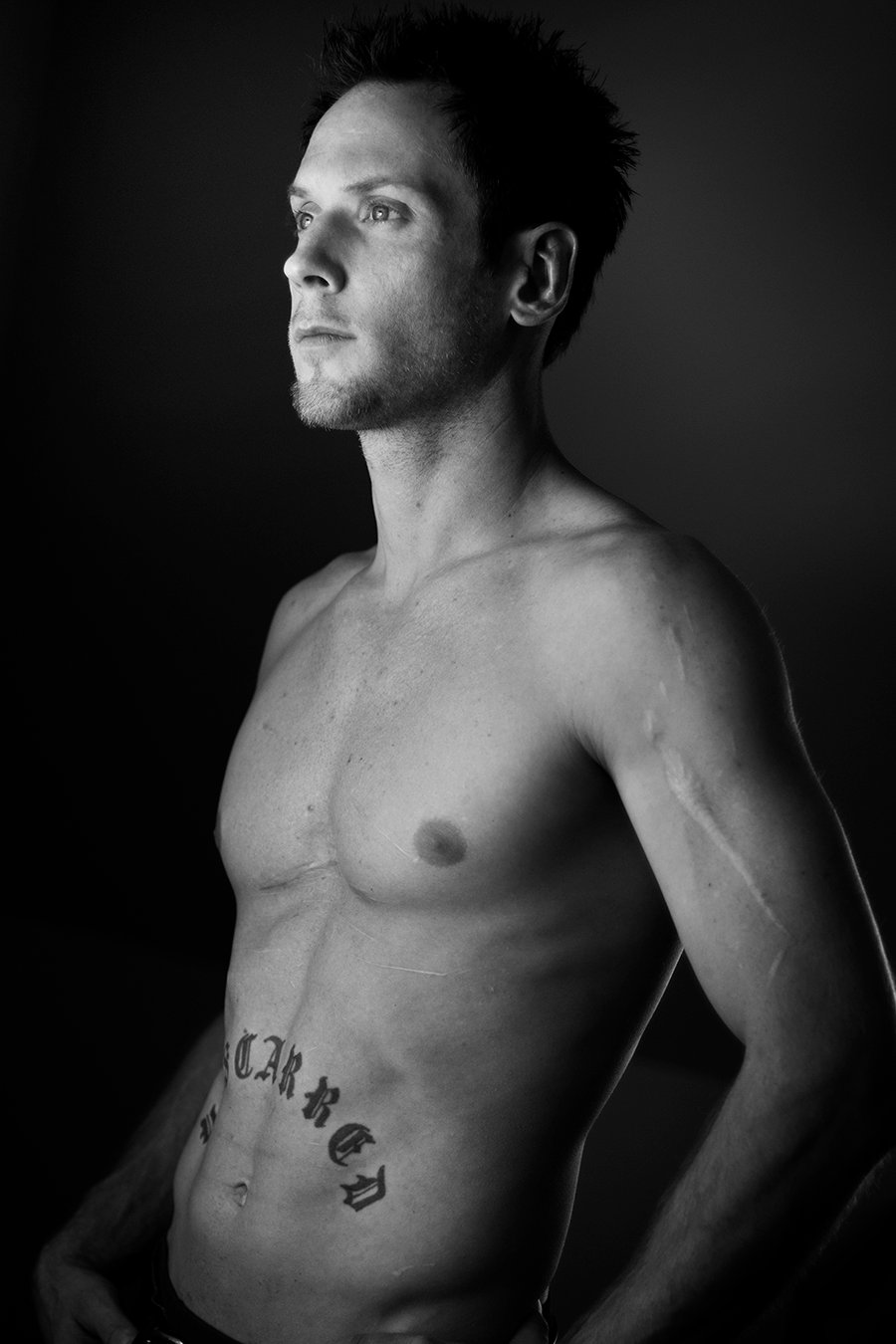 Nick Mondo is a legend in the aforementioned cult world of death match wrestling. He's one of the most recognizable names in the hardcore independent wrestling genre. His death defying fall, and cringe worthy bouts in the US and Japan have put Combat Zone Wrestling on the map. He retired in 2003. I met him at the height of his pro wrestling career and we've remained friends for over 15 years. He is a big part of why I moved to Minneapolis. Since 2011 he's lived and worked in Japan as a director. I took this as a promotional photo in hopes of getting him acting work in the Japanese film industry, which it has. Also, as a nice foot note, I brought him here to Steemit. You can follow him at @mtbmondo.
Madmen in Minneapolis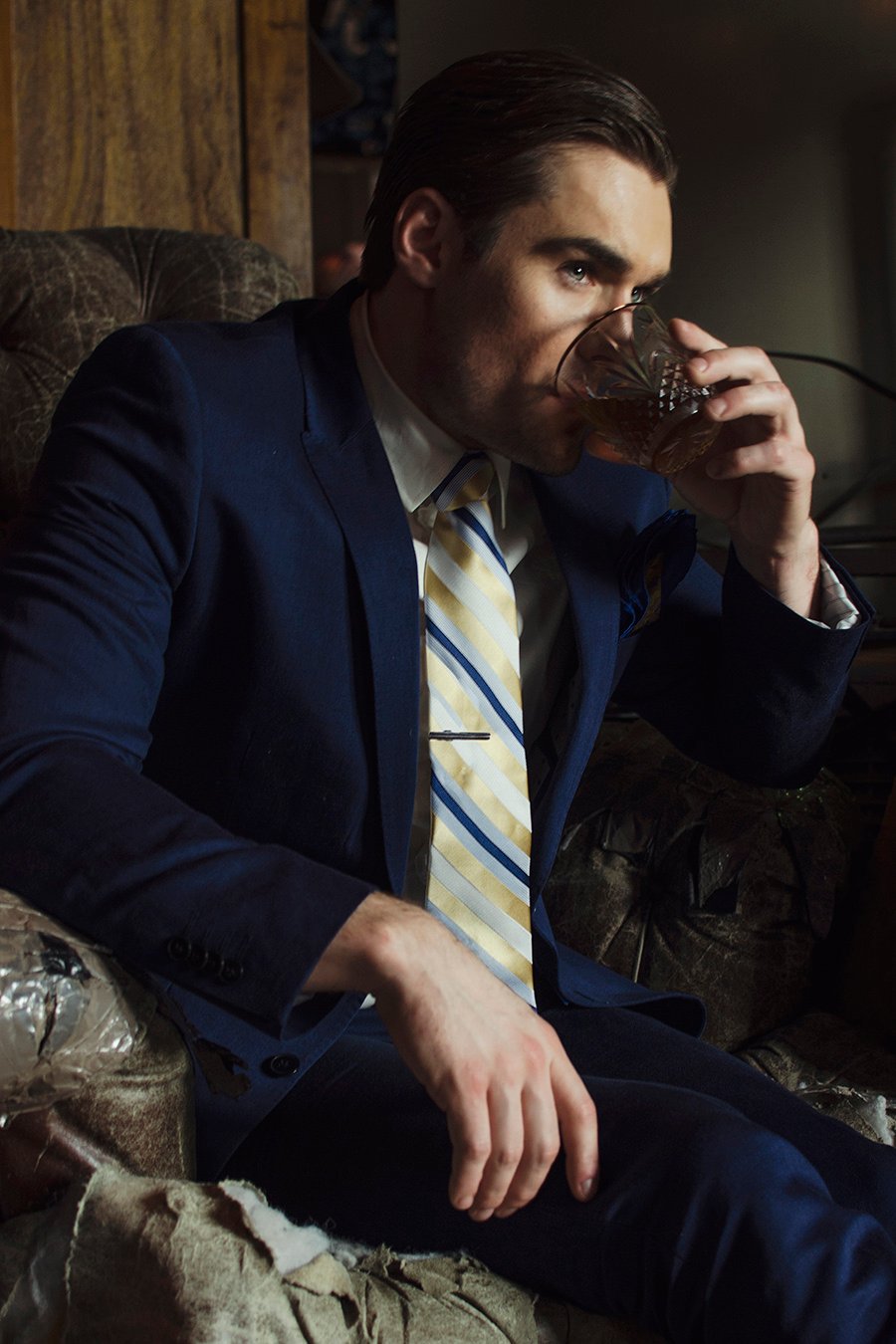 This one was taken recently. I do an event every year called NOIR. I've written about it in previous posts here on Steemit. It's a black and white, Old Hollywood session that tries to capture the vintage lifestyle of the 40's and 50's. This was taken to try and appeal to men that might be interested in having photos made. His name is Callen and we shot at a great little bar called The Kitty Cat Club. Styled by Yuli Xenexai. This is the first opportunity I've had to share the color version!
Thanks so much for your consideration and reading. If you aren't already, follow my blog @kommienezuspadt!