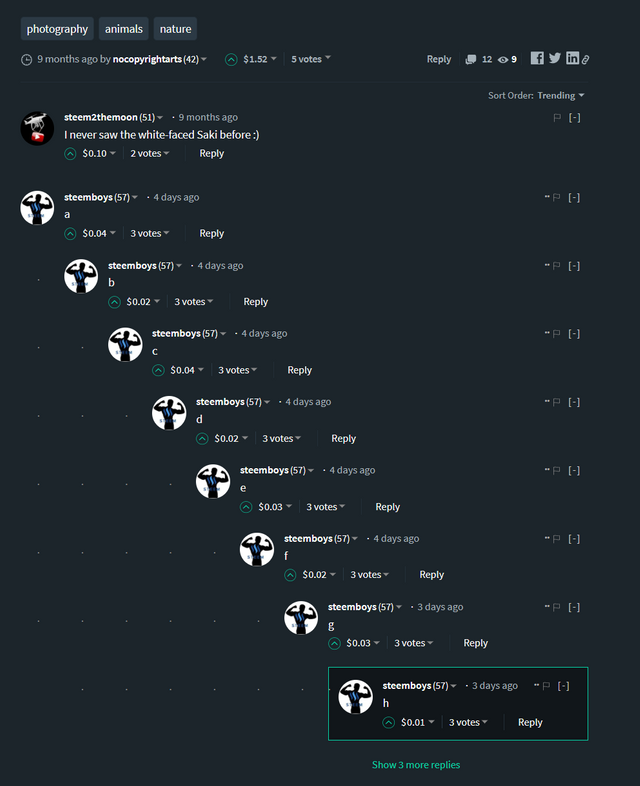 I've said it before - I don't believe all self voting is abuse but what you're doing is hiding under old posts and nested comments. If you want to self-vote get out and make posts and reply to commenters on your blog or reply to others blogs where the community can decide if your contribution to the community is valuable.
What if everyone decided to just self vote spam? Why would anyone want to invest in STEEM/SBD if steemit.com becomes known as nothing but a place to spam and scam. In the short term you may see some return on your investment. In the long term your 5.8k STEEM would be worthless when everyone bails and the blockchain is bloated with spam.
There's lots of ways for investors to earn returns since delegations and vote selling has become available. I don't have time to read and upvote quality content. I grow my investment by selling my votes to smartsteems "whitelisted" users that produce original content. There are good projects always looking to rent SP. We're slowly getting the bid bot & vote bot owners on board to reduce the amount of bad content being upvoted.
Steem's unique characteristic is ► The Community!
I still like Steemit a lot.
I still like the opportunity to make money with creativity.
I still like helping others, building community and working on something.
I still am a content creator as well.
You haven't been involved in the community for months but then come back to spam & self-vote. Heck even a few months ago had you been involved you would have seen a return on your investment.
I don't know what has changed since you wrote that but what you are doing is not helping build a community but giving others examples of how to destroy it with spam and devalue STEEM/SBD if others follow your example.
I'm just at a loss as how, as an investor, you find this attractive? Why would you buy STEEM/SBD if this was allowed to run rampant? Where is the incentive to invest and increase the value of STEEM/SBD if everyone just fills their own pockets and we don't bring content creators and potential investors to the platform?