This is something that is difficult to express as it is surreal. Fear as a parent, to me, like it is there, yet it is not there. A feeling beyond words can explained.
I am almost a fearless human being as general, except when stand in front of crowd to perform, I become nervous. Fearless has long gone once I become a mother. Because love supercedes fear. I don't really feel fearful per se, but I have my fair share of worries and concern.
---
Will the child develop well?
Will he get really sick?
Does he have enough nutrition in his diet?
Will he be bullied at school?
---
All these teeny-weeny thoughts which stalk us, mothers, as though our thoughts' space have so much more to cope, as though our emotions are so strong to withstand tremendous amount of worries and concerns.
And then when my 2nd child was born with a deadly congenital disease, I became fearful. Fearful of the now. Fearful of the future. Reading up more on congenital diaphragmatic hernia helped me to know better how to manage, but at the same time opened up the reality of how complicated it could be. And then more fear sank in.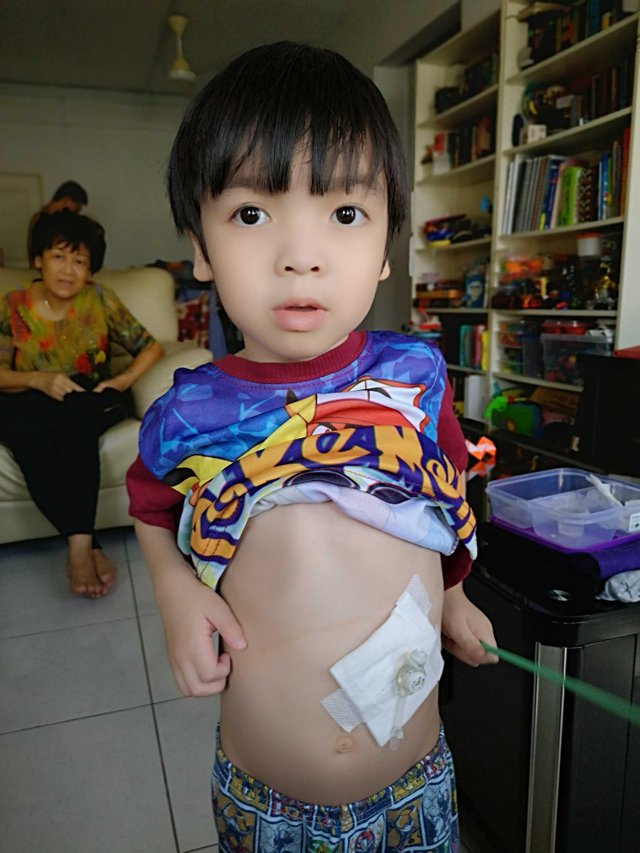 CDH
Congenital Diaphragmatic Hernia...
Has become my greatest fear. It is not just the hole in the diaphragm. It is one complication leading to another. The hole caused his other organs to enter his right chest cavity. And then his right lung didn't grow. So, he has only half-size right lung. This affected the whole composition and arrangement of chest cavity, causing his heart to change angle and it is towards the right.
Moving down all the organs back was never easy. Therefore, his intestines was not in original position too. And he has no proper diaphragm causing severe reflux. Reflux leads to fundoplication surgery to tie up his stomach, then this surgery causes him inability to burp, hence pain after feeding or eating.
He is categorised under 'failure to thrive' so he is dependent on feeding tube to grow.
Just typing this doesn't help but only to amplify the fear. Fear of this and fear of that. It was endless. But the greatest fear is something which I am not so willing to say. Something that I had buried in a box and hid it deep within my heart. Something which I had surrendered to God and told Him this is Your child, and He had entrusted to me so that I can love him with all my heart. The fear that he will die young. so much courage needed to type this. No one loves the idea of a child die at young age. Even teenagers are young to me.
At his one year of age, I knelt down in the middle of the night, I gave to God my greatest fear and I prayed,
"Father in heaven, I shall not look at this fear. But to live my day on daily basis. Each day with new strength and new grace as an imperfect mom. But that doesn't matter because I have a great God. I am unsuper mom handling not ideal situation daily. But that doesn't matter too. God told me to just live my daily life with new strength, new love and new grace. And I will do fine. And when I do fine, the whole household will do fine."
Fear has since then become False Evidence Appears Real. The real one is love. Only Love Today. Love never fails. Also, I do not think of future anymore, maybe a positive future. And to always remind myself that my future is in God's hand. Jansen's future is in God's hand. Life and death is not my subject but to live my daily life to the fullest.
---
This is my entry for a contest organised by @steemitmamas. Thank you so amazing contest for us to express our real fear.