Homeschooling my son, a lot of his physical activities revolves around developing his Fine and Gross Motor Skills by playing certain games and making it fun to learn without them even realizing it is actually exercising activities.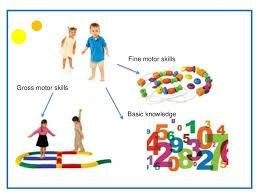 Image Source
Fine Motor Skills
These are the small movements using the smaller muscles of the fingers, wrists, toes, tongue, and lips.
Helping your Child Develop these Skills:
For babies, these skills start developing since the first time they grasp your finger until they learn to hold an object in their hands, pinching objects between their little fingers, clapping, drawing, eating, and even holding a spoon.
Here are a few more things which help your child develop these Fine Motor Skills as they grow up
Drawing and Coloring
Playing in the sand or with playdough
Using scissors and pasting pictures onto paper
Button/unbutton their shirts, tying their shoes and using a zipper.
Building blocks/Legos
Tracing (Over lines and/or letters. Nowadays, you can download fun applications on your phone for the kids to enjoy.)
Threading-my grandmother tried to teach me but I had no interest in this, maybe learning to apply makeup can be considered a Fine Motor Skill?
Finger Painting (Boost their creativity.)
And believe it or not, Video Games!

Like his father, my son has a big love for video games.
But kids need to get out too and learn other things as well.
Gross Motor Skills
These are bigger movements used by the larger muscles of your legs, torso, arms, and feet.
Helping your Child Develop these Skills:
Children start to develop these skills ever since they learn to keep their head up, rolling over, sitting, crawling, walking, and playing. Playing is the best way for a child learn anything, not just their Fine and Gross Motor Skills, but even so many educational facts about school work and life.
Kids use their Gross Motor Skills every day during playtime as they jump and run, balancing themselves as they climb or ride their bikes.
Here are a few more things which help your child develop these Gross Motor Skills as they grow up
Playing Catch.
As I said, riding their bikes until the training wheels come off.
Climbing trees. Ok, my nerves pull tighter than a guitar string, so I always supervise....CLOSELY!
Jumping rope, even though it has been a while since I saw kids do this.
Playing on a swing
Swimming
Sports
Standing and hopping on one leg. Hopscotch for example.

And if it raining out, just make your own baby powdered hopscotch indoors.
Developmental Delays
Parents always look out for their children and some may even be nervous when they see other babies already walking but their own is still crawling. All children reach milestones at their own pace. They need to get comfortable and trust their own bodies to be ready to move on to the next challenge. Some kids may be a little behind.
But if you notice your child continuously being behind on his/her milestones with other kids of the same age group, then you can always see a therapist to help you going forward if needed.
"Everybody is a Genius. But If You Judge a Fish by Its Ability to Climb a Tree, It Will Live Its Whole Life Believing that It is Stupid." - Albert Einstein
With Love

Team South Africa banner designed by @bearone
#teamsouthafrica
https://discord.gg/9KVccPH
(Bringing you Original Content)