My husband caught me burying eggs in the garden last week. Perplexed, he asked me why I was planting eggs in the garden. With a serious face I told him I was trying to grow more ducks. Actually, I am trying an experiment.
I've been told many, many times that fish is a great fertilizer for the garden and burying fish parts like the heads can help a garden grow. I don't have access to fish. I decided to research other things I could use in the garden to help make my soil better. Several articles discussed burying eggs in the garden. As they decompose they fertilize the garden and add good things like calcium.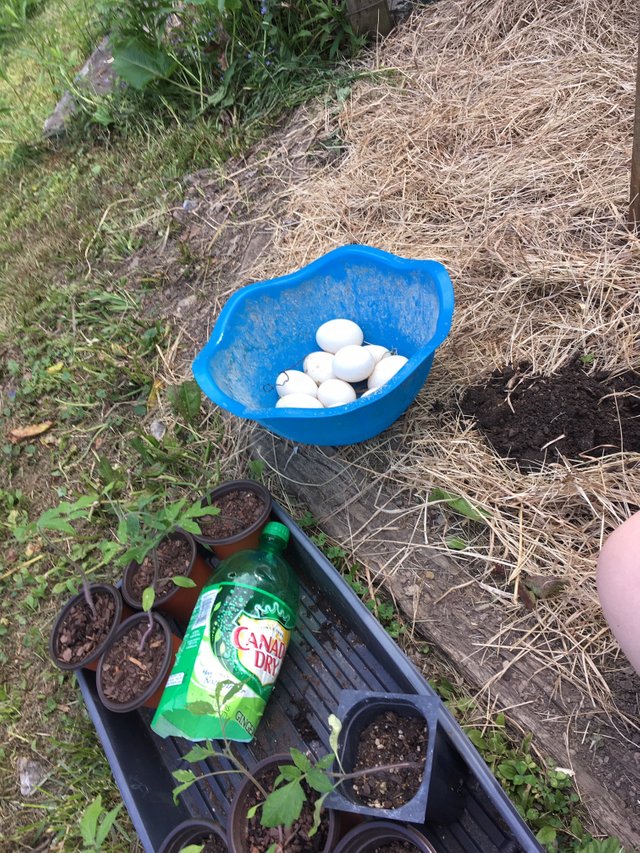 Since I always have excess duck eggs on hand, I decided to take some of the older eggs and put them to work in the garden. My experimental duck egg garden patch will have mostly tomatoes. I planted my first eight tomato plants last week: four Cherokee Purples and four Early Girls.
I worked really hard de-weeding this patch. It had a Sumac tree that had been growing in it for years before we bought the property. Sumac is very invasive. It sends out roots and along the roots it'll send up shoots which can become new trees. If you pull up a shoot it'll make the thing grow more aggressively. To get ride of the sumac I had to dig down in this patch four to 12 inches and pull up all the roots.
Picture of the patch I worked so hard de-weeding with my decorative sprinkler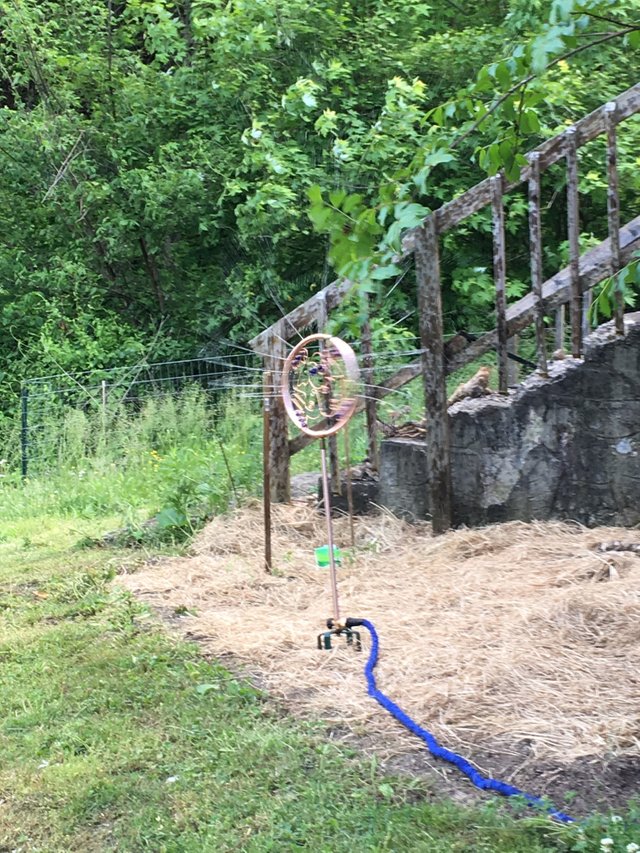 It took a week of digging and pulling to get the bed clean. I then put a layer of newspaper over the top and covered that with soil. Then, I covered that with a layer of hay to keep new weeds out and help the soil from drying out so quickly.
It made it easy to do my tomato planting since I'd tilled the soil so deeply. To put my eggs in the ground I dug a really deep hole, deeper than I'd plant the tomato, and placed one egg in the hole. I didn't put the tomatoes directly on top of it in case the rotting egg somehow could hurt the plant. I put the tomatoes diagonal so the two tomato plants were on each side of one egg. I really don't know how the eggs will work so one egg per two plants seemed enough.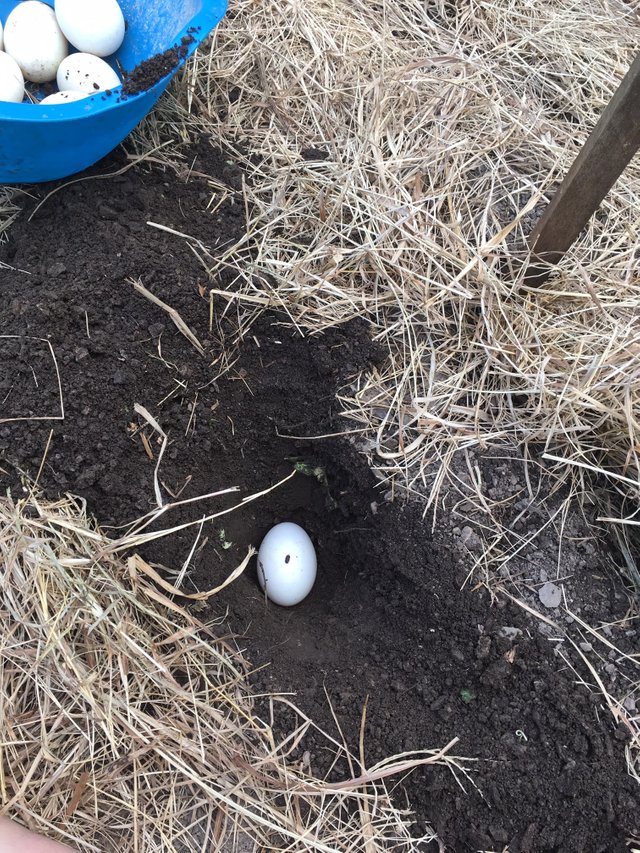 My Set-up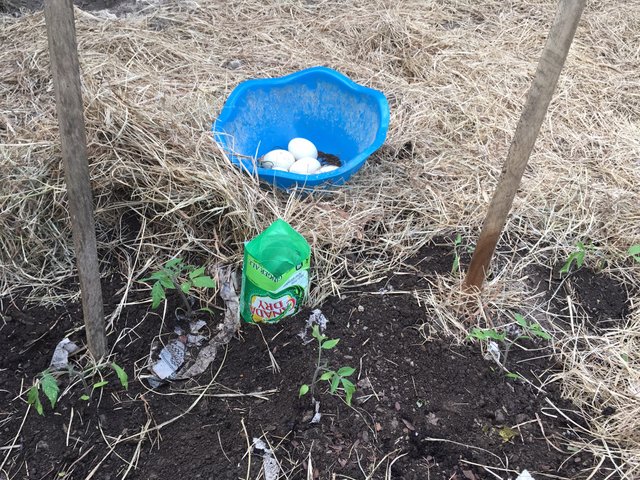 I also tried something new I saw on Pinterest that seems all the rage. Placing a bottle upside down with holes poked into the top and the bottom cut off is suppose to be a method for watering. Fill the bottle up and it's suppose to slow seep into the ground. I figured I'd try this in one spot since this particular patch gets direct sunlight and dries out fast.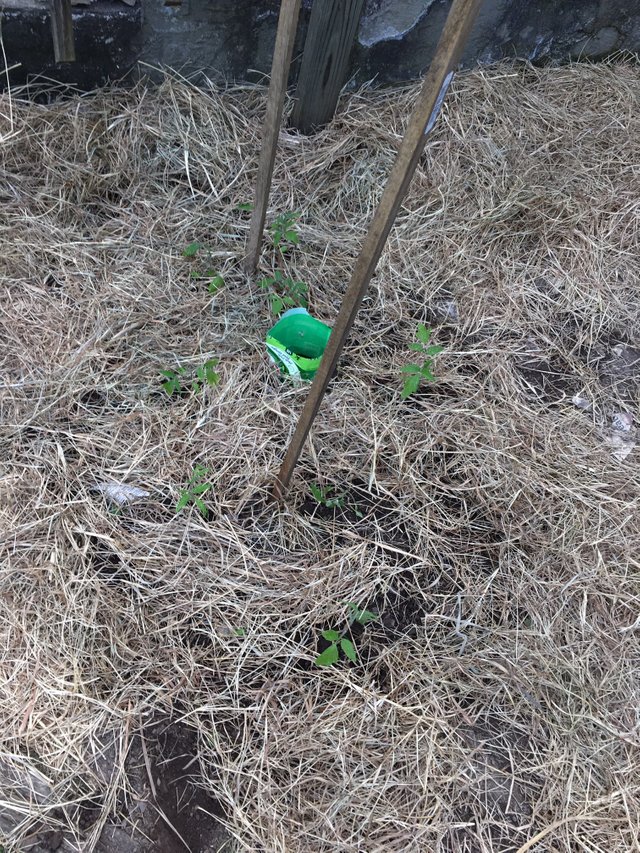 Using straw for mulch does seem to be working. It keeps the soil moist for much longer which is nice. I don't have to water as frequently.
I've got around 50 more tomato plants started and in the house still. I've got a bad sinus infection so I won't be able to move them outside and in the garden until next week. I've got some ruby red corn, peppers, and eggplants started as well. Some are in the early stages and some will be ready for the garden next week.