WOMEN GOT BRAINS TOO! #1-THE LIFE AHD WORKS OF MARIE CURIE.
WOMEN GOT BRAINS TOO! #1-THE LIFE AND WORKS OF MARIE CURIE.
Hello Steemians,
Welcome to my blog.
It feels so good to be back again after a very long break.
I hope you enjoy reading this post.
INTRODUCTION TO "WOMEN GOT BRAINS TOO!"
Recently, I got thinking and I pondered greatly on these questions:
Are there no women who have imparted our world positively?
Are there no female scientists, inventors, philosophers...Women that have made a mark on the sands of time?
If there are, why are these women and their works hardly talked about?
Why does it seem like all women know how to do is cook, birth and raise children?
Why does it seem like only men are great inventors, scientists, philosophers or even politicians?
Why does it seem like only men got brains?
No! Women got brains too!
Every article on "Women got brains too" is dedicated to every woman, dead or alive, who has in one way or the other affected the world positively.
Now, don't get me wrong. I'm not doing this because I'm a woman. I think I would still have done this even if I were a man. Lolz.
These women and their works deserve to be acknowledged and honoured!
Today's article is specially dedicated to the great scientist and inventor, MARIE CURIE.
Fasten your seatbelts let's take a jolly ride down the lane of History and Science.
Do enjoy the ride!
---
THE LIFE AND WORKS OF MARIE CURIE.
Meet Marie Curie...
Marie Curie, formally known as Maria Sklodowska, was born on November 7, 1867, in Warsaw, which is now known as Poland. She was the youngest of five children: Zofia, Jozef, Bronislawa, Helena and herself. Her parents were teachers. Her father, was a physics and mathematics teacher. Marie Curie followed after his footsteps. She had interest in these subjects right from an early age.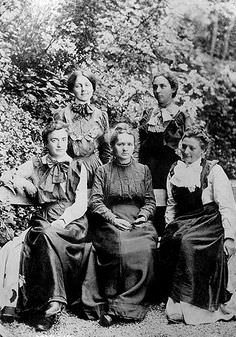 Marie and her family.
Source
At age 10, Marie's mother died of tuberculosis, and it was quite difficult for Marie's father to raise the children all by himself, especially in the area of finances.
---
MARIE CURIE'S EDUCATION
Marie was a very intelligent and inquisitive student. She excelled greatly in her education. However, after her secondary school education, she could only attend a local university in her country, known as "the floating university", where she obtained her first degree.
Marie and her sister, Bronislawa, nursed the dream of going abroad for further studies but they were financially constrained. However, they both agreed on a brilliant solution. Marie would work to support her sister's education abroad, and her sister, Bronislawa, after completing her studies, would do the same for Marie. For five years, Marie Curie worked as a tutor and a governess. During her spare time, she read about Physics, Chemistry and Mathematics.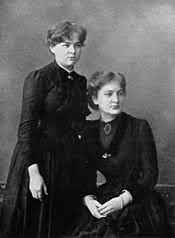 Marie and her sister, Bronislawa
Source
In 1891, at age 24, Marie finally travelled to France for further studies. She studied in the university of Sorbonne and in 1893 she got a master's degree in Physics. In 1894, she obtained a second master's degree in Mathematics and in 1903 she gained her doctorate degree in Science.
While in school, Marie often had health challenges due to malnutrition. Her major meal then was buttered bread and tea, because she had little money. However, she wasn't discouraged by her poor condition, she was determined to achieve her dreams.
---
MARIE CURIE'S LOVE LIFE
Well, without a man, a woman is somewhat incomplete.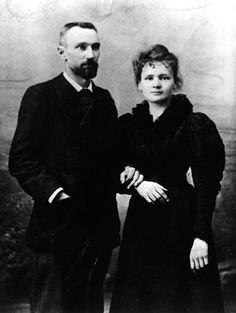 Marie and Curie
Source
Marie Curie had a love life too. Amazing!
In 1894 she met and fell in love with Pierre Curie, a professor of Physics in a university in Paris.They both got married in 1895. Their marriage was blessed with two daughters, Irene and Eve. Irene followed after her mother's footsteps (In 1935, she won the Nobel Prize in Chemistry).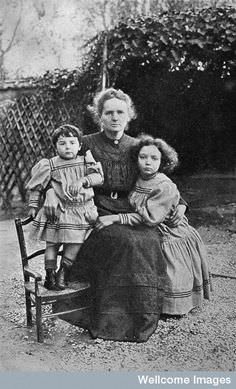 Marie and her daughters
Source
Unfortunately, in 1906, Marie's love life was terminated when Pierre got involved in a horrible accident. He was knocked down by a horse-drawn wagon, and died in the process. Marie was stricken with grief. She soon overcame her grief, and took over her husband's position as a professor of Physics.
---
MARIE CURIE'S DISCOVERIES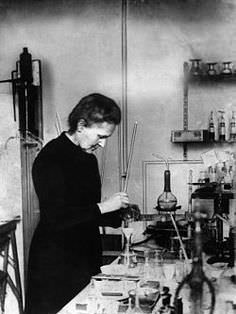 Marie in the Laboratory
Source
Whilst working on radioactivity, Marie Curie discovered that a mineral called Pitchblende, which contains Uranium Ore, was more radioactive than the pure Uranium. She wondered why this was so. The presence of Uranium alone couldn't have made it that radioactive. Marie figured out that there could be another chemical element apart from Uranium, present in Pitchblende.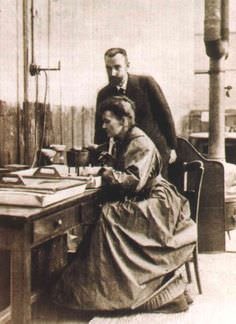 Marie and Curie working together in the Laboratory
Marie and her husband, Pierre, began to work at discovering the unknown element. They found out that Pitchblende contains not just one but two other elements, which they named: Polonium (named after Marie's home country, Poland) and Radium.
In subsequent posts we shall do an in-depth study of these elements.
During the first world war, Marie Curie invented small mobile X-ray machines which were used to take the X-ray of wounded soldiers, in order to locate fractures or bullets in their bodies. Marie called these machines 'Petits Curies'.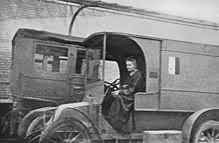 Marie in a mobile X-ray van
---
AWARDS AND NOBEL PRIZES WON BY MARIE CURIE
Marie Curie is the first woman to win a Nobel Prize. She is the first and only person to win a Nobel Prize twice in two different sciences, Physics and Chemistry. Marie is also the first woman to become a professor in the university of Paris.
In 1903, Henri Becquerel, Marie, and her husband, Curie, were awarded the Nobel Prize of Physics; this was for their work on Radioactivity.
Marie's second Nobel Prize came in 1911; she was awarded a Nobel Prize in Chemistry for creating a means of measuring Radioactivity. Some other awards and Nobel Prizes won by Marie Curie include:
Ellan Richards Research Prize (1921).
The Grand Prix du Marquis d'Argenteuil (1923).
The Cameron Prize from Edinburgh University (1931).
Marie received many honorary degrees from universities around the world. An hospital was even named after her! The hospital was destroyed by a bomb in 1944, but it was later re-established as a charity for people living with terminal illness, apart from cancer. A university in her home country, Poland, where her statue was erected, is also named after her.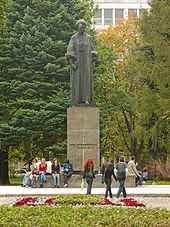 Statue of Marie, in Maria Curie-Sklodowska University, Lublin, Poland.
What a great woman with so many achievements!
---
Marie Curie's Quotes
Source
Amongst her many quotes, these are my favorites:
Be less curious about people and more curious about ideas.
Nothing in life is to be feared; it is only to be understood. Now is the time to understand more so that we may fear less.
One never notices what can be done, one can only see what remains to be done".
I am among those who think that science has great beauty. A scientist in his laboratory is not only a technician, he is also a child placed before natural phenomena which impress him like a fairy tale.
Have no fear of perfection; you will never reach it!
---
And Finally Marie Curie Died!
So sad, but death is inevitable. Marie Curie died on 4th July, 1934, at the age of 66. She was diagnosed of Aprastic Pernicious Anaemia, caused by her long exposure to radiation in the course of her scientific research, over the years.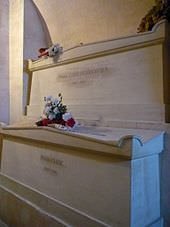 Tomb of Pierre and Marie Curie, Panthéon, Paris.
Marie and her husband were reburied in the Panthéon; this is a place in Paris reserved for the dead who are most honoured. Marie Curie was the first woman to be awarded a place in the Panthéon because of her great achievements.
---
MY CONCLUSION
Yes! Women got brains too!
Marie Curie is one woman who could be considered as a legend in science. When I was
in school studying French, I studied about her life and achievements in one of my French courses. No doubt, she is highly honoured and respected in the French society and in the world at large.
---
References:
2 . https://googleweblight.com/i?u=https://www.mariecurie.org.uk/who/our-history/marie-curie-the-scientist&hl=en-NG
For further information on Marie Curie's life and achievements, please visit Site
If there are other information about Marie Curie you would like to add, you can kindly add them in the comments section.
I hope you found this article educative and interesting.
Thank you so much for visiting my blog.
To all my followers, I'm so sorry for the long break. So sad, Offline activities are really taking my time. I will try to keep my blog more active.
I'm @eucharis and I'm saying,
Women got brains too!