This was so wonderful, who would think crows can solve problems.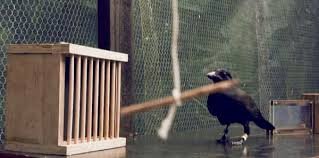 I definitely did not but was extremely surprised to see what this crow did. 
We must start thinking of teaching children by giving them a problem to solve. 
If they learn to solve a problem they will be much more successful when they grow up. 
It is like thinking out of the box as I said yesterday and it is incredible good for children. 
I will look for ideas at problems children can solve but I am sure you can definitely think of different ways to make children think a bit while playing. 
This crow really impressed me, and if he can do this what can our children do who learn to think for themselves. 
I hope you enjoyed my video and may you have a wonderful problem solving day from me.