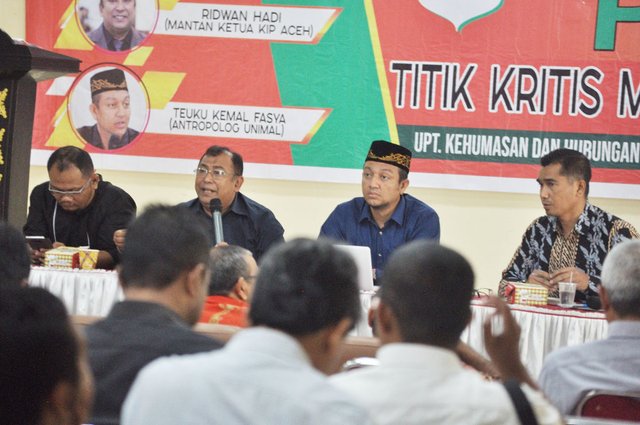 ---
The Director of the Initiative Survey Network in Aceh (Indonesia), Aryos Nivada, reminded that in the election season there is usually a high crime rate, the main drug trafficking.
"There are indications that drug networks are also playing to finance political needs. In the previous 2014 elections, it has already happened," says Aryos Nivada in a public discussion "Critical Point Anticipating Election 2019" at Cut Meutia Hall, Bukit Indah Campus, Lhokseumawe, Wednesday (02/20/2019).
Aryos, who is also a political and security observer in Aceh, also reminded the community to guard the ongoing democratic process. Citizens must build concern for fair and fair elections. "Don't after going home," he added.
He also mentioned the courage of the people to be witnesses to election violations. According to him, so far many legal processes have stalled because no one dared to be a witness.
In addition to Aryos, a public discussion about the election also presented Unimal anthropologist, Teuku Kemal Fasya, and former Chair of the Aceh Independent Election Commission (KIP), Ridwan Hadi as the speaker.
Ridwan Hadi said that the General Election Commission (KPU) as the organizer of the 2019 election had failed to fulfill the provisions of Article 572 of Law Number 7 of 2017 concerning Elections. What is the impact on the legitimacy of the election results?
Ridwan, who is also the Executive Director of the Indonesian Democracy Network (JaDI) in Aceh, said that the order of Article 572 was that the organizers make implementing regulations no later than one year after the law was promulgated.
"Law Number 7 was promulgated on August 16, 2017. This means that all KPU Regulations and Bawaslu Regulations must be stipulated no later than August 16, 2018. In fact, there is still PKPU set in 2019," said Ridwan Hadi in a public discussion held Public Relations and External Relations Technical Services Unit of the University of Malikussaleh in Cut Meutia Hall, Wednesday (02/20/2019).
According to Ridwan, the KPU also cannot be blamed entirely because there is a necessity to discuss with the DPR and determine PKPU. However, unlike the 2014 elections, where consultation with the DPR was binding, which made the independence of the KPU eroded, the 2019 election was not binding.
So, according to Ridwan Hadi, the KPU is free to arrange article by article in PKPU as far as it does not conflict with the laws and regulations above it.
Public discussion also presented Unimal anthropologist, Teuku Kemal Fasya and political and security observer in Aceh, Aryos Nivada as the speaker. The public discussion was followed by students, lecturers, NGO activists, and democracy volunteers. []
---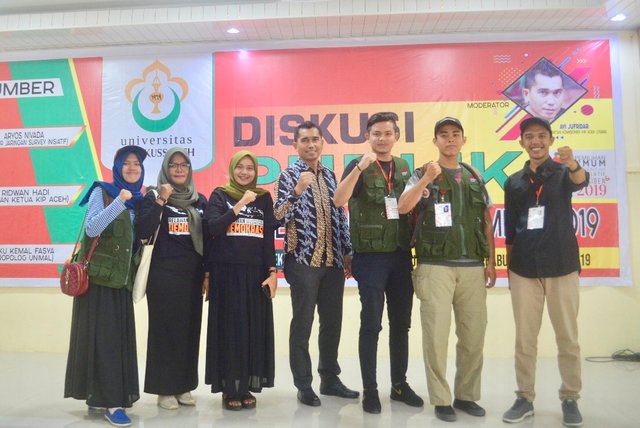 ---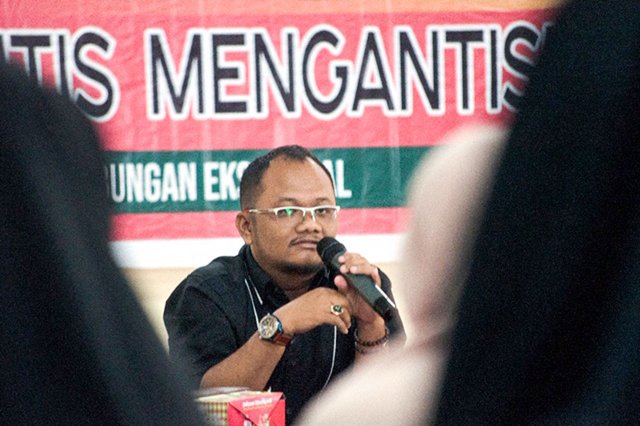 ---
Uang Bisnis Narkoba Dalam Politik 2019?
Direktur Jaringan Survei Inisiatif di Aceh, Aryos Nivada, mengingatkan dalam musim pemilu biasanya angka kriminalitas tinggi, utama perdagangan narkoba.
"Ada indikasi jaringan narkoba juga ikut bermain untuk membiayai kebutuhan politik. Dalam pemilu 2014 sebelumnya sudah pernah terjadi," ungkap Aryos Nivada dalam diskusi publik "Titik Kritis Mengantisipasi Pemilu 2019" di Aula Cut Meutia Kampus Bukit Indah, Lhokseumawe, Rabu (20/2/2019).
Aryos yang juga pengamat politik dan keamanan di Aceh juga mengingatkan warga masyarakat agar mengawal proses demokrasi yang sedang berlangsung. Warga harus membangun kepedulian terhadap pemilu yang jujur dan adil. "Jangan setelah nyoblos langsung pulang," tambahnya.
Dia juga menyinggung keberanian masyarakat untuk menjadi saksi dalam pelanggaran pemilu. Menurutnya, selama ini banyak proses hukum tersendat karena tidak ada yang berani menjadi saksi.
Selain Aryos, diskusi publik tentang pemilu tersebut juga menghadirkan antropolog Unimal, Teuku Kemal Fasya, serta mantan Ketua Komisi Independen Pemilihan (KIP) Aceh, Ridwan Hadi sebagai pemateri.
Ridwan Hadi menyebutkan Komisi Pemilihan Umum (KPU) sebagai penyelenggara pemilu 2019, telah gagal memenuhi ketentuan Pasal 572 Undang-Undang Nomor 7 Tahun 2017 Tentang Pemilu. Apa dampaknya terhadap legitimasi hasil pemilu?
Ridwan yang juga Direktur Eksekutif Jaringan Demokrasi Indonesia (JaDI) Aceh, menyebutkan perintah dari Pasal 572 adalah penyelenggara membuat peraturan pelaksana paling lambat sudah harus ditetapkan satu tahun sejak undang-undang diundangkan.
"Undang-Undang Nomor 7 diundangkan pada 16 Agustus 2017. Artinya, seluruh Peraturan KPU dan Peraturan Bawaslu harus ditetapkan paling lambat pada 16 Agustus 2018. Faktanya, masih ada PKPU yang ditetapkan pada tahun 2019 ini," ungkap Ridwan Hadi dalam diskusi publik yang diselenggarakan Unit Pelayanan Teknis Kehumasan dan Hubungan Eksternal Universitas Malikussaleh di Aula Cut Meutia, Rabu (20/2/2019).
Menurut Ridwan, KPU juga tidak bisa disalahkan sepenuhnya karena ada keharusan membahas dengan DPR dan penetapan PKPU. Namun, berbeda dengan pemilu 2014 lalu di mana konsultasi dengan DPR bersifat mengikat yang membuat independensi KPU tergerus, dalam pemilu 2019 tidak mengikat.
Jadi, menurut Ridwan Hadi, KPU lebih bebas mengatur pasal demi pasal dalam PKPU sejauh tidak bertentangan dengan peraturan perundang-undangan di atasnya.
Diskusi publik juga menghadirkan antropolog Unimal, Teuku Kemal Fasya dan pengamat politik dan keamanan di Aceh, Aryos Nivada sebagai pemateri. Diskusi publik tersebut diikuti mahasiswa, dosen, aktivis LSM, dan relawan demokrasi.[]
---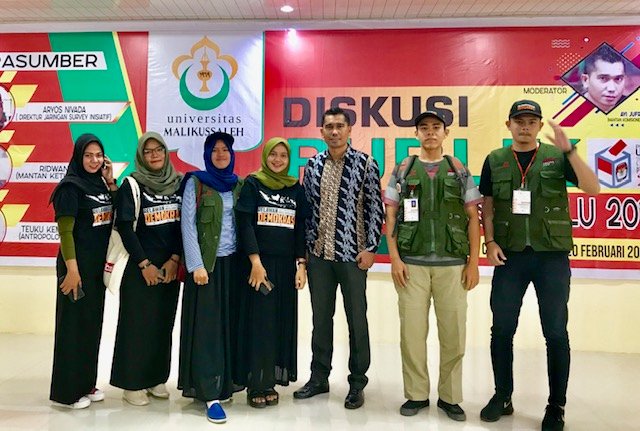 ---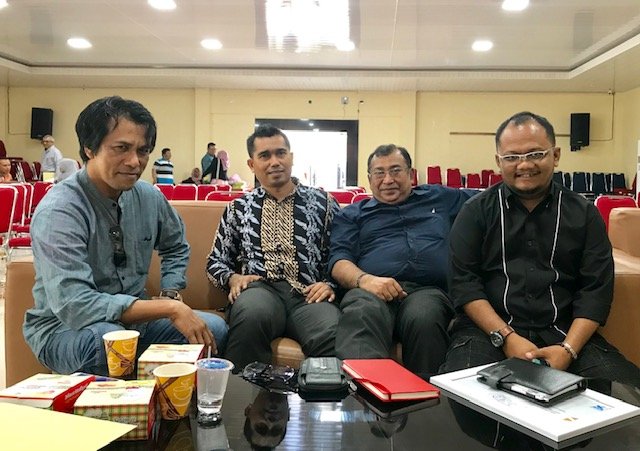 ---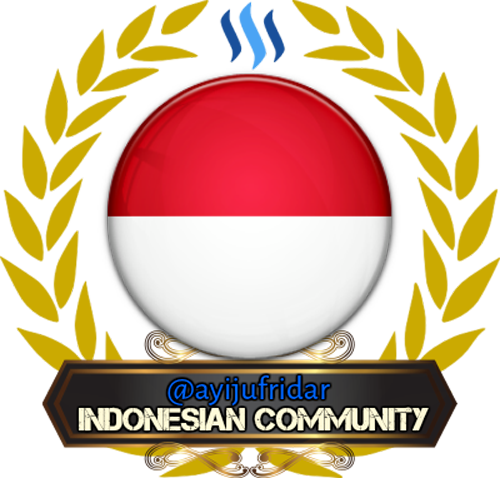 ---