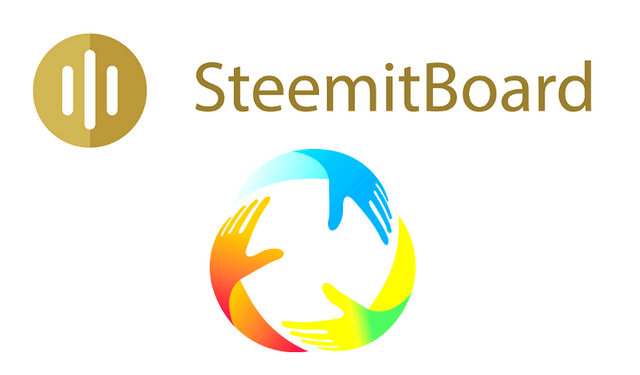 Welcome to SteemitBoard's witness report
Like all other witnesses, @steemitboard publish a regular report on its activity and how it helps the Steemit platform and its users to grow and to have fun.
For those who don't know the why SteemitBoard team runs a witness, we highly recommend to read the introduction post. This one is full of information.
Work done
Witness infrastructure
Our witness nodes are running smooth and we patched them with the v0.20.10 security fix on time and without any hiccup.
We also want to say how grateful we are towards everyone who voted for @steemitboard as a witness. We moved up to rank #73 thanks to your votes. This for sure helps the project to survive and to redistribute fun and part of what we get to all users on the platform. Thank you!
Website complete rewrite
Did you noticed we rewrote @steemitboard's website? Hopefully you didn't because it was our goal to make the change as transparent as possible.
Our website use a brand new framework which will allow use to provide you with new features faster than before. The next step is to fully integrate/rewrite SteemitBoard Ranking, which should be done in the coming days.
We created several new personal badges and challenges

Carnival challenge
The badge has been awarded to 42 users who shared their Carnival experience in a post. On top of this, the 5 best entries have been reward with 5 STEEM each.

DrugWars early adopter
The @drugwars team wanted to thank their early adopters and asked us to create a very special badge they can offer to all of them. This lead to a distribution of 12000 badges!

Steemit 3 Years Birthday badge
The Steem blockchain entered its 3rd year of existence and all users having registered their account more than 3 years ago have now received this birthday badge. Up to now, they are 467.

King of Disease 1st April Fool
Our "moving to Ireland🍀 biologist🔬" @suesa wanted you to have fun and decided to create her very own version of the 1st April fool. She contacted us to get our help then started her sneeze party joined by 83 participants who are now "infected" with the scary "Kind of disease" badges. Thanks for this funny event @suesa.

Steem Meetup Aachen badge
As more Steem meetups are popping out around the world, their organizer ask us to create a dedicated badge to offer their participant a nice souvenir. The Steem Meetup Aachen, organized by @detlev, is the second one of a long series.
Interaction with users
Notifications
@steemitboard sends a lot of notifications to inform users of their progress on Steemit.
Here a small chart to display the work done every month, depending on the activity of Steem users on the blockchain: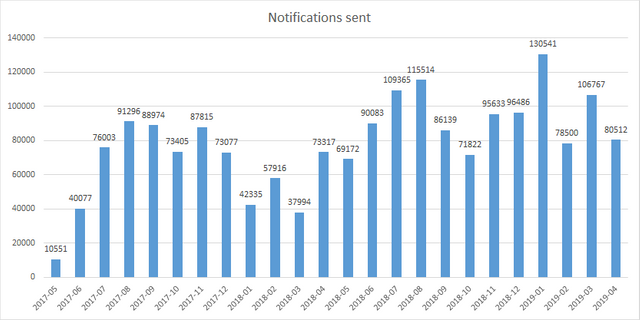 Notifications are really appreciated and you sent us a lot of positive feedback. Many of you love being informed about their progress on Steem and we get the same steady ratio with only 4% asking to stop receiving notifications, meaning 96% of the Steem blockchain user are happy to get informed about their achievement.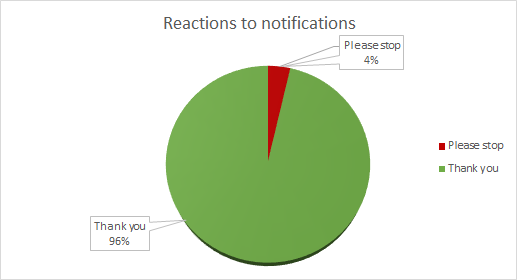 A big THANK YOU to all of you who keep upvoting the notifications they receive.This is really helpful.
Support from SteemitBoard to users
Did you know @steemitboard also upvotes user's post when it send a notification?
Here's a chart with the number of votes made every day. You will notice that SteemitBoard has upvoted 651960 posts , with up to 42933 posts per month and is now on a lower average of approximately 29500 posts upvoted per month for the last 3 months.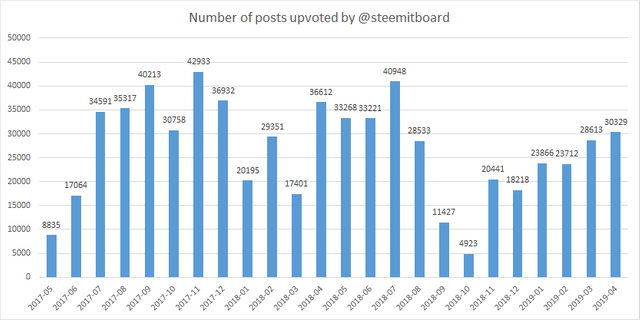 As @steemitboard Voting Power increases slowly but surely, these upvotes are are worth more and more, both on the active user's reward but also on their reputation.
SteemitBoard is grateful when you support it
As you have read above, the impact of @steemitboard votes is still low. That's why we're asking you to support this project by voting the notifications you receive or voting for @steemitboard as a witness.
We broke the 40k followers last month with 41848 followers. This is amazing. And @steemitboard has been chosen as a witness by 8604 users. That's 36% more than our previous update.
A very BIG THANK YOU to all of you!
Such support is highly appreciated and each user with an active vote for @steemitboard as a witness is entitled a dedicated badge:

If you want to make this badge yours, that's easy: vote for @SteemitBoard as a witness!
Thanks for reading and for your support!