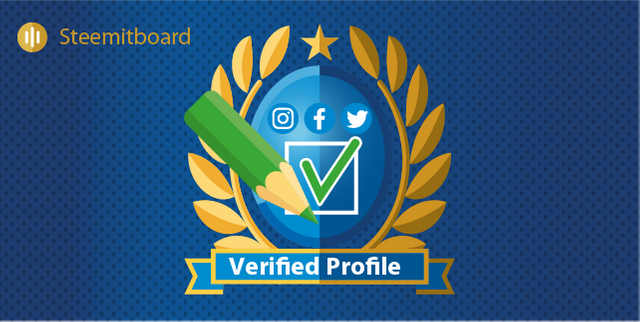 The @steemcleaners team worked with @steemitboard to allow users who requested a profile check to receive an award that confirms this verification was successfully completed.
The profile verification is aimed for:
Contributor who claims to be someone known, i.e. Barry Cooper or Jeff Berwick
Contributor who claims to write for www.mywebsite.com
Contributor who claims to be the creator of works found elsewhere on the internet
Contributor with a linked social media account
You can read more about the "Identity and Content Verification" procedure here.
The identity verification process can be initiated here on steemcleaners.com website.
A new badge in your personal awards bag
Have you completed the profile verification process, you will be automatically awarded a brand new badge:

The badge attribution is an ongoing process that might take a few days and @steemitboard will notify you as soon as it is available on your board!
If you either miss your badge or don't want it, feel free to contact @guiltyparties directly.
How to use it in your publications?
That's quite easy. You simply have to insert the following code in your posts or comments:
https://steemitboard.com/@username/sc_verified.png
Do not forget to replace username with you own account name!
Congratulations to all our verified online contributors!
---
Do you like SteemitBoard? Support the project and vote for its witness!


Read here why to support @steemitboard as a witness
Read SteemitBoard's latest witness report here

Steemitboard is a project created by @arcange