For this
#steemitbloggers
contest, we were given the following instructions:
@jaynie and @zord189 have decided to spread our toes and inspire a little bit of photographic fun with this week's @steemitbloggers contest. It is REALLY simple and it would be SUPER to see all of you jump in with both feet! Hahahaha… ok so here it is! The SteemitBloggers community has people scattered all over the world and so we have decided to create a photographic contest where the members will capture the "world at their feet" in the most CREATIVE way they can think of.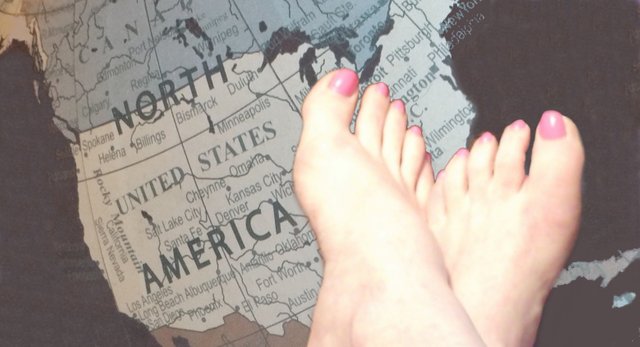 • SELF-PORTRAIT BY ME •
My entry to this fun contest was inspired by the fact that the members of the
@SteemitBloggers
community are, indeed, all over the world. Our members are diverse in their interests, there is no doubt, and that keeps the posts from our group fresh and interesting. However, the cultural diversity also contributes to this as well.
Our members span the globe, and every continent on the Earth is represented by one or more of us, except for Antarctica, and it would not surprise me to have someone from there some day, too, LOL! I am from North America, as pictured on the globe in my photo, but South America, Europe, Africa, Asia, and Australia are also well-represented.
@SteemitBloggers was actually the first community that I joined after coming to the Steem blockchain, and is the entire reason that I originally downloaded the Discord app. I came onto the Steem blockchain on 25-Sep-2017 and joined @SteemitBloggers one month later on 25-Oct-2017.
By the way, we have seen many people using the #steemitbloggers tag that are not part of our community. Of course, anyone who "blogs" on Steemit might consider themselves a "Steemit blogger," and perhaps rightly so, but @SteemitBloggers is a specific community on the Steem blockchain whose members strive consistently to produce quality posts and support others who do the same. The guidelines to which the community adheres are simple, and periodic checks are made to ensure that everyone is following those guidelines. Besides producing quality posts and supporting others, members are expected to produce original content, and plagiarism is not tolerated. I am proud to be a member of such a community with standards. Anyone with a sincere interest in learning more about this community and perhaps joining us can read: this post.
This fabulous community was founded by @jaynie, who is a tremendous spreader of positivity on the blockchain and on Discord. Her personal posts are often filled with inspiration, encouragement, and gratitude. I will close this post with a tribute to her, another self-portrait in a pair of my favorite heels with the bright sunshine of @jaynie's personality shining forth from her home in Cape Town, South Africa. 😁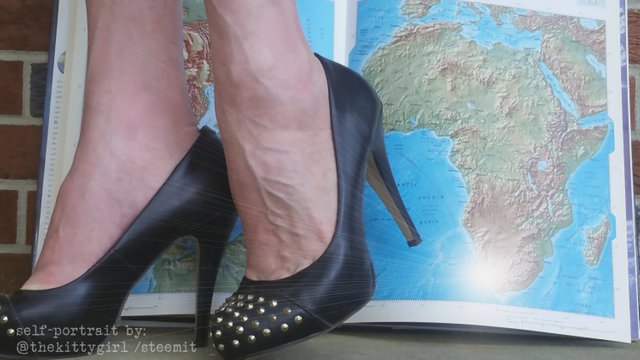 • AWESOME SHOES BY MADDEN GIRL™ • SELF-PORTRAIT BY ME •

 😊

a big hug is due to @enginewitty for designing the following personal banner for me 🤗