Epicurus is one of the major philosophers in the Hellenistic period, following Aristotle.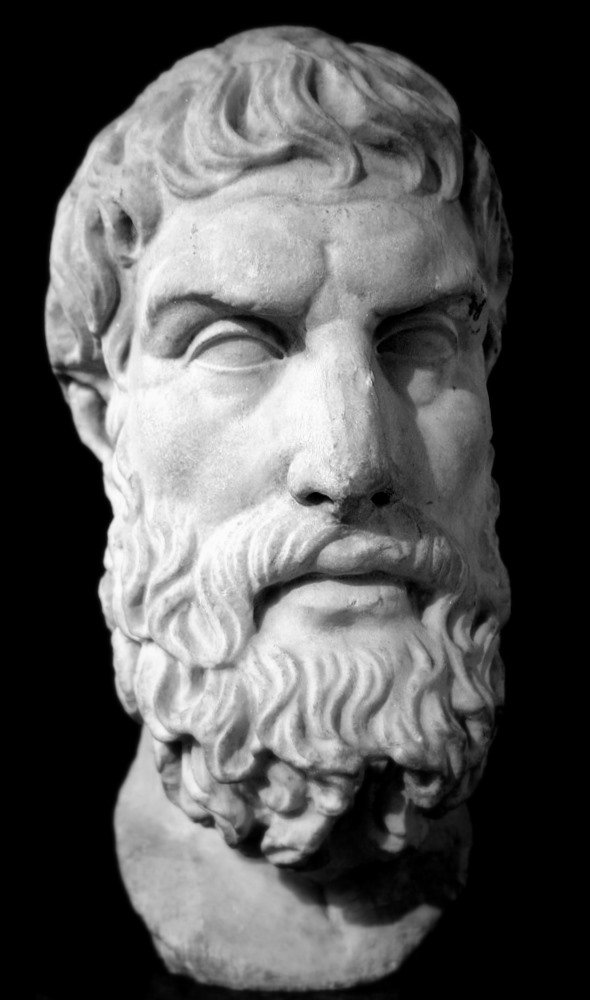 By Interstate295 revisited at English Wikipedia [Public domain],
via Wikimedia Commons
Epicurus believed in senses and that we could gain knowledge of the world relying upon them. He taught the three criteria of truth: sensations, preconceptions, and feelings.
His philosophy was based on the theory that the distinction between good and bad derives from the sensations of pleasure and pain. He developed hedonistic ethics by teaching that the ultimate goal for a human being is to obtain pleasure for himself. He said that people can get pleasure by limiting their desires.
He said that there are vain desires, natural and necessary, and natural but not necessary desires. He also said that courage, moderation and the other virtues are needed in order to attain happiness. However, in his concept, the virtues are valuable only for the sake of the happiness they can bring us.
Epicurus believed that the world is made of atoms, which are microscopic pieces of matter and the atoms move in an empty space. For him the Universe had no beginning but had always existed and will always exist. He also taught that nothing comes into existence from nothing.
Epicurus developed the Identity Theory of Mind. In modern versions the mind is identified with the brain, but in Epicurus' physiology the mind is in the chest, since the common Greek view was that the emotions reside in the chest. I find this very interesting, don't you?
He believed that the mental process is an atomic process and the mind is made out of four types of particles: fire, air, wind, and the "nameless element".
Epicurus rejected the idea of an immaterial soul and believed that the gods have no influence on our lives. He tried to eliminate the fear of death, saying that death is annihilation, because the mind is a group of atoms that disperses upon death.
In conclusion, I think Epicurus is another remarkable philosopher, who brought out some very interesting ideas and new concepts for his time.

This post is a part of my series "Knowledge is Power". In case you missed the previous articles, you can read them here:

Follow me and my stories