Roselle Feast!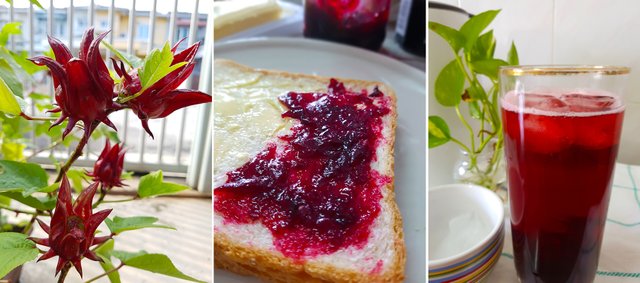 Hello everyone, as you all know (if you followed my post that is), I have been posting a lot about what's been going on in my garden. Recently my Roselle plants have been growing quite well, producing a huge amount of Roselles batch by batch, which I need to find ways to utilise them. In case you never heard of Roselle, it is a species of Hibiscus which can grow very easily. The plants have many usages. Most people make beverages, flowers for salads, leaves for cooking, calyces/fruits for jams and jellies.
So, with the amount that I have, some was given to family and friends, who likes to make Roselle drinks (it tasted similar like Ribena). Some I used it to make jam, which I am going to show you the step-by-step in this post.
Ingredients:
Roselle Fruits
Brown Sugar
Water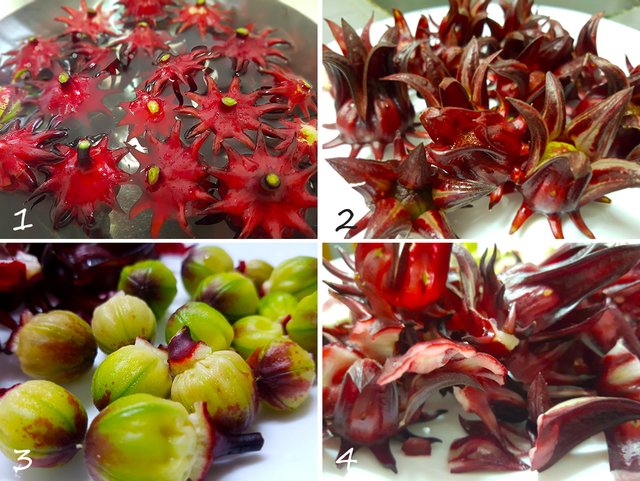 First, you need to harvest the Roselle fruits. Use a scissor to cut the fruits down, don't use hand to twist and plug the fruits, it will harm and ruin the stem of the plants. Clean them once with running water, soak them a while in plain water to make sure any dusts, sands, and especially ants (they love the sweetness of Roselle) trapped inside can be dissolved.
We then separate the pods and petals, rinse again thoroughly with water. If some of the petals are too big, you can cut into smaller pieces. Weight the petals to determine the sugar needed (I prefer brown sugar, healthier), normal ratio is 1:1, but if you prefer less sweet and sourer, you can use less than that.
Note: Sugar can act as the preservative and helps inhibits mould growth.

Let's get cooking!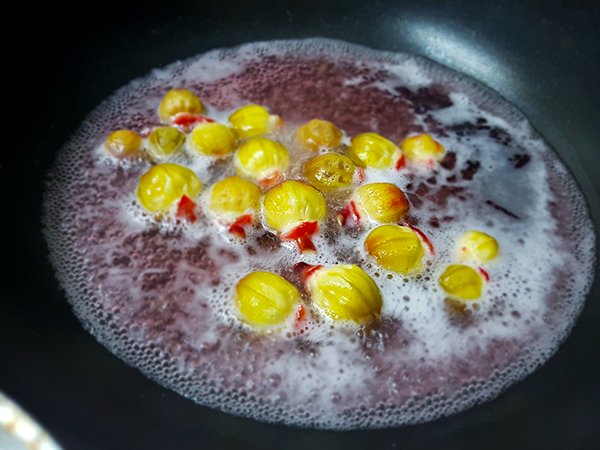 Step 1
Add water enough to cover the pods and cook for few minutes (depends on the amount and sizes). This is to extract the pectin from the pods.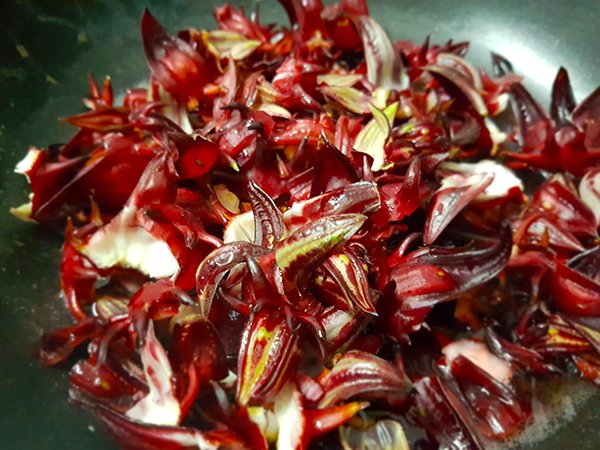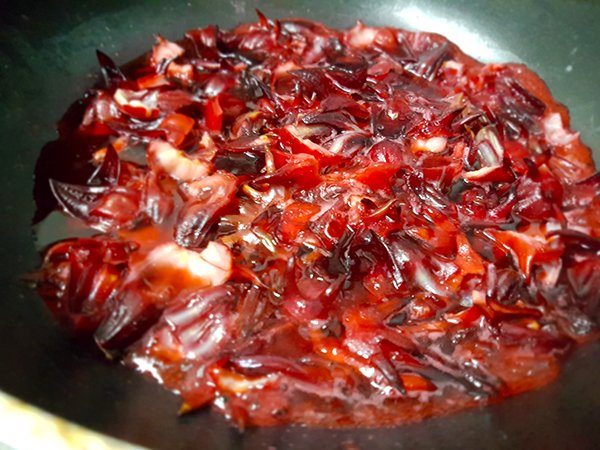 Step 2
After the pods have turned yellow you can take out all the pods, add in all the petals and add some water. Stir them for a while then turn the heat to low and let it simmer.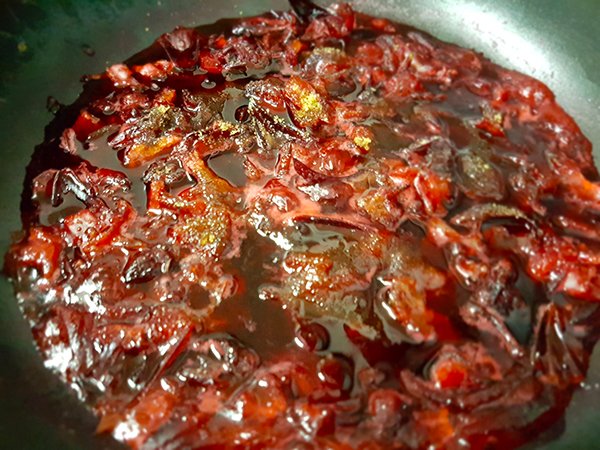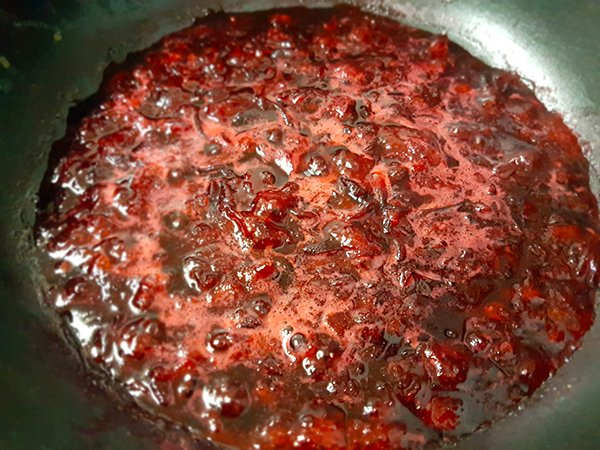 Step 3
After the petals are softened, you can add in the brown sugar and stir to mix them well. When you see the mixture has become thick and sticky, means it's ready. I did not let all the petals fully dissolved because I like to be able to still eat the fruits.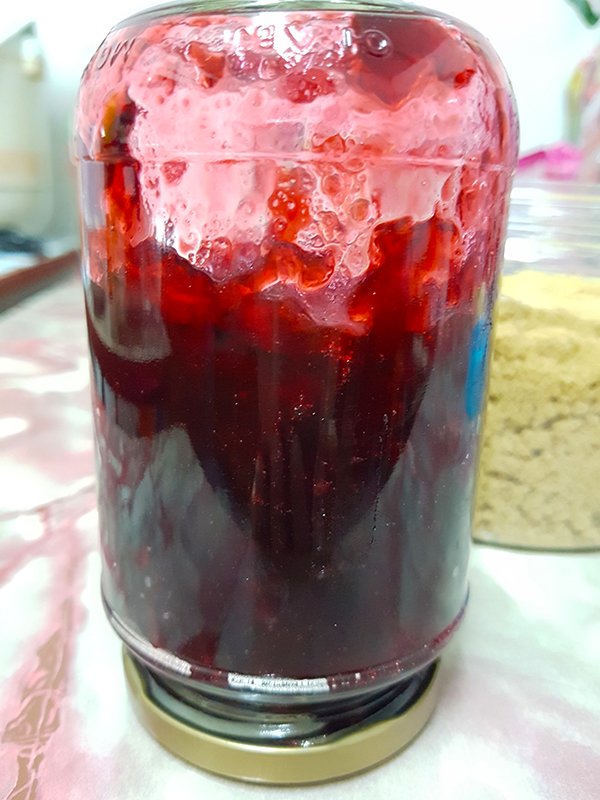 Step 4
Store the jam into a boiled and dried glass bottle, put the bottle upside down once you sealed it and while it's hot. It helps to produce a vacuum seal effect, so you can store it longer.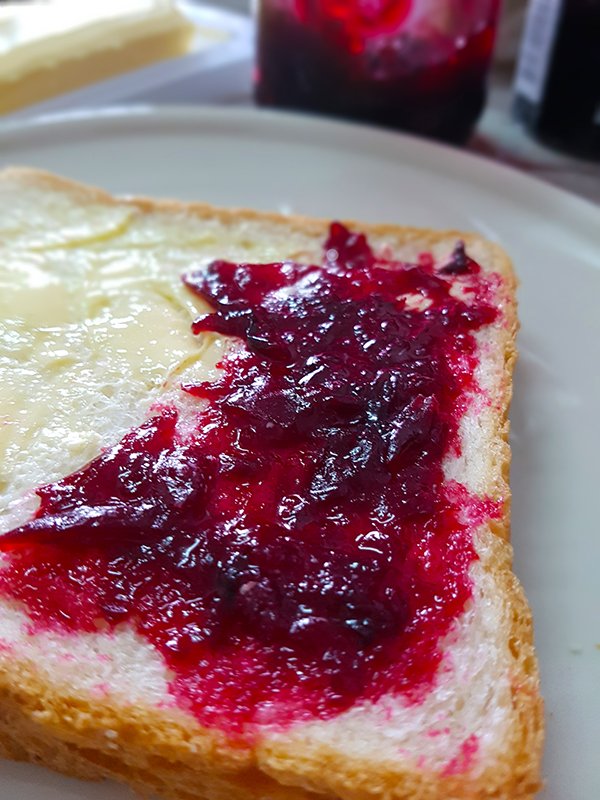 Now you have yourself a bottle of Roselle Jam. I like to spread it on my bread in the morning.

Or you can make an Iced Roselle Tea when it's hot in the afternoon. Just scope one teaspoon of the jam to a glass of water and add in some ice, deliciously cooling!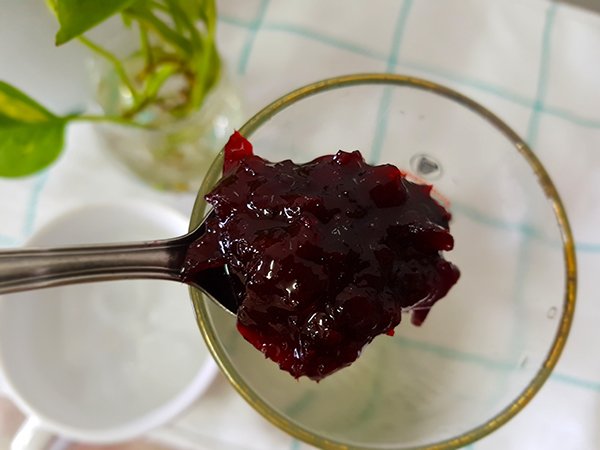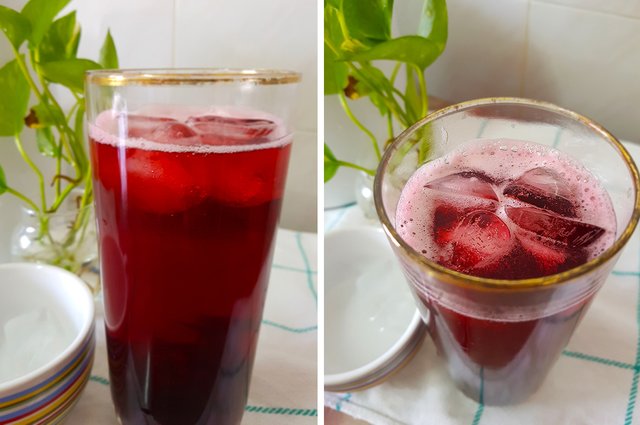 If you search the internet, you will find there are plenty of Health Benefits by taking Roselle.


Thank you for stopping by, this is a place where I can share the things I enjoy in life, art, gardening, nature, foods. This is why my divider above are filled with all the different kind of icons that I love doing. I hope you enjoy my post so far, leave me a comment if you like.
谢谢您的到访,这里是个我可以分享关于我所喜爱的生活,包括艺术,园艺,大自然,食物等等的地方。 这就是为什么我上面的页脚全都是我喜欢做的不同类型的图标。 我希望您喜欢我的帖子,如果您喜欢,不妨留下您的评语。