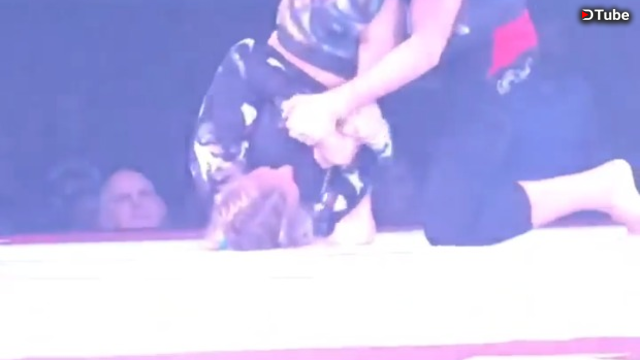 ---
Fiona Margaret Watson, featured on this blog before, and once again she shows her skills, this time earning Sub Of the Night!
In the video you can see Fiona being slammed in the guard, (a technique that would be an immediate disqualification in most venues), however on the pro grappling circuit it is just one of the many dangers that pro athletes have to face. Fiona takes the slam in stride than slaps on a very tight, textbook, Arm-bar forcing her opponent to tap or to be mutilated at the elbow. While Fiona has been featured in many articles and publications, you can see the first time she was featured on this blog here:
https://steemit.com/jiujitsu/@embomb701/introducing-fiona-margaret-watson
I am very happy to see Fiona doing so well, not only because we are both affiliated with "Fight Club Jiu Jitsu", but as a feather weight competitor myself, I tend to root competitors who are smaller. In my opinion smaller fighters are the most technical because they can not rely on physicality and strength. Aside from Fiona being very precise in her technique, I can tell you from experience that she is as tough as nails and has an aggressive submissions in bunches style (very fun to watch).
Fiona is not only a competitor, she runs her own academy in Rutherford NJ. She is an inspirational instructor, and coach. I am very happy to have met and trained with a female competitors who is so successful. As a father of 2 daughters it is great to be able to talk of and use Fiona as an example. I can tell my daughters that This young lady "Fiona" is competing at worlds and kicking butt, and training others to compete. I want my daughters to train so I never have to worry about boys who do not understand what No means, and to win competitions. With examples like Fiona to inspire them I am sure they will find the motivation required to train like a champion. Check out Fiona's academy on the web at http://www.notoriousbjj.com/.
Fiona's Academy is conveniently located in Rutherford NJ, not far from the highway just a few minutes from NYC. Feel free to stop in and if you mention this article you can take a trial class for free. Without further ado, check out the Q&A with this gracious young champion.
What made you decide to train Jiu Jitsu?
I decided to train Brazilian Jiu-Jitsu because I was already training in the striking arts, and I wanted to add more variety into my game.

Is Jiu Jitsu the only martial art that you have trained in and if not what others?
I've trained in Brazilian Jiu-Jitsu, I wrestled in High School. Kickboxing, Boxing, and Karate.

Are you interested in competing in mixed martial arts, (MMA)?
No, I don't have any interest in competing in MMA.

What is your goal for Jiu Jitsu? Are you willing to travel over seas to compete at the highest level?
My goals in Brazilian Jiu-Jitsu include becoming an Eddie Bravo International, (EBI) champion, an adult black belt world champion gi and Nogi, and Abu Dabi Combat Club (ADCC) champion. I would travel oversees to compete and probably will very soon.

What do you say to young woman and or parents who are on the fence about Jiu Jitsu?
I would tell young woman and people who are on the fence about Brazilian jiu-jitsu that it changes lives. It gives you another family, place of learning, and goals. It gives you confidence, gets you in shape, and makes you goal oriented. There are only positives from trying it out.

Do you consider Jiu Jitsu the most important element in hand to hand combat?
I think that Brazilian Jiu-Jitsu mixed with a striking art like boxing or kickboxing would be best for hand on hand combat.

Entrepreneurship can take more courage than stepping up to competition, what was it like opening up an academy? You obviously have the Jiu Jitsu experience but did you have experience or training to run a business?
Opening my academy Notorious MMA was what I dreamed of as a little girl. After graduating college I decided to take the risk and go after it. It was the best decision I could have made. I learned a lot about running a business from teaching before and throughout my college years, and then obviously in some business courses in college as well.

While you have achieved so much for someone so young, are you planing to settle down at some point?
I do plan on settling down at some point in my life, but not right now. I'm currently training for EBI18 and Nogi World Championships, and that's my priority along side running my academy.

Do you have any pre-fight anxiety and if so, how do you mitigate it so that you can perform to the best of your abilities?
I have suffered from anxiety since I was a little girl, and my nervous tics definitely show before tournaments or superfights. I've learned a few breathing exercises that help me cope, and I always vision myself at the top of my hand being raised.

Without getting too specific, what is your training regimen like? How much or little strength and conditioning do you perform vs. mat time?
I usually do strength and conditioning 4-5 times per week. I train Nogi in the morning time, and then teach at my academy and then train Nogi again at night. Weekends consist of open mats and specific training.

Is there any specific diet that you follow leading up to a competition, how close are you to your fighting weight when not in competition shape?
I only have to cut for IBJJF Nogi tournaments where the weight class is 114lbs with the Nogi gear on. I usually just watch my carb intake a couple weeks before the tournament, and try not to eat desserts. My walk around weight is about 118lbs.

Do you have a favorite submission, if so why is it your favorite?
My favorite submission is the heel hook.

What is your walkout song?
You don't own me by Grace

If you had to choose one, would you choose and impassable guard, or an unstoppable guard pass?
Impassable guard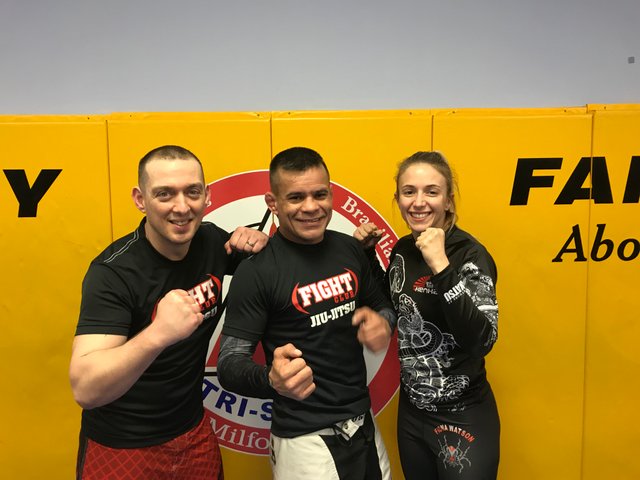 Left to Right- Me, Marcio, Fiona.
If anyone has follow up questions for me to put to Fiona or any comments what so ever please post them below.
---
▶️ DTube
▶️ IPFS