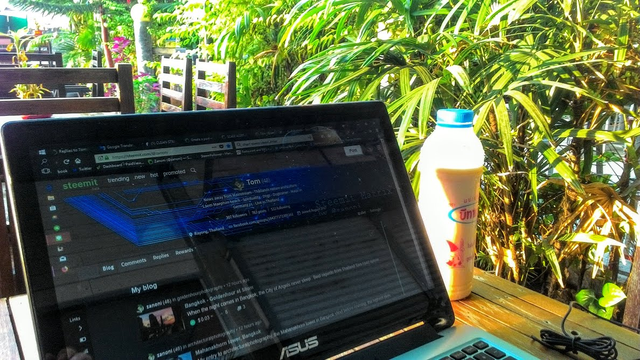 I joined Steemit August 2017 but start to post only about 3 weeks before. All was new for me, the system of Steemit and the cryptocurrencies, the crypto exchanges and all that stuff.
I start posting, read this and that, tried to understand the rules, made mistakes with some posts, learned from my mistakes and I start to understand more and more.
The first upvotes come and I thought, that's not a bad system when users can support other users and they can make a little money with writing and taking pictures and post them.
But my trust in the system was not so high, so I want to proof it, I had some steem in my wallet and I wanted to test the payout system.
Ok, I read there are two so called Crypto Currency Exchanges, Bittrex https://bittrex.com/ and Poloniex https://poloniex.com/
Bittrex have a problem, they not open new accounts for users since 15th December last year, when they start again? Nobody knows...
Poloniex, about them I read many not so nice things over the last weeks, but they still open accounts for new users, so I wanted to give it a try. I signed in and waited for the confirmation mail for the account, until now, 48 hours later, no mail, nothing.
So, what to do?
I start to ask some witnesses from Steemit, one of them, @teamsteem (Thank you very much again), told me I can use
blocktrades https://blocktrades.us/
Blocktrades is operated by a witness of Steemit, located at Cayman Islands and connected with Steemit.
I signed in, very easy, send some Steem from my Steemit wallet changed it in the same transaction into Lightcoin (Lightcoin because the fees are much lower then for Bitcoin), some seconds!, the lightcoins were on my blocktrade account! Amazing!
Ok, after this first success I want to tranfer the lightcoins from blocktrade to Bitcoin Exchange Thailand where I can exchange the litecoins into Thai Baht and transfer it to my bank account.
It worked! After some minutes the transfer was confirmed by Bitcoin Exchange Thailand and I transfered it to my bank account!
What a feeling! My trust in Steemit was 100% now and my motivation, too.
Meanwhile another witness from Steemit answered me, @aizensou (Thank you very, very much again!)
here is the answer:
"Thanks for the very good question. You made a valid point that there is no way to trade your Steem and SBD now as a crypto beginner (since most of u are trading on polo and bittrex). But there are many ways around to solve that problem (by trading at OpenLedger https://coinmarketcap.com/exchanges/openledger/ or other exchanges beside Polo/Bittrex). Anyway if u are a long-term believer in the platform, u don't have to cash out so soon. There will be more exchanges coming which probably supports Steem so u have more choices in the future."
My answer to him:
"And I will write a post today about my first payout experience, I think especially new users need this experience, it built trust in Steemit, give them motivation to post original pics and content, teach them to be a little patient, but then the success will come. That's also what Steemit need, the trust of the new users, because they are the future of Steemit.
I just opened a facebook group, CleanSteemit, some days before for Steemit users who prefer original content, I saw so many copy&paste posts and thought it would be a good thing to gather some people who have the same ideals, and it work I think.
https://www.facebook.com/groups/184377172301161/
One more time a big thank you for your response @aizensou
Tom"
and:
"It was small money, but I want to proof that the system of Steem and the payout really work, I think many new users need this successful experience with the first payout, I can see it on myself, when the transaction was finished, I had an amazing feeling, the trust in Steemit is 100% now and my motivation, too.
Tom, satisfied and motivated."
So, I can say 2018 had wonderful start for me, I believe in Steemit now, my motivation is on the highest level and I think Steemit will have a great future, I'm sure 100%!
Best regards from Thailand, have a wonderful day
Tom
I just opened a new facebook group for original content steemians, maybe you like to join:
https://www.facebook.com/groups/184377172301161/